When planning a U.S. national park getaway, an east coast national parks road trip might not be the first idea that comes to mind. But don't be too quick to dismiss it! The east coast is littered with gorgeous outdoor spaces intermingled with bucket list cities like Cleveland, Asheville, NYC, and Washington D.C. What's more – east coast national parks come with a fraction of the crowds compared to their west coast counterparts like Yosemite and Yellowstone.
Home to icons such as the Great Smoky Mountains, Blue Ridge Parkway, and Shenandoah National Park, the U.S. east coast offers the perfect opportunity to combine outdoor recreation with hip city break. So, put in for the vacation time, create a road trip playlist and start packing your bags while we take care of the rest. Here's our ultimate east coast national park road trip!
East Coast National Parks Road Trip
East Coast National Park Road Trip Map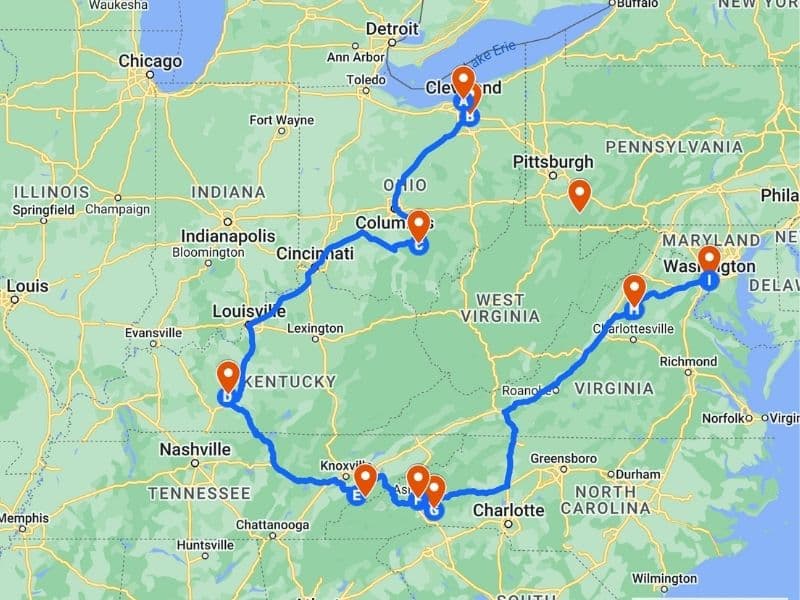 Other national park road trips you might like:
East Coast National parks itinerary
Cleveland – 1-2 nights, road trip starting point
Cuyahoga Valley National Park – 1-2 nights, < 1-hour drive from Cleveland to Cuyahoga Valley
Hocking Hills State Park – 2 nights, 3-hour drive from Cuyahoga Valley to Hocking Hills
Mammoth Cave National Park – 2 nights, 5-hour drive from Hocking Hills to Mammoth Cave
Great Smoky Mountains National Park – 2-3 nights, 4-hour drive from Mammoth Cave
Asheville – 3 nights, 1-hour drive from Great Smoky Mountains to Asheville
Chimney Rock State Park – Day trip, 1-hour drive from Asheville to Chimney Rock
Shenandoah National Park – 2-3 nights, 5-hour drive from Chimney Rock to Shenandoah
Ohiopyle State Park – 3-night optional add-on, 3-hour drive from Shenandoah to Ohiopyle
Washington D.C. – 2 nights, 3.5-hour drive from Ohiopyle to Washington D.C.
How to Use This Road Trip Guide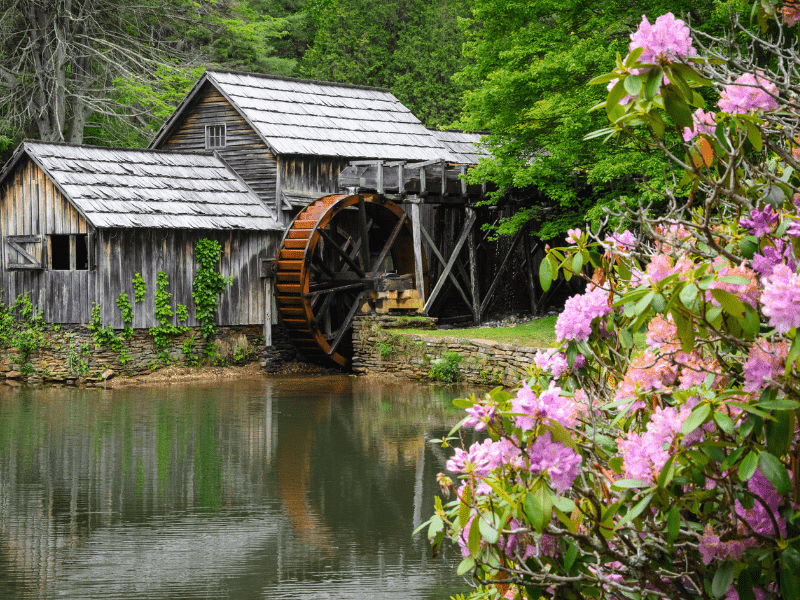 This east coast national parks road trip itinerary is intended to serve as a guide and can easily be altered based on your available timeframe, priorities, budget, and the time of year you visit. To complete the itinerary in its entirety, we recommend a minimum of 2 weeks. If you have more time to spare, set aside three weeks and include Ohiopyle State Park (a very worthwhile add-on).
If you have less than two weeks available for your east coast national parks trip, we recommend cutting this itinerary down to start in Great Smoky Mountains National Park and end in Shenandoah National Park (meaning you would start in Tennessee and end in Virginia or nearby D.C.). This part of the itinerary represents the iconic Blue Ridge Parkway and can easily be done in 7 to 10 days.
Spring, Summer, Winter, Or Fall?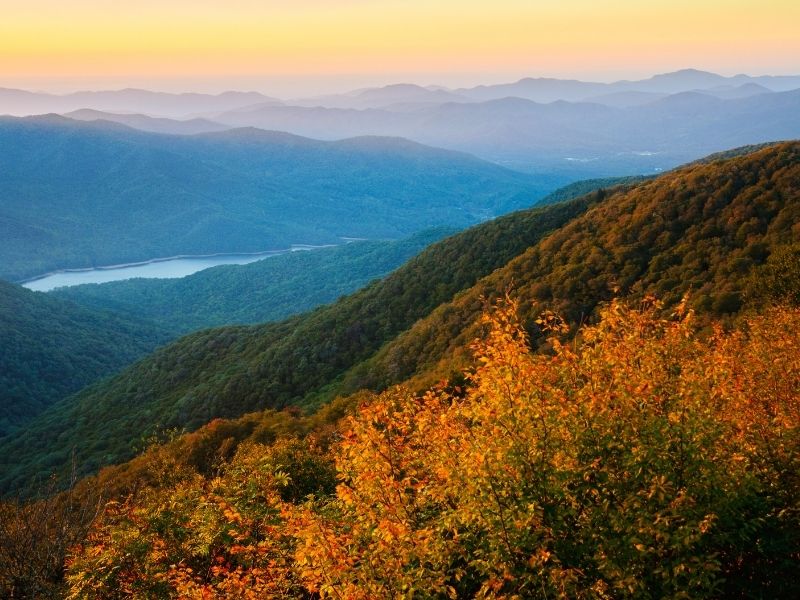 Wondering when to plan an east coast national parks road trip? Many would answer Fall, as autumn colors are in full swing and the leaves are turning. As a bonus, temperatures are moderate, and crowds are less severe than in summer.
That being said, Spring also comes with lovely weather and tempered crowds, as well as Spring blooms like the eastern redbud, flowering dogwood, and mountain laurel.
Summer is perhaps the most popular time to visit (due to school break) – but keep in mind that parks can become busy, and temperatures can get quite humid. If you're traveling in July or August, plan for an early start each morning to beat the crowds and the heat.
Winter is the least popular season for an east coast national parks road trip. As you might guess, this is largely due to the weather. Visits during winter involve snow and ice, and it's important to arrive prepared. However, winter comes with minimal crowds, and you will feel like you have the parks all to yourself! Plus, it's hard to deny the allure of snow-dusted trees, cozy cabins, and frozen waterfalls.
Best East Coast National Parks Trip
Cleveland, OH
1-2 nights, road trip starting point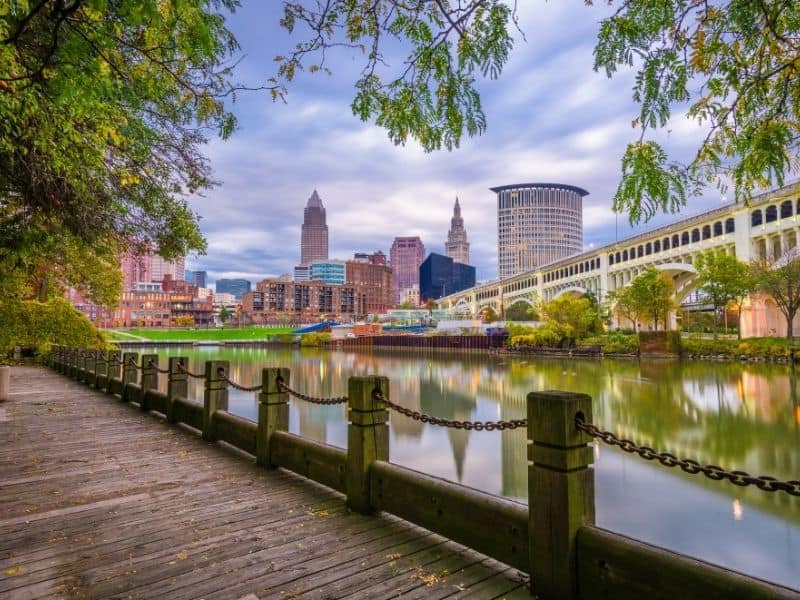 It's interesting to note that despite the city's popularity, Cleveland is not Ohio's biggest city (that honor goes to the state's capital, Columbus). With its bustling downtown and vibrant neighborhoods, Cleveland gives off a small-town feel, and almost all of the city's famous attractions, restaurants, and accommodations are situated within close proximity of each other.
Things to Do in Cleveland
For arts and culture lovers, Cleveland is likely to feel like a little piece of heaven. The city is host to the country's second-largest performing arts center, Playhouse Square, and several museums, including the Cleveland Museum of Art, Cleveland History Center, and Cleveland Museum of Natural History. A visit to the famous Rock 'n Roll Hall of Fame is worth it if you want to see a spectacular collection of music memorabilia from legends such as Elvis and The Beatles.
Cleveland also offers a wide array of activities for those who prefer outdoor activities, including the Cleveland Botanical Gardens and The Cleveland Metro Parks. The Cleveland Metro Parks encompasses several beautiful parks that, together, form an emerald necklace around the city. Edgewater Beach is the ideal place to hang out in the sun.
Lastly, a visit to Cleveland wouldn't be complete without dropping in at some of the city's most popular breweries, all located within a short walk of each other. Some of the city's most popular breweries include Masthead Brewing Company, Terrestrial Brewing Company, Bookhouse Brewing, and Noble Beast Brewing Company.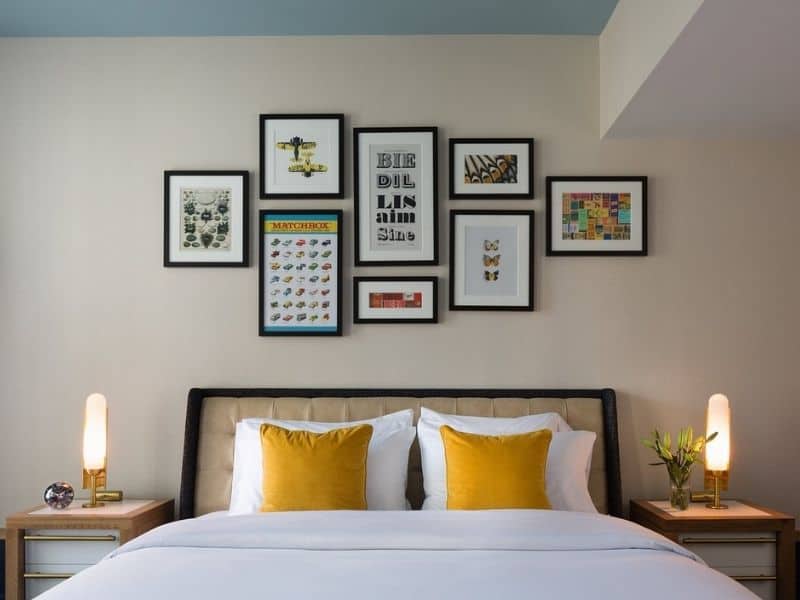 Where to Stay in Cleveland
If you're looking for a luxurious stay in downtown Cleveland, we recommend the Ritz Carlton or the Hilton Cleveland Downtown. Alternatively, Drury Plaza and Kimpton Schofield Hotel are both highly rated mid-range options.
If you're looking for a vacation rental, check out this Modern 2-Bedroom Apartment.
Cuyahoga Valley National Park, OH
1-2 nights, 30-minute drive from Cleveland to Cuyahoga Valley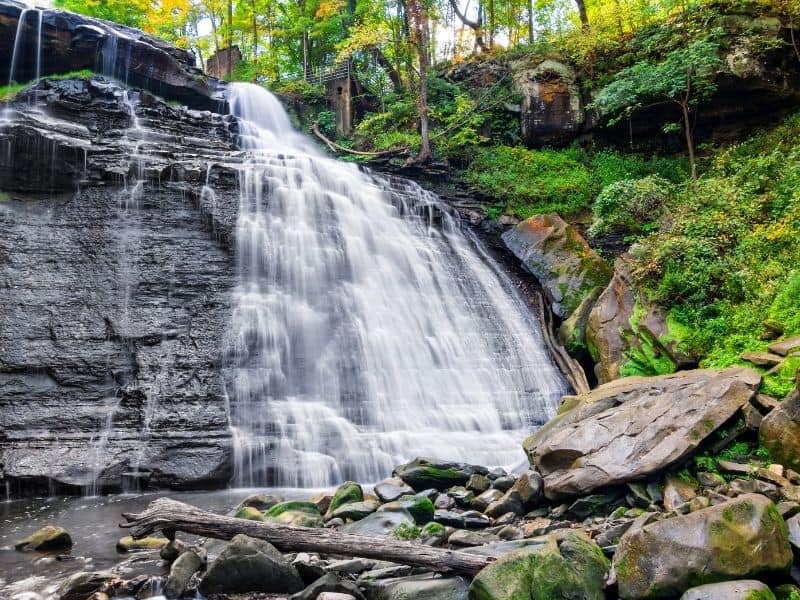 Cuyahoga Valley National Park is an underrated gem just 30 minutes south of Cleveland, Ohio. Spend a day hitting the park's highlights, or stay a weekend and immerse yourself in this beautifully restored river ecosystem surrounded by forest. Bonus: it's a FREE entry park!
Things to Do in Cuyahoga Valley
First-time visitors or those with only a day to spare won't want to miss these six must-see sights in Cuyahoga Valley National Park.
A short walk on a series of wooden staircases reveals Ohio's tallest waterfall, Brandywine Falls. This is an enormously popular site because of its ease of access, especially in the summer, so visit early to miss the crowds.
Next, take a walk in the woods on The Ledges Trail, stroll along the river's historic towpath multi-use trail, or visit a covered wooden bridge. In the summer, take a ride on the Cuyahoga Valley Scenic Railroad through the heart of the park, or in the winter, hit the ski slopes!
Cuyahoga Valley Insider Tips
Bicyclists can ride as far as they'd like into the park and hitch a ride back on the train when their legs get tired. Alternatively, hikers can stop in the Boston Mill Visitor Center and ask a ranger about their favorite hike. The park has hikes for all abilities and fitness levels, with many different hidden scenic views to choose from.
Where to Stay Near Cuyahoga Valley
Cuyahoga Valley National Park is perfectly set between Cleveland and Akron. If you prefer hotels, stay near one of the cities. If you prefer a B&B, try The Inn at Brandywine Falls, located right next to the famous falls! For those wanting to camp, there are several state park campground options nearby, but none within the national park itself.
Hocking Hills State Park, OH
2 nights, 3-hour drive from Cuyahoga Valley to Hocking Hills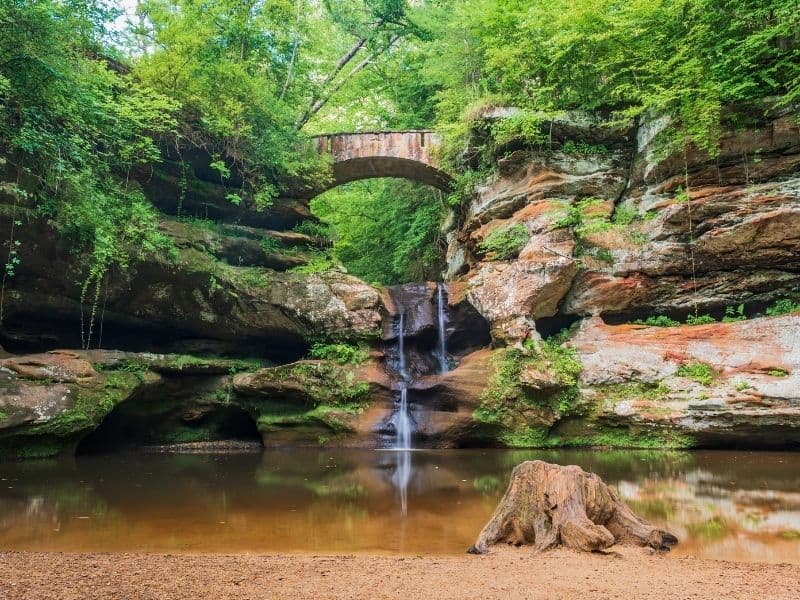 Hocking Hills State Park is located in Logan, Ohio – approximately 60 miles southeast of downtown Columbus, Ohio's capital city. Hocking Hills State Park consists of seven one-way hiking trails, which include Old Man's Cave, Cedar Falls, Ash Cave, Conkle's Hollow, Rock House, Cantwell Cliffs, and Whispering Cave. It's noteworthy to mention that Hocking Hills is open year-round with no charge for hiking and all trails are pet friendly.
Things to Do in Hocking Hills
In addition to the breathtaking landscapes along each of the park's trails, there are several interesting natural formations to view in Hocking Hills, some of which include Ash Cave, Devil's Bathtub, Rock House, and Moonville Tunnel.
Each of the seven hiking trails within Hocking Hills State Park can be explored by bicycle or on foot. If you're feeling adventurous and want to explore the park in an alternative way, we recommend renting an ATV for a self-drive tour or taking a canoe, kayak, or tube trip down the Hocking Hills River. You can also go fishing, horseback riding, or challenge yourself with some rock and cliff climbing.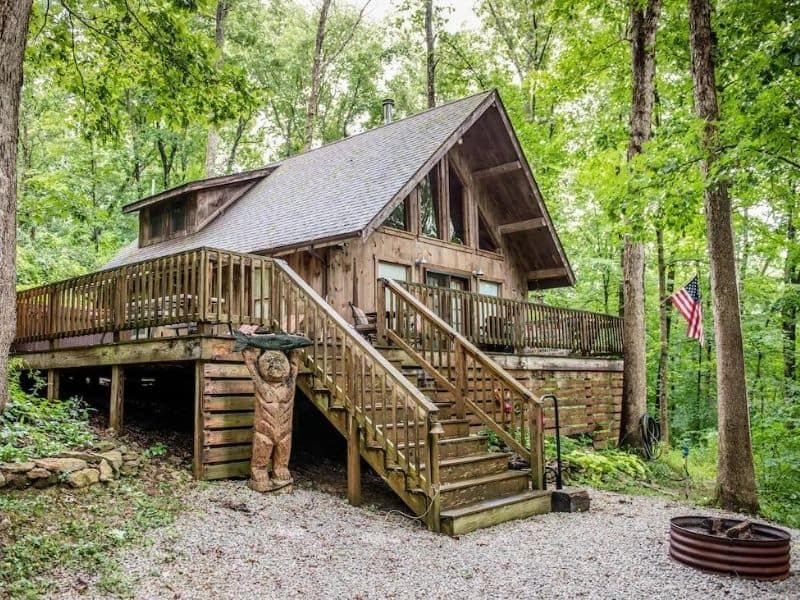 Where to Stay in Hocking Hills
Regarding cabin rentals, check out our guides to the best Hocking Hills Cabins for 2, Hocking Hills Luxury Cabins, and Hocking Hills Pet-Friendly Cabins.
Hocking Hills also offers some picturesque camping and glamping options. Lakeview RV Park and Hocking River RV Park are ideally suited to travelers with their own RVs, though they also offer beautiful campgrounds.
Additional campgrounds worth considering are Campbell Cove Campground, Equestrian Ridge Camping, and Palmerosa Horse and Hike. If you're not ready for a full-on camping experience, try these lovely glamping options: Nature Mystique Retreat and Pine Creek Villas.
Mammoth Cave National Park, KY
2 nights, 5-hour drive from Hocking Hills to Mammoth Cave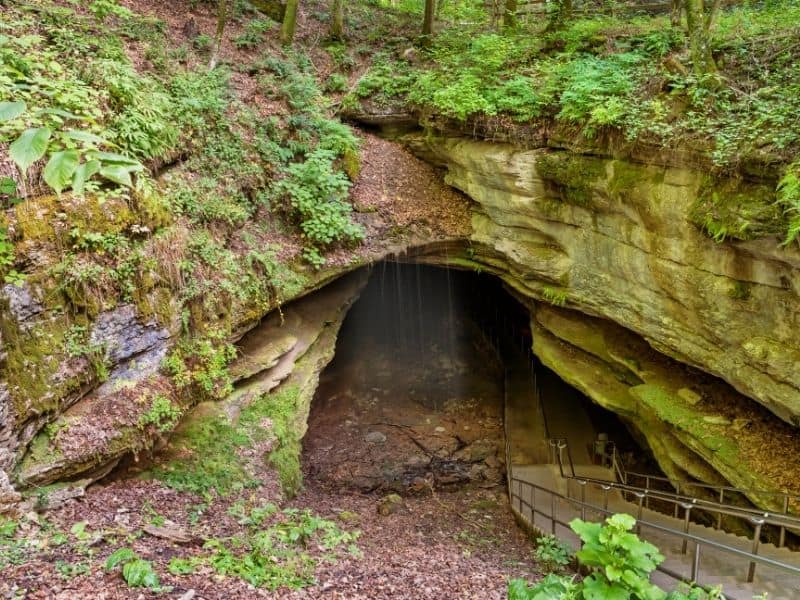 Mammoth Cave National Park is home to the world's longest cave system. Over 400 miles of the caves have been explored and mapped already, but explorers still aren't finished!
Things to Do in Mammoth Cave
Driving into Mammoth Cave National Park, it looks like any other forested area. It's beautiful, especially in the fall, but the biggest draw to the park is the cave tours. There are a variety of tour options to take you into the caves. You can marvel at the stalactites and stalagmites, but mostly, you'll be amazed by the sheer size of the caves that give the park its name.
The Mammoth Passage Tour is the shortest option at just over an hour. The Wild Cave Tour is perfect for adventurers who want to reach areas of the cave system that are more difficult to access. Take a tour by lantern light and feel transported back in time. Most tours allow children, and there is a wheelchair-accessible option too.
Horses are a big part of life in Kentucky. After you've planned your cave tour, consider going on a trail ride for another Kentucky experience! Trail rides meander through forests in the park, so you're basically riding over the cave system you just explored!
Being on the water is another Kentucky pastime. Two rivers, the Green and Nolan Rivers, cut through Mammoth Cave National Park. Take a guided canoe or kayak trip down the Green River to experience a new perspective.
Mammoth Cave Insider Tips
The caves are about the same temperature year-round, so it really doesn't matter when you visit as far as having access to the caves. However, the tour schedule changes throughout the year, so if you have your heart set on a specific one, plan accordingly.
Certain cave tours are only available on particular days of the week, and tours can fill up weeks in advance. The caves are only accessible with a tour, so make your reservations early!
If time permits, break up the drive from Hocking Hills to Mammoth Cave with a stop at Red River Gorge, a hidden gem for outdoor lovers near Lexington.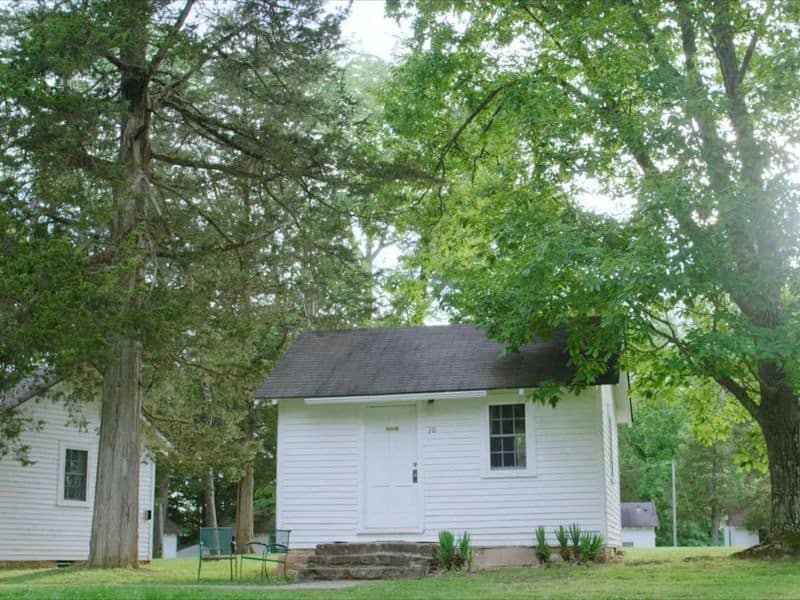 Where to Stay in Mammoth Cave
The Lodge at Mammoth Cave is the most central option for overnight stays and offers both hotel and cabin lodging. As a bonus, the cabins are pet-friendly! There are also three developed campgrounds inside the park, of which Mammoth Cave Campground is the most popular.
You'll find a few hotels and restaurants in Cave City if being near the park is a priority, but you can't secure lodging inside the park itself. Cave City is about 20 minutes from the visitor center. Bowling Green is 30 minutes from the park but is a much larger city with plenty of options to sleep and eat.
Great Smoky Mountains National Park, TN
2-3 nights, 4-hour drive From Mammoth Cave to Great Smoky Mountains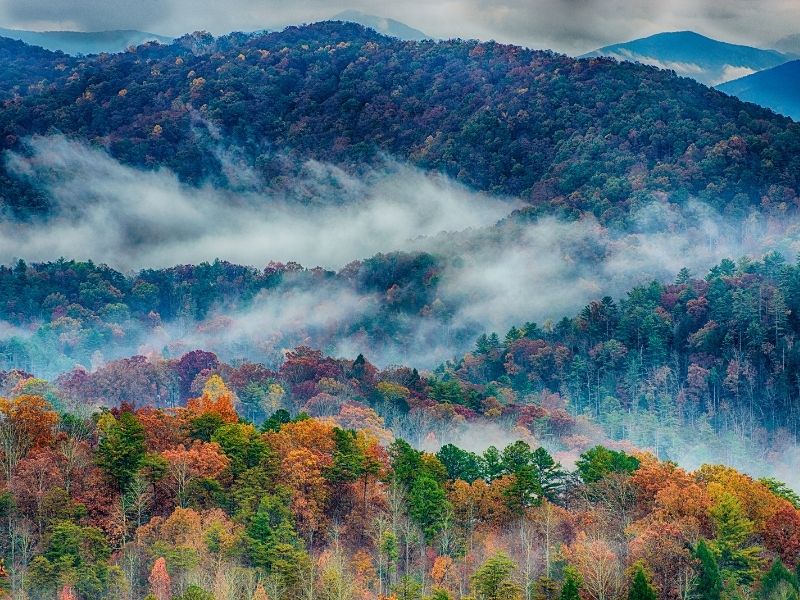 Recommended by Disha of Disha Discovers
Great Smoky Mountains National Park is best known for its diverse plant and wildlife, including black bears, wildflowers, salamanders, ferns, and more. It also bags the title of the most visited national park in the United States.
Things to Do in the Great Smokies
With over 100 waterfalls within the park, one of the best things to do is chase them. Some of the most popular ones are Laurel Falls, Grotto Falls, Ramsey Cascades, and Abrams Falls.
Another top feature of the park is its hiking. Great Smoky Mountains National Park boasts over 800 trails, with Clingmans Dome, Cade Cove Loop, Chimney Tops, Alum Cave Bluffs, and the Appalachian Trail being some of the favorites.
Scenic drives are also abundant. There are several lookout points where you can stop and take in the beautiful scenery. Take the opportunity to search for wildlife as you explore. The Smokies serve as a sanctuary to elk, coyotes, black bears, and around 240 species of birds.
Great Smoky Mountains Insider Tip
Take a scenic drive right before sunrise when you can see the "smoke" hover amongst the mountains (which is really just fog and mist). The view is breathtaking as you watch the smoke rising above the mountains and trees. The best lookout point to watch the sunrise is Newfound Gap Overlook.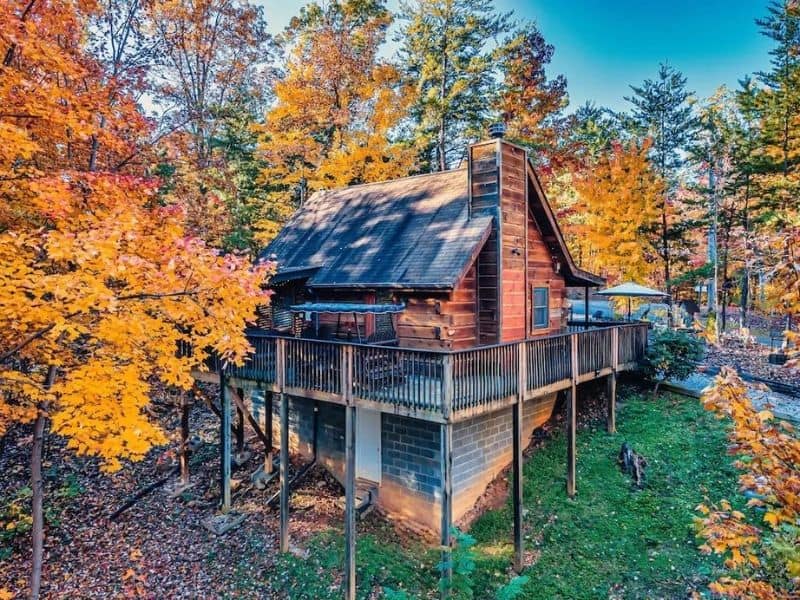 Where to Stay in the Great Smoky Mountains
Most people visiting Great Smoky Mountains National Park stay in nearby Gatlinburg or Pigeon Forge and visit the park as a day trip. Courtyard by Marriott in Pigeon Forge and Hilton Garden Inn in Gatlinburg are both fantastic hotel options.
Renting a private cabin is another popular choice, and we've curated lists covering the best Cabins in Pigeon Forge for Rent and the Best (Pet-Friendly) Cabins in Gatlinburg for this reason.
Asheville, NC
3 nights, 1-hour drive from Great Smoky Mountains to Asheville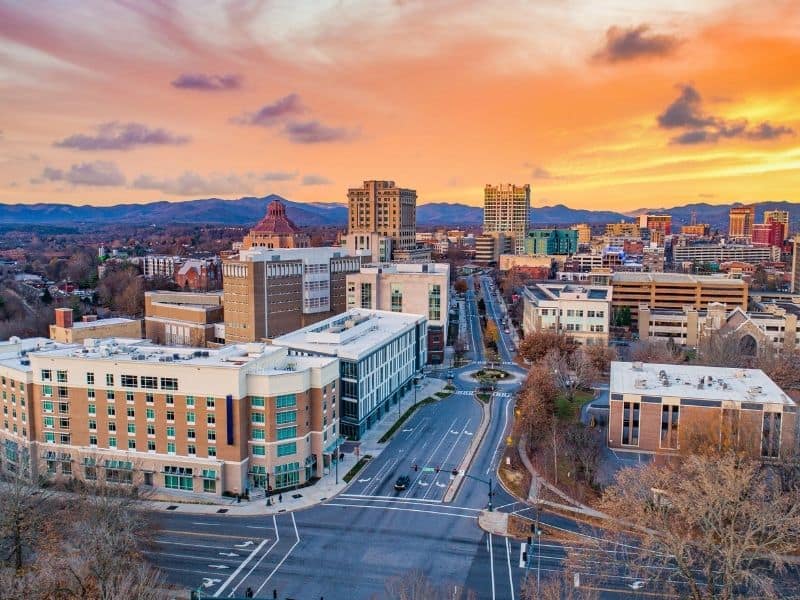 Asheville is a delightful destination tucked away in the mountains of North Carolina. The city is known for being very artsy and foodie-centric, having excellent hikes and viewpoints in the surrounding mountains, and of course, one of the most famous attractions in Asheville – Biltmore Estate, which is just a short drive from downtown.
Things to Do in Asheville
For amazing views, drive down the Blue Ridge Parkway, taking advantage of the many stop-off viewpoints. This guide outlines the Best Blue Ridge Parkway Overlooks for your trip.
Some great and not-too-difficult hikes in the area include Triple Falls, Craggy Pinnacle (a great spot for sunset!), and Bearwallow Mountain Trail.
There are several fun places of interest to see in downtown Asheville, including the Basilica of St. Lawrence and the Flatiron Building.
But no trip to Asheville would be complete without a visit to the Biltmore Estate – it's really the main attraction in the whole city. Biltmore was constructed in the late 1800s by the uber-wealthy Vanderbilt family. The house today is open for tours, and you can walk through an opulent, over-the-top estate that truly rivals any of the castles you'll find in Europe.
Also, take the time to enjoy wandering the estate grounds and gardens. There are many different varieties of gardens, with beautiful landscaping and colorful flowers, and architectural details. And don't forget to swing by Antler Hill Village, a charming little "village" on the estate with cafes, a village "square," a farm, and different craftsmen demonstrating their trade.
Asheville Insider Tip
Asheville is a great destination any time of year, but mid-October, when the leaves change color, is an exceptionally beautiful time to visit.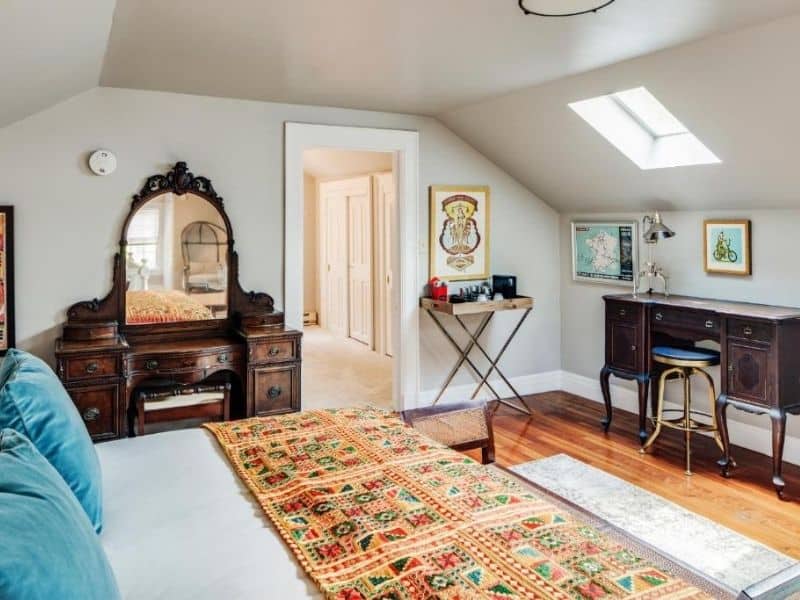 Where to Stay in Asheville, NC
The Aloft Asheville Downtown and the Haywood Park Hotel are both great lodging options in downtown Asheville with modern updates in a central location.
Applewood Manor and Albemarle Inn are two lovely historical options. If you're in the market for self-catering, check out this Central 1-Bedroom Apartment or this Trendy 2-Bedroom Loft.
Chimney Rock State Park, NC
1 day, 1-hour drive from Asheville to Chimney Rock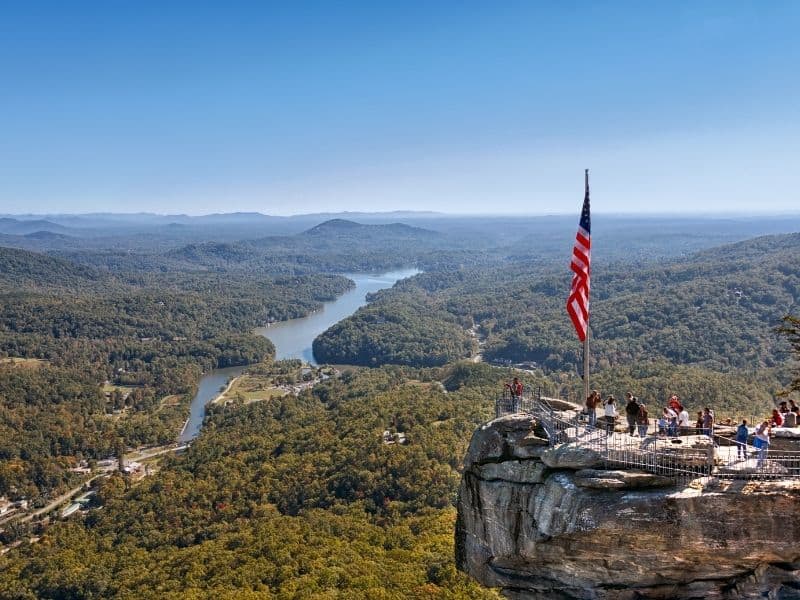 Chimney Rock is a gem of the North Carolina state parks system. The park is a great day trip destination from Asheville, and there are plenty of hiking trails to keep you busy from the time it opens until it closes.
Things to Do in Chimney Rock
Chimney Rock is a major attraction here, and when you stand on top, you can see out across Lake Lure in the distance.
You'll also want to visit the base of Hickory Nut Falls. At 404' tall, this waterfall is incredibly impressive. Take the Hickory Nut Falls Trail at the end of the Four Seasons Trail to reach the bottom of the falls.
When you're finished exploring the park, make sure to stop at Burntshirt Vineyards or Hickory Nut Gorge Brewery, where you can have drinks and small plates.
Know Before You Go
Chimney Rock is one of the only NC state parks that require an entrance fee of $17 per person. There are two parking lots, but on busy days you'll likely have to park in the lower lot and either ride the shuttle to the top or hike up using the Four Seasons Trail.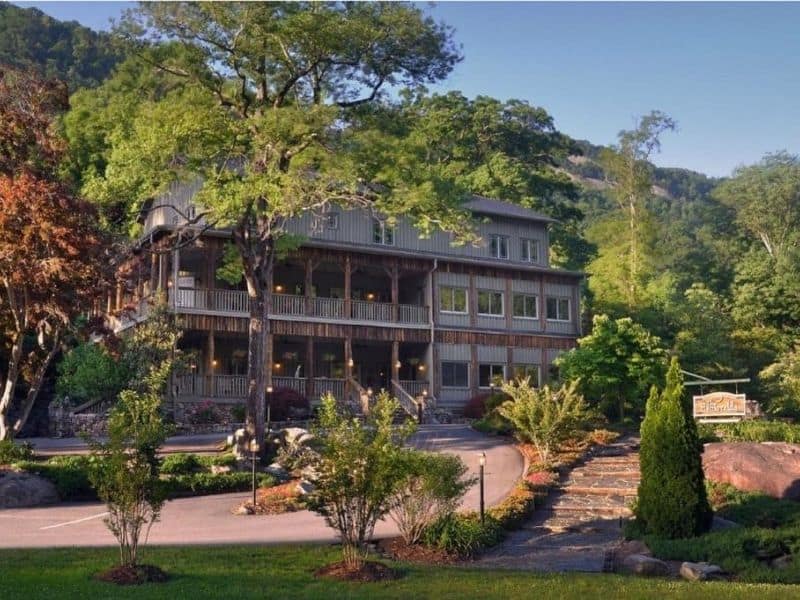 Where to Stay Near Chimney Rock
Chimney Rock State Park makes for a great day trip from Asheville. If you'd like to base yourself closer and truly explore the area, The Riverside Lodge at Chimney Rock is good for those on a budget. If you want to splurge, check out The Esmerelda Inn.
The largest towns nearby are Black Mountain and Hendersonville, where you can find plenty of cheap lodging if you'd rather stay here. A visit to Chimney Rock is definitely one of the best things to do near Black Mountain, NC!
Shenandoah National Park, VA
2-3 nights, 5-hour drive from Chimney Rock to Shenandoah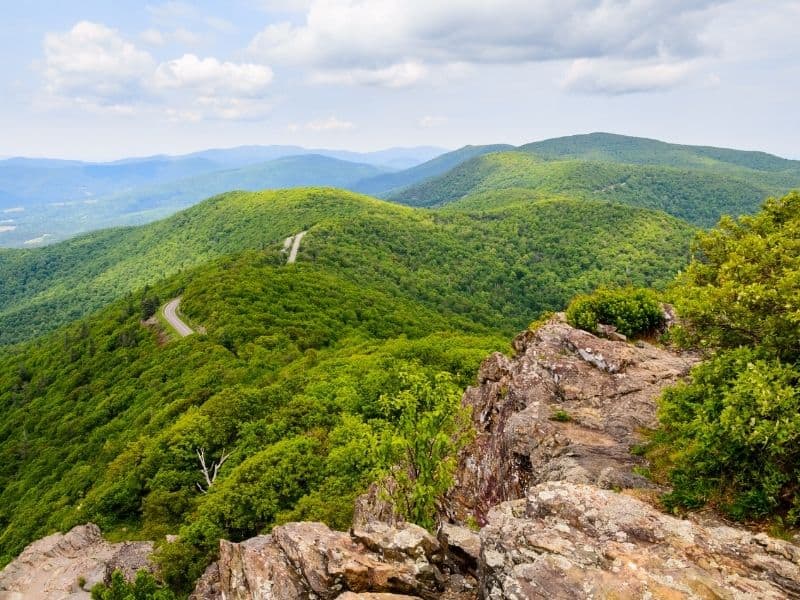 Virginia's Shenandoah National Park delights visitors of all ages with stunning mountain vistas, pastoral meadows, and tumbling waterfalls. The park's natural beauty can be taken in from more than 75 scenic pull-offs and overlooks along the 105-mile Skyline Drive or on foot thanks to 500 miles of hiking trails, including 101 miles of the iconic Appalachian Trail.
Things to Do in Shenandoah National Park
Trailheads all along Skyline Drive make it easy to stop for a hike. Take in scenic views from the top of Mary's Rock or Bearfence Mountain. Alternatively, hike to refreshing waterfalls at Shenandoah National Park, like South River Falls or Jones Run Falls. Both have cooling swimming holes for those eager to kick off their shoes.
Stop at one of two visitor centers along Skyline Drive: Dickey Ridge Visitor Center and Byrd Visitor Center. Chat with a park ranger or settle in for a short film on the park's history. Kids will want to pick up a Junior Ranger activity booklet to earn a badge as a brand-new Junior Ranger if they haven't already done so.
Given the size of this national park, you can spend one day or several days motoring up and down Skyline Drive or hiking all kinds of trails. In-season, you can also go horseback riding at Skyland Stables or rock climbing with Shenandoah Mountain Guides.
Shenandoah Insider Tip
Shenandoah National Park is very popular and can get busy on weekends. Many parking areas for hiking trails are small too, with most having room for less than ten cars. That noted, get an early start if you plan to hike at the park.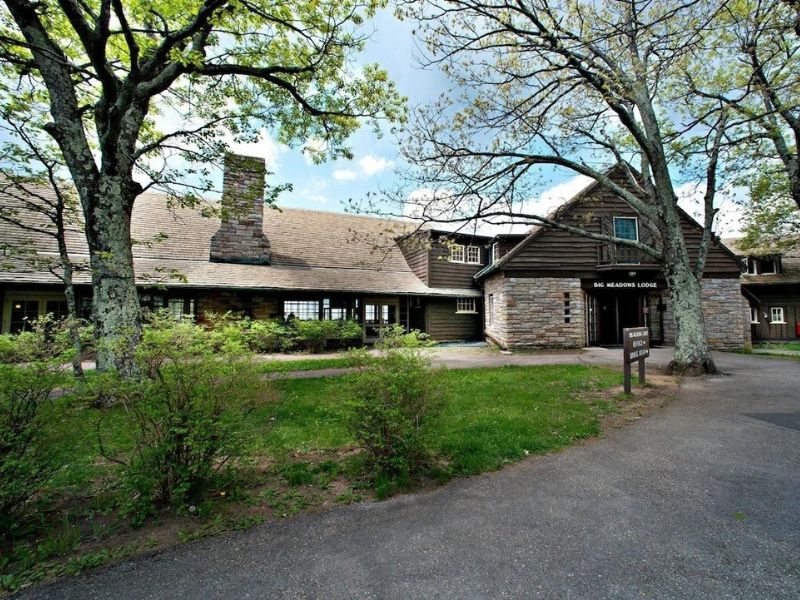 Where to Stay in Shenandoah National Park
There are two in-park lodges in Shenandoah National Park: Skyland Lodge and Big Meadows Lodge. Both are in the park's Central District and have a restaurant, outdoor terrace, and access to popular hiking trails. There are also four campgrounds, of which Big Meadows is the most popular.
Ohiopyle State Park, PA
3-night add-on option, 3-hour drive from Shenandoah to Ohiopyle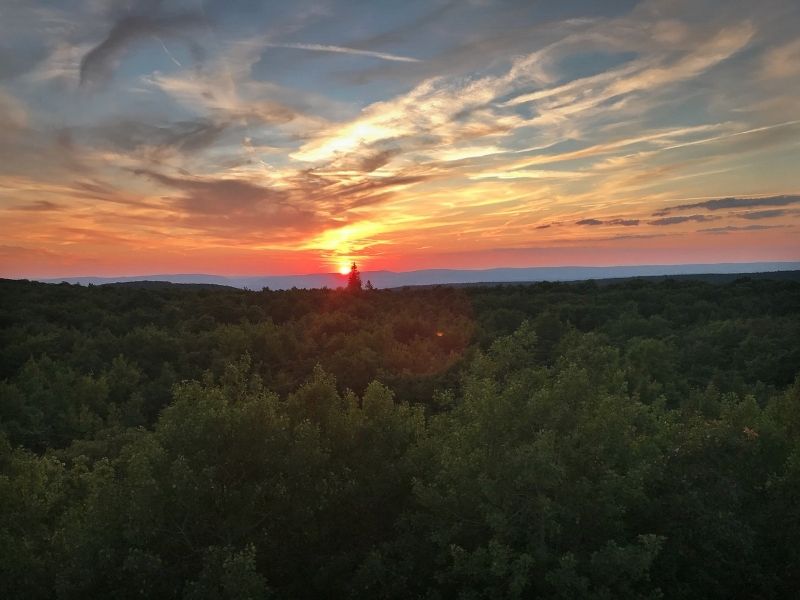 Recommended by Kayla of Writing From Nowhere
Ohiopyle State Park is a beloved escape located in Southwestern Pennsylvania and makes for a worthwhile addition to this east coast national parks road trip if you have time to spare. Characterized by rolling green mountains, waterfalls, and white water rapids, the region (known as the Laurel Highlands), was the muse for Frank Lloyd Wright's most iconic creation, Fallingwater, which is less than 2 miles from the park.
Things to Do in Ohiopyle State Park
The most popular recreational area at Ohiopyle is Cucumber Falls, a short (>0.5 mile) loop hike that leads to a string of natural water slides. If the water is too low or too high to take a plunge, the walk along the water is a perfect spot for spotting birds and critters. There's no lifeguard on duty here, so beware of the falls after rain; they're known even to give locals a run for their money.
Ferncliff Trail is another can't-miss stomping ground, covering a short loop (2 miles) along the water where you can view the rapids and waterfalls. The trail is lush and alive during warm weather and perhaps even more enchanting when the falls freeze over in the winter months.
On a rainy day, consider swinging by Frank Lloyd Wright's world-famous Fallingwater. Located just 2 miles from the park, it's the perfect cultural supplement to your outdoor adventures – just don't forget to make a reservation in advance!
Last but not least: no Ohiopyle recommendation is complete without trying to lure you out onto the water. The Youghiogheny River (pronounced yawk-i-gain-ee) is the beating heart of the park and is host to fantastic kayaking, canoeing, and white water rafting.
Ohiopyle Insider Tip
Ohiopyle is a gorgeous 4-season destination, so don't forget to specifically research the highlights for the season you'll be visiting. You can enjoy a lush summer visit, a colorful autumn trip, a mesmerizing winter adventure, or an overflowing spring escape. Fun fact: when the snow melts off the mountains, waterfalls are particularly lush!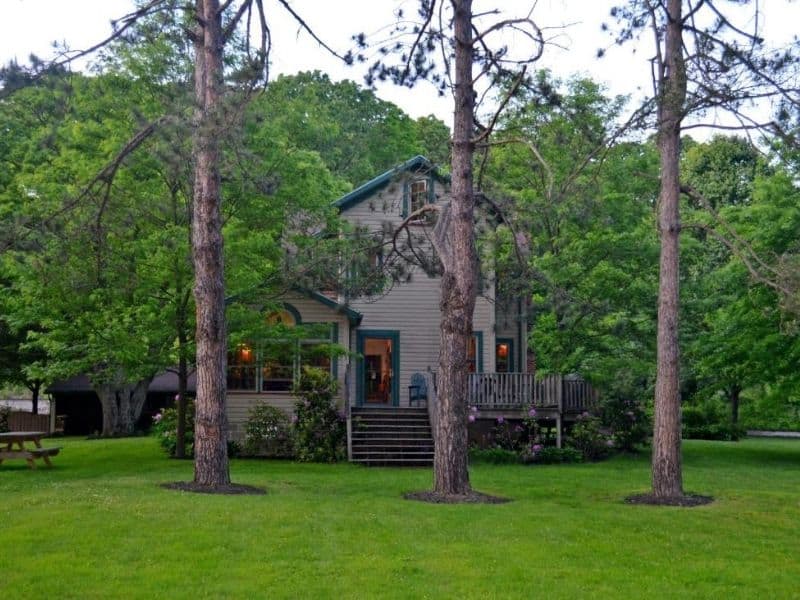 Where to Stay in Ohiopyle
Ohiopyle is much more than just a day trip, so don't hesitate to book a campground, cabin, or hotel room for the night. The state park has a campground open from April through December and provides many amenities for visitors, including a playground and ADA sites.
Alternatively, embrace cabin living while retaining hotel amenities at Paddler's Lane Retreat, a cozy B&B located on the park border. It sits right along the Yough River (remember, pronounced "yawk" – say it confidently and you can pass as a local!).
For large gatherings, consider renting out the Trillium Lodge, which is also right along the park's border and can sleep up to 23 people.
Washington D.C.
2 nights, 3.5-hour drive from Ohiopyle to Washington D.C.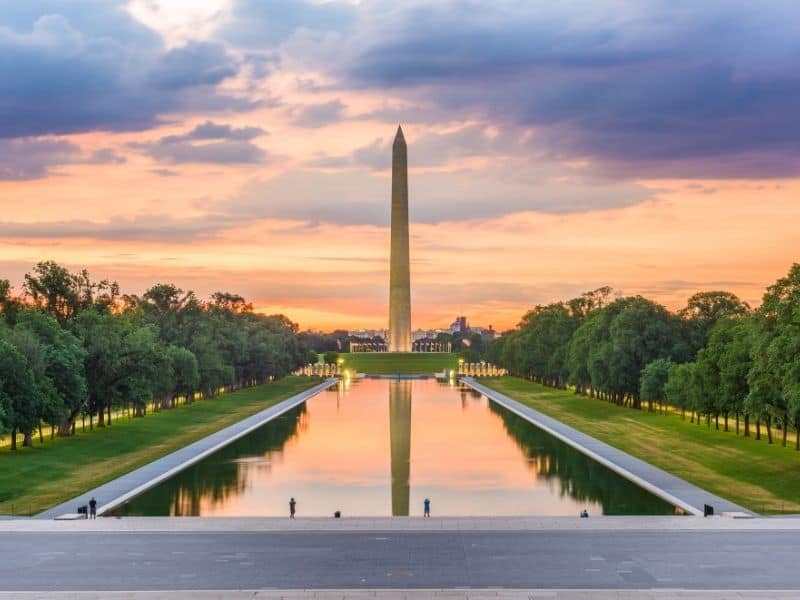 Recommended by Bernadette of Live a Relaxed Life
The perfect last hurrah on your east coast national parks road trip, Washington DC is the capital of the United States and within it are many monuments that celebrate America. It's the seat of the US government, but it also has a vibrant food scene, interesting neighborhoods, and can't-miss museums that make it a fun place to visit.
Things to Do in Washington D.C.
A day around DC should start at the US Capitol. Just to the side is the Library of Congress, and it's also worth a visit to see artifacts and join a tour to learn more about the building and the important books within it.
Continue on and enter The National Mall to visit all of the Smithsonian Museums (bonus – they all have free entry!). Stroll all the way down to the Potomac River to see the Lincoln Memorial. And don't miss the Tidal Basin for wonderful photo ops and to see Martin Luther King's statue.
In the evenings, take your pick of what you want to eat! DC is home to various embassies, and global cuisine now makes up the melting pot of DC's food scene. Head to H Street Northeast to try just about every type of international cuisine.
Washington D.C. Insider Tip
Summer in DC can get really humid, and winter can be cold, so the best time to visit is in the late spring or early fall.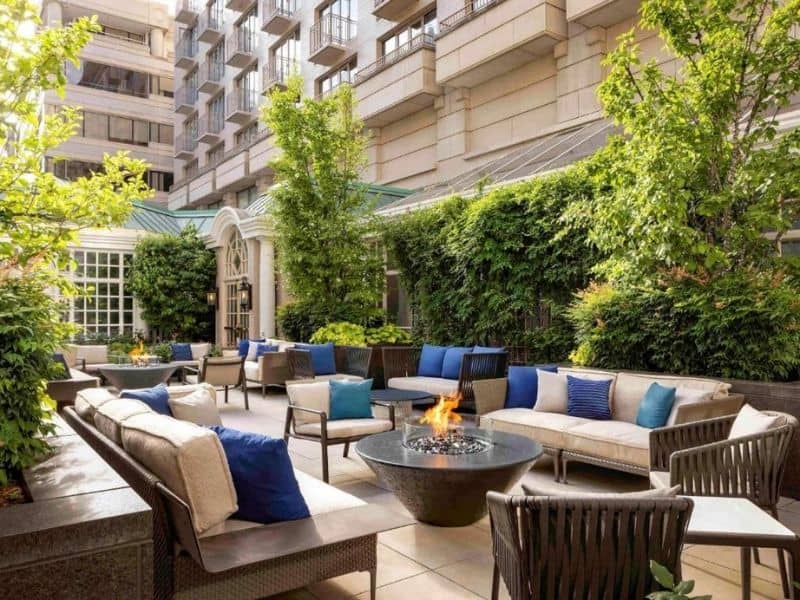 Where to Stay in Washington D.C.
Yotel Washington DC has decent rates, new facilities, and a great location. It's right by The National Mall and Union Station, making it easy and convenient to get around. For a more sophisticated option, you can't go wrong with the Willard Intercontinental or Fairmont Georgetown DC.
If you'd like to live like a local in an Airbnb, try this Modern 1-Bedroom Apartment near Capitol Hill or this Trendy 2-Bedroom Home just over a mile from the Library of Congress.
Explore more National Park Road Trips
All photos courtesy of the hotel, cabin, booking, or information sites
Up and Away Magazine is reader-supported. This means that when you make a booking via one of our affiliate links, we may earn a commission at absolutely no additional cost to you. In this way, we are able to bring you content for free. Your continued support is greatly appreciated. Adventure on!