Groves of redwoods, temperate rainforests, coastal beaches, and food-renowned cities characterize this epic San Francisco to Seattle road trip itinerary. Scattered with some of the most gorgeous national and state parks in the country, the route is a treasure trove for the outdoor-minded. At the same time, cities such as San Francisco, Portland, Seattle, and Bend overdeliver with their iconic skylines and insatiable food and drink scenes.
Encompassing destinations like the Redwood Coast, Crater Lake, Mount Hood, Cannon Beach, Mount Rainier, and Hoh Rainforest, we dub this itinerary to offer road trippers the best combination of city, sea, mountain, and forest in the country. If you're short on time, stick to the minimum timeframes provided or complete just a portion of the trip; if you have a bit more time to spare, add a night wherever you please or combine this itinerary with a California National Parks Road Trip or a Seattle to Yellowstone Road Trip.
San Francisco to Seattle Road Trip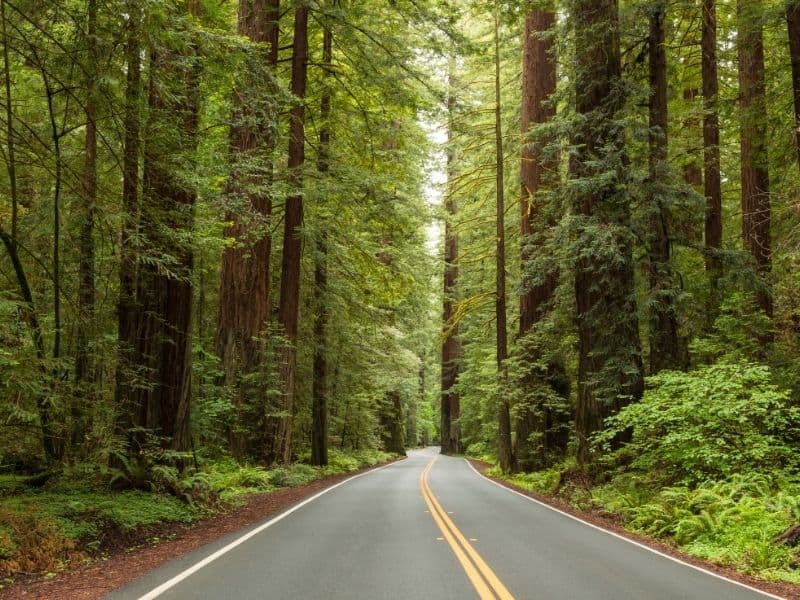 San Francisco to Seattle Road Trip Map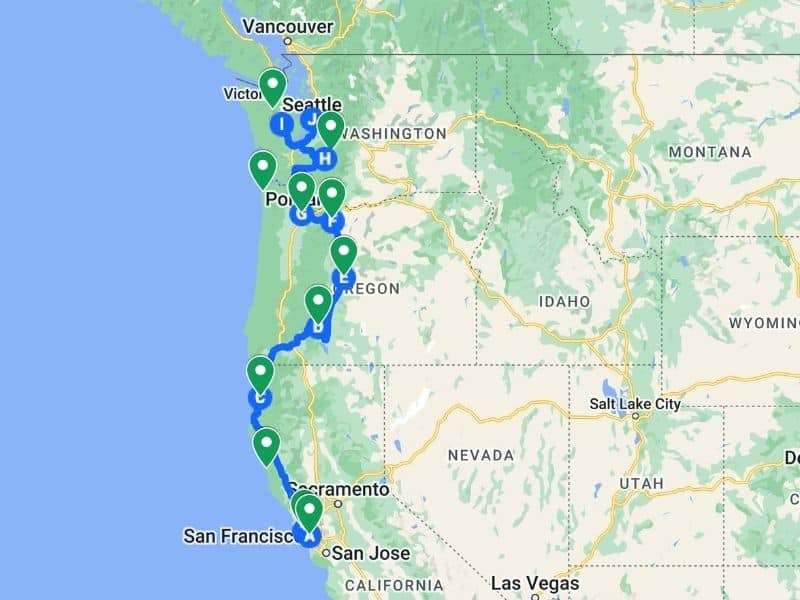 Other national park road trips you might like:
San Francisco to Seattle Itinerary
San Francisco, CA – 2-3 nights, road trip starting point
Muir Woods, CA – 1 day, < 1-hour drive from San Francisco to Muir Woods
Fort Bragg, CA – 2-night optional add-on, 3-hour drive from Muir Woods to Fort Bragg
Redwood National Park, CA – 3 nights, 3.5-hour drive from Fort Bragg to Redwood Coast
Crater Lake National Park, OR – 2 nights, 3.5-hour drive from Redwood to Crater Lake
Bend, OR – 2-3 nights, 2.5-hour drive from Crater Lake to Bend
Mount Hood, OR – 2 nights, 2.5-hour drive from Bend to Mount Hood
Portland, OR – 2-3 nights, 1.5-hour drive from Mount Hood to Portland
Seaside, OR – 1-2 night optional add-on, 1.5-hour drive from Portland to Seaside
Mount Rainier National Park, WA – 3 nights, 3-hour drive from Seaside to Mount Rainier
Olympic National Park, WA – 3 nights, 2.5-hour drive from Mount Rainier to Olympic
Seattle, WA – 2-3 nights, 2-hour drive from Olympic to Seattle
How to Use This Road Trip Guide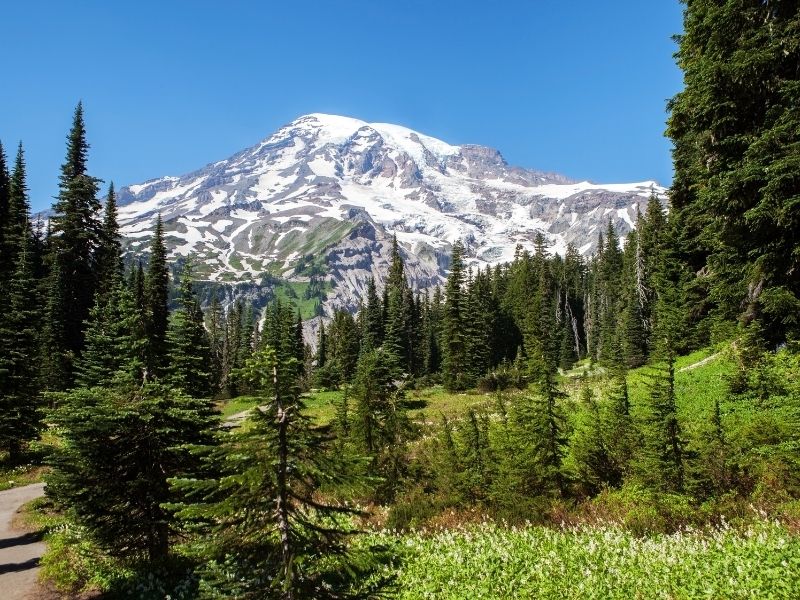 This San Francisco to Seattle road trip itinerary is intended to serve as a guide and can easily be tailored to suit your available timeframe, priorities, budget, and the time of year you are visiting. To complete the route in full, we recommend a minimum of 3 weeks. If you have more time to spare, set aside a month and include the coastal towns of Fort Bragg and Seaside.
If you have less than three weeks available for your San Francisco to Seattle road trip, we suggest cutting this itinerary down to start in San Francisco and end in Portland, or start in Portland and end in Seattle. The San Francisco to Portland section can be easily completed in 2 weeks, and the Portland to Seattle section in as little as ten days.
Best Time for a West Coast Road Trip?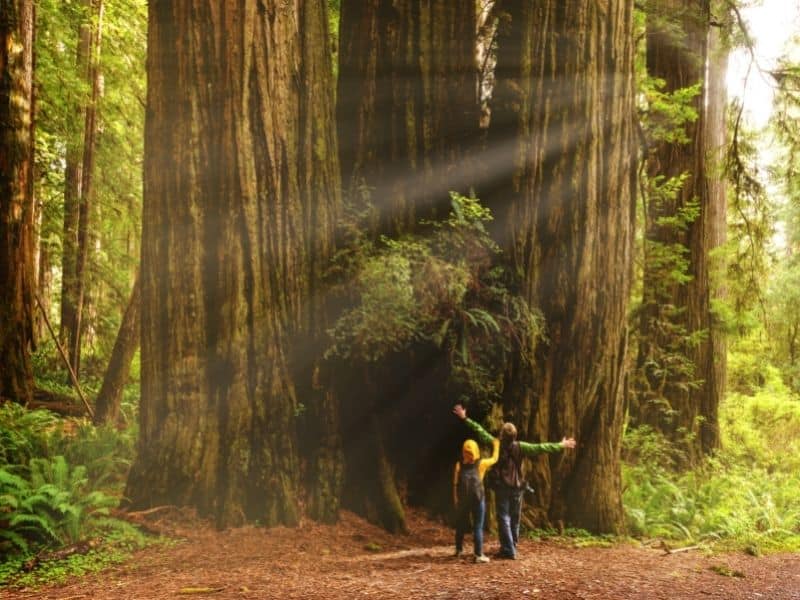 The best time for a San Francisco to Seattle Road Trip tends to be between June and October when temperatures are at their warmest and rain and snowfall are at a minimum. July and August attract the most crowds, so September and October may be best if you're searching for scenic solitude. Oregon Fall colors are absolutely stunning in October – just be sure to pack a jacket or two!
While all parks remain open during winter, many trails, roads, and lodging facilities close due to snow – especially in Oregon and Washington. Winter road trippers should plan accordingly and ensure their vehicle is equipped with AWD and snow tires or chains.
Best San Francisco to Seattle Road Trip
San Francisco, CA
2-3 nights, Road trip starting point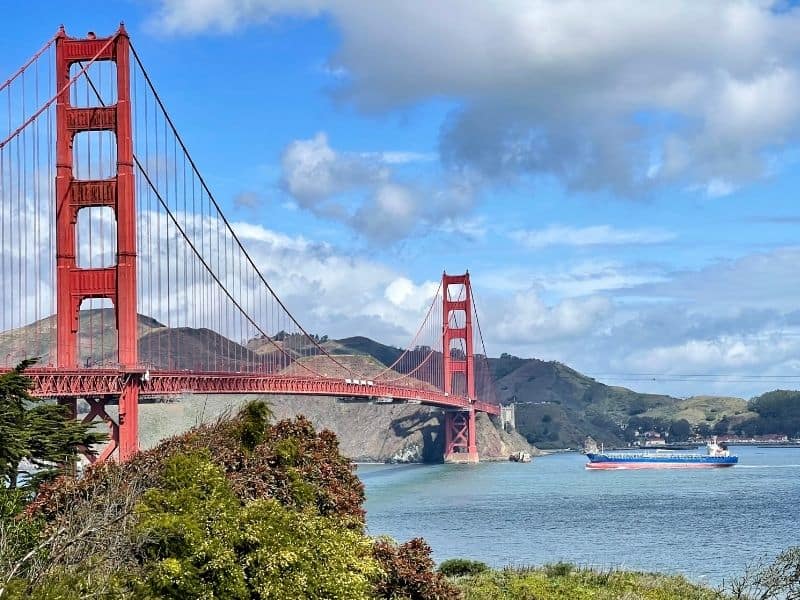 San Francisco is known as one of the best food cities in the United States, as well as a hub for some of the richest tech companies in the world. It's also home to some of California's most recognizable landmarks, including the Golden Gate Bridge and Alcatraz.
Things to Do in San Francisco
Of course, the Golden Gate Bridge should be on your list of sights to see in SF. To get the best photos, head to the Golden Gate Bridge Welcome Center, Baker Beach, or Crissy Field – all at Presidio National Park. Between the trails, beaches, museums, and eateries, you could spend all day at The Presidio. The same can be said for the other large green space in SF, Golden Gate Park.
But to really experience the city, you need to walk the streets and the waterfront. San Francisco's Chinatown is the oldest in North America. Stroll through the gates on Bush Street and then meander to North Beach, SF's Little Italy. There you'll find iconic Italian restaurants, Washington Square, Saints Peter and Paul Church, and the famous City Lights Bookstore. Don't forget to peek down the side streets for views of Coit Tower.
Nearby take a gander at the Crookedest Street in the World, Lombard Street, and then make your way to Fisherman's Wharf. See the sea lions at Pier 39 and end up at the Ferry Building Marketplace for some snacks.
San Francisco Insider Tip
If there's a particular restaurant you want to go to, make a reservation as soon as you can. San Francisco tables can get booked up one to two months ahead of time!
Where to Stay in San Francisco
Stay somewhere central, like The Clift Royal Sonesta Hotel in Union Square or the InterContinental Mark Hopkins Hotel in Nob Hill. Both are near cable car stops, and the city is pretty compact, making it very walkable and easy to get around for sightseeing.
If you're searching for a more boutique option, we love Hotel Emblem in Union Square, and our favorite trendy pick is Hotel Kabuki in Japantown. HI San Francisco Downtown Hostel is an awesome choice if you're on a budget (and they have plenty of private room options).
Muir Woods National Monument, CA
1 day, 45-minute drive from San Francisco to Muir Woods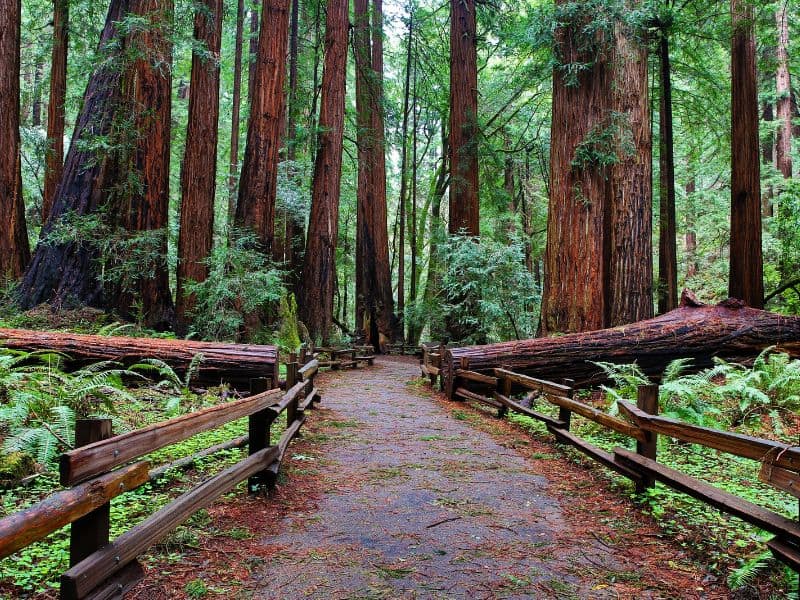 Muir Woods National Monument is one of the best places to see coastal redwoods in the San Francisco Bay Area and can easily be explored as a day trip en route from San Francisco to Fort Bragg. Alternatively, it's only a 17-mile drive from San Francisco to Muir Woods if you want to see it while based in the city.
Highlights of Muir Woods National Monument
Muir Woods Main Trail is a wheelchair-accessible path that winds through the redwoods on an easy, short loop. You can add on other side trails to make this hike a little longer.
For a medium-intensity hike, try the Canopy Trail, 3 miles long with a little over 500 feet of elevation gain. A slightly harder hike would be the Ben Johnson Trail, which is 4 miles with 900+ feet of elevation gain. Hikers looking for a challenge can tackle the Dipsea Trail, a 10-mile hike with over 1,000 feet of elevation gain that will bring you sweeping views over the Pacific Ocean.
Muir Woods Insider Tip
The Muir Woods are extremely popular to visit, and reservations are required for parking or for accessing the shuttle. Be sure to reserve your parking well ahead of time!
Fort Bragg, CA
2 nights, 3-hour drive from Muir Woods to Fort Bragg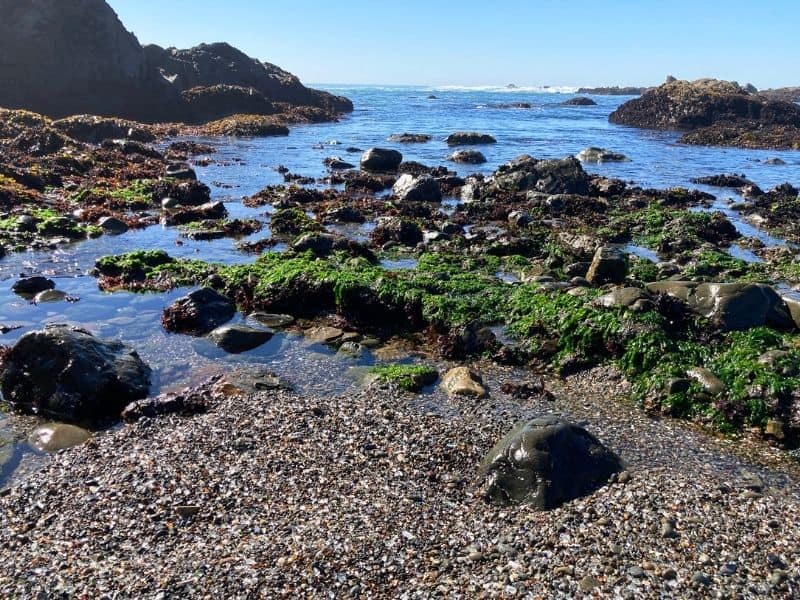 Fort Bragg is a quaint, historic town on the California coast known for its beautiful scenery. Highlights include Glass Beach, named for its colorful bits of sea glass, and nearby hiking trails through the California Redwoods. Fort Bragg makes for a relaxing weekend trip or a great stop on a larger American Northwest Road Trip.
Things to Do in Fort Bragg, CA
Take the "Skunk Train", a gas-powered locomotive, into the California Redwoods. The train ride is 90 minutes round-trip, though you can also get there via pedal power! Two-person rail bikes let you pedal down the railroad tracks on your own power.
Visit Glass Beach to marvel at the bits of colored glass among the rocks. Over the years, much of the glass has been cleaned up, so expect glimmers rather than piles of large pieces. It's best to visit at low tide so you can explore the tide pools as well.
Hike the Noyo Headlands Coastal Trail. This five-mile paved trail runs along the coast with lots of viewpoints along the way. It's a great trail for sunset!
Smell the roses at the Mendocino Coast Botanical Gardens, a 47-acre botanical garden especially known for its varieties of rhododendrons, which bloom in March and April.
Fort Bragg Insider Tip
Make sure to spend some time in downtown Fort Bragg, where you'll find lots of cute shops and cafes. Headlands Coffeehouse is a perfect lunch stop – don't miss their African Vegetable Samosas. Afterward, cross the street for dessert at A Sweet Affair to try their macaron flavors.
Also, stop by The Book Store and Vinyl Cafe to check out their newest selections and support an independent bookseller.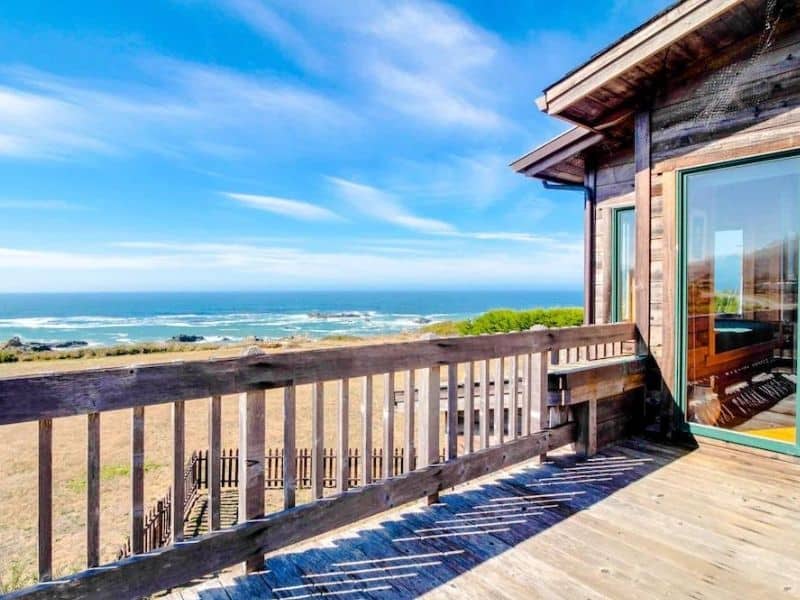 Where to Stay in Fort Bragg, CA
The Beachcomber Motel, just north of the town center, is a great value option with ocean views, fire pits, and bicycle rentals on-site. For a more luxurious option, The Inn at Newport Ranch truly can't be beaten. If an Airbnb is what you're after, we love this 1-bedroom Asian-inspired cottage and this 2-bedroom oceanfront home. This 1-bedroom tower is also pretty rad.
Redwood National and State Parks, CA
2-3 nights, 3.5-hour drive from Fort Bragg to Redwood Coast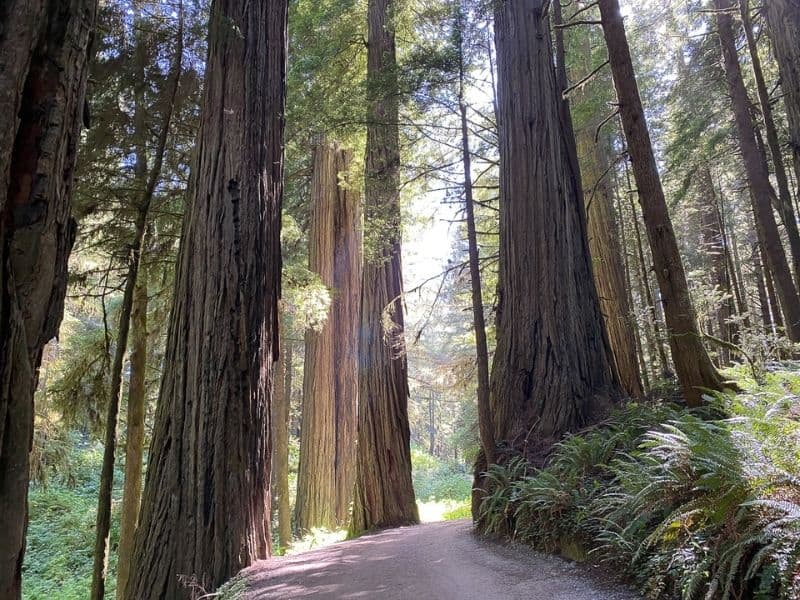 The coastal redwoods within Redwood National and State Parks are THE tallest trees on earth. These magnificent trees are typically localized to Northern California, with a few amazing groves along the Southern Oregon Coast as well.
Things to Do on the Redwood Coast
As you enter the parks, suddenly the road is flanked by forests of giant redwood trees providing a dense canopy overhead and a fern-covered forest floor.
One of the best things to do in the parks, beyond looking up in wonder, is hiking along the miles of park system trails and discovering the "must-see" trees. Take a picnic lunch and enjoy the day.
Some of the notable hiking trails within the parks include Boy Scout Tree Trail (5.5 miles), Nickerson Ranch Trail (2.6 miles), Mill Creek Trail (5.6 miles), Hiouchi Trail (4.4 miles), Hatton Trail (4.3 miles), Simpson-Reed Trail (1 mile) and Leiffer and Ellsworth Loops (2.1 miles).
California Redwoods Insider Tip
If you don't already have an America The Beautiful Annual Pass consider purchasing one! The cost is $80 and includes access to more than 2,000 parks and recreation areas across the United States.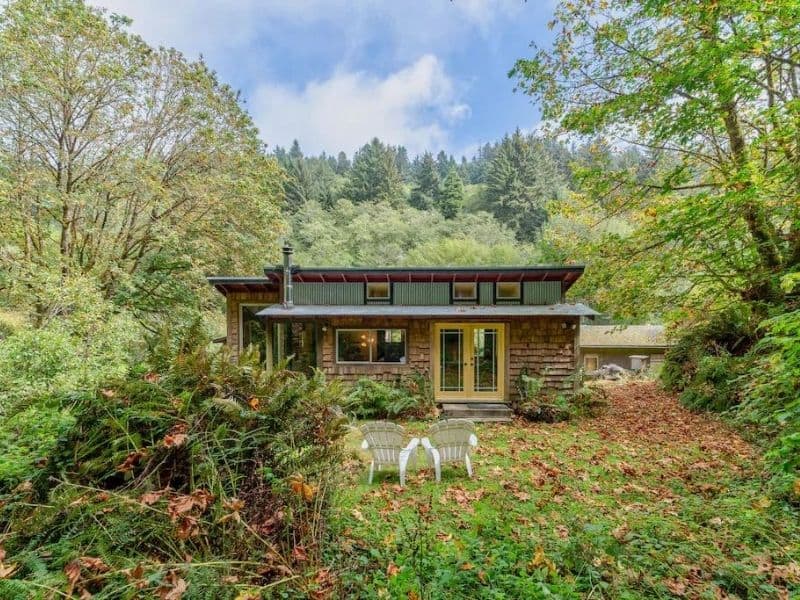 Where to Stay on the Redwood Coast
After a day of exploring, sleep among the towering giants themselves. Fern Hook Vacation Cabins are nestled in the forest not far from Jedediah Smith State Park. This rustic 1-bedroom cabin and this gorgeous 2-bedroom A-frame are also minutes from a park entrance.
Crater Lake National Park, OR
2 nights, 3.5-hour drive from Redwood to Crater Lake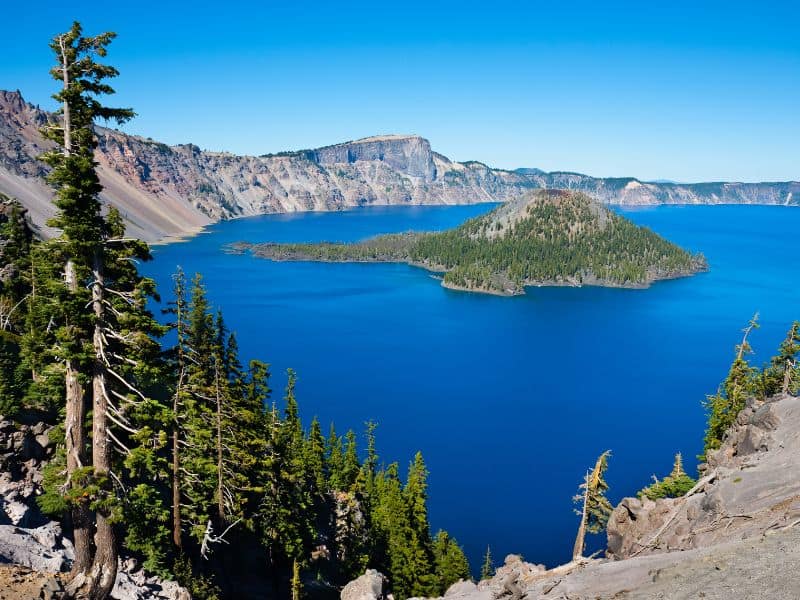 Crater Lake National Park in Oregon is most famous for its namesake, Crater Lake, which was created by an eruption that triggered the collapse of the once majestic Mount Mazama Volcano some 7,700 years ago. Crater Lake is the deepest lake in the United States and the ninth deepest in the world at a depth of 1,943 feet!
Things to Do in Crater Lake National Park
There are several beautiful trails inside the park, including Cleetwood Cove Trail (Moderate), Garfield Peak Trail (Moderate), and Discovery Point Trail (Easy).
Those in favor of scenic drives are in luck! There are 30 overlooks along the 33-mile historic West Rim Drive alone! It includes popular viewpoints such as Videa Falls, Pumice Castle Overlook, and Discovery Point. Alternatively, East Rim Drive is a short 9-mile round trip drive that features Sun Notch viewpoint, from where visitors can enjoy a spectacular view of Crater Lake and Phantom Ship.
Crater Lake Insider Tip
Crater Lake National Park is one of the snowiest places in the United States! The park's winter season runs from November to April, but snow typically lingers through May and June. For those hoping to avoid the snow, July through October tend to be the best time to visit when temperatures are moderate, and roads and attractions are unlikely to be closed. However, for minimal crowds, May and June are great options.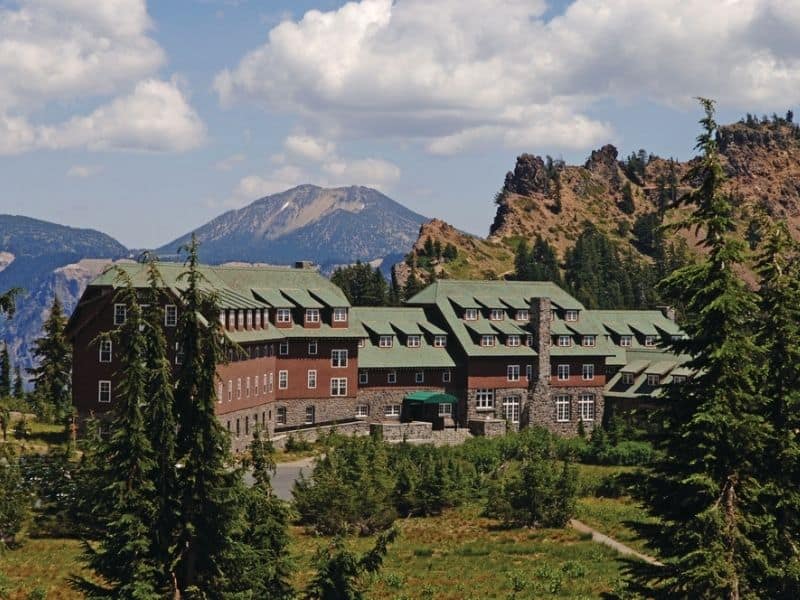 Where to Stay in Crater Lake National Park
Located near the park's south entrance, Mazama Campground is the main campground inside Crater Lake National Park and the only one accessible to RVs. The campground features flush toilets, coin-operated showers, and a camp store. Reservations are required during peak season.
Alternatively, Lost Creek is a 16-site tent-only campground located on the east side of the park. The campground is equipped with vault toilets and food-storage lockers, but potable water is not available. Lost Creek is typically open during summer, and sites are available on a first-come-first-served basis. However, the campground will remain closed throughout the 2023 season.
If camping is not your style, you can book a room at the historic Crater Lake Lodge, which offers exquisite views of Crater Lake, or a cabin at Mazama Village. Our favorite lodging outside the park is Crater Lake Resort in Fort Klamath.
Bend, OR
2-3 nights, 2.5-hour drive from Crater Lake to Bend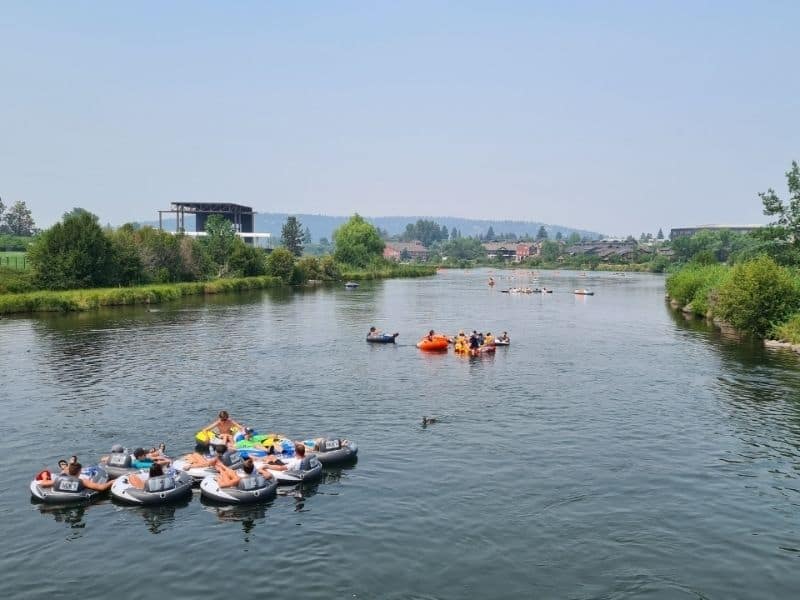 Nestled behind the Cascade Range, Bend is a town that delivers a wonderful mix between an abundance of outdoor adventures throughout the seasons and a relaxed mountain town vibe punctuated by craft breweries and fabulous local eateries.
Things to Do in Bend, OR
Floating the Deschutes is the #1 most popular summer activity in Bend. Rent a sturdy tube from one of the local operators and float past the Old Mill District, enjoy some mild rapids, and spend a lazy afternoon on the water.
Next, take on the Bend Ale Trail! Craft beer is a booming industry in Bend, serving some of the country's best. Now in App format, pick up your trail map and "passport", explore the seven different territories of Bend, chart your journey across the city's breweries, and collect your prize at the Bend Visitor Center. A great way to support local businesses, get you exploring around town and pick up some brilliant brews for your journey.
There are also literally hundreds of hiking trails in the hills and mountains that surround Bend, from family-friendly easy waterfall hikes (such as Tumalo Falls) to the much more strenuous (like South Sister). Rock climbing is even possible to enjoy at Smiths Rock State Park.
Learn more about the region's fiery ancient past at Newberry National Volcanic Monument. Stop in at the Lava Lands Visitor Centre for some interactive displays, then take on some of the hikes. Try the Obsidian Flow Trail for something easy or a longer hike on Paulina Peak Crater Rim Trail.
Bend Insider Tip
There's no denying the Deschutes River gets busy in the peak of summer. If you want to kayak or paddleboard and avoid the wayward tubers, head further west and try Todds Lake or Sparks Lake. They're still busy in summer, but have plenty of room for everyone to enjoy their slice of tranquillity.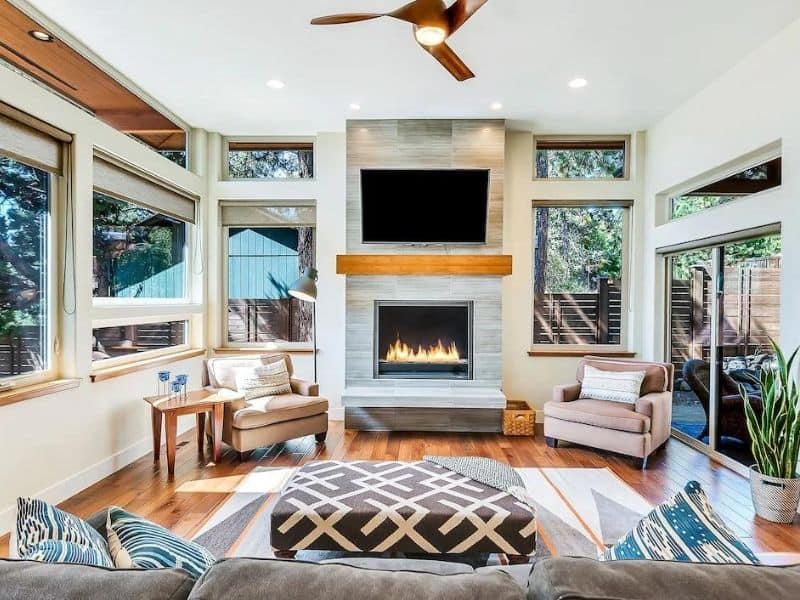 Where to Stay in Bend, OR
Bend is a great town for renting an Airbnb or Vrbo. Riverfront is prime property and great for a family or group, but it comes with a price tag. Look for properties on the Westside for great value within walking distance to Downtown. Personally, we love this 1-bedroom riverfront condo, this Old Mill Studio, and this 2-bedroom mid-century home.
For hotels, try The Oxford Hotel for a wonderful boutique stay in the heart of Downtown. For RVers, Bend-Sunriver RV Campground is the place to go.
Mount Hood, OR
2 nights, 2.5-hour drive from Bend to Mount Hood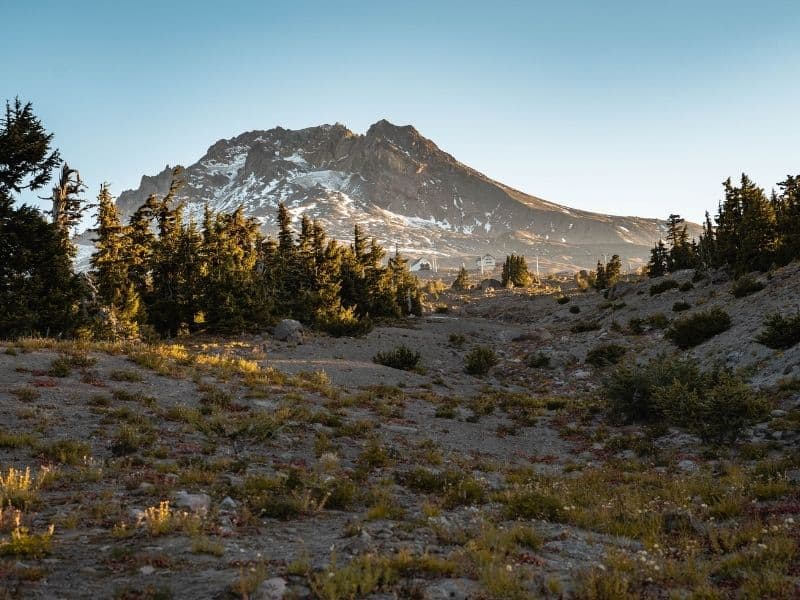 Mount Hood National Forest is well known for its hiking and outdoor activities. In the summer, you can hike, camp, and spend time at the many lakes. In winter, it becomes a paradise for skiers and snowboarders.
Things to Do Near Mount Hood
The best thing to do near Mount Hood is to hike! For great views, opt for Tom, Dick, and Harry Mountain or McNeil Point. For waterfalls, hike to Ramona Falls or Tamanawas Falls. You can also spend time relaxing at Trillium Lake, kayaking or swimming. In the winter, ski or snowboard at Timberline Lodge.
Mount Hood Insider Tip
Consider arriving early for sunrise or staying late for sunset to watch the mountain glow in the light.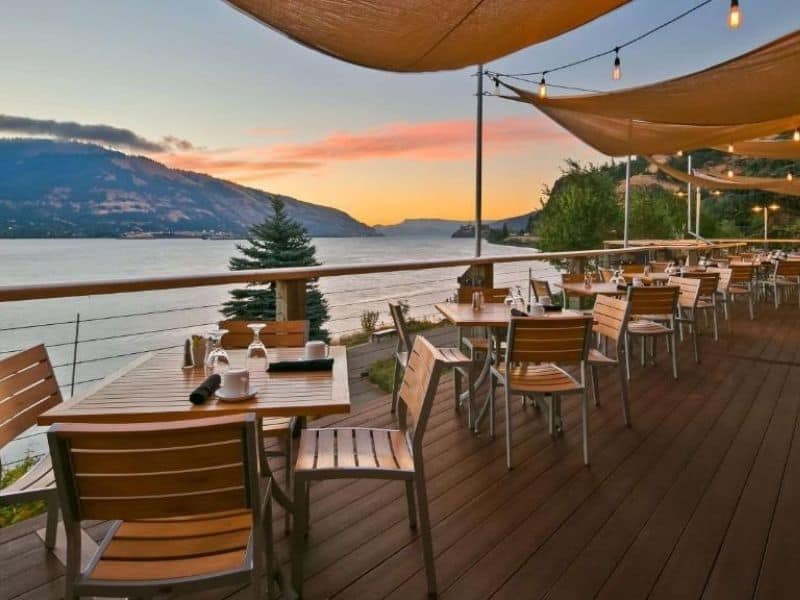 Where to Stay Near Mount Hood
The best place to stay near Mount Hood has to be Timberline Lodge for its history and amazing views. Otherwise, stay in a nearby town like Sandy or Hood River. We particularly love the Best Western Plus in Hood River.
As far as camping goes, Trillium Lake and Lost Lake Campgrounds are two lovely options.
Portland, OR
3 nights, 1.5-hour drive from Mount Hood to Portland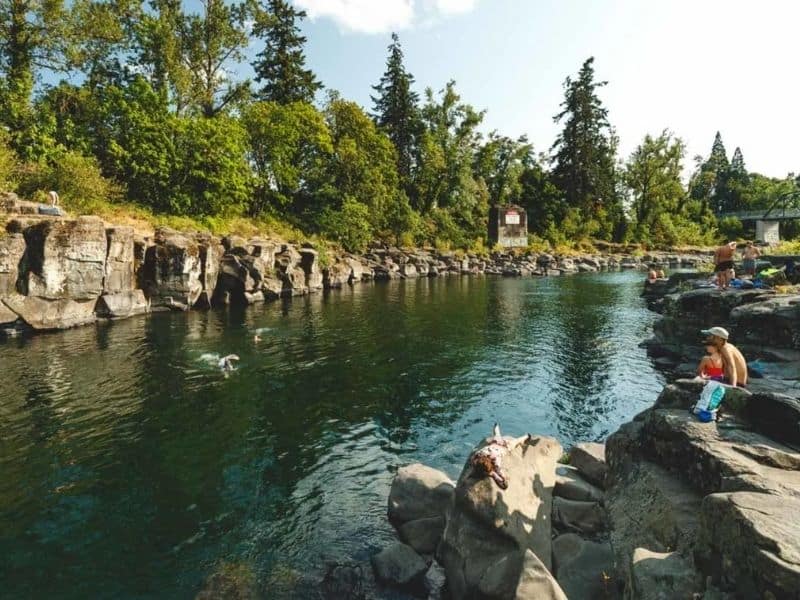 Portland is best known for being "weird" but once you're here, you'll find out it's also an amazing base for some awesome outdoor activities!
Outdoor Activities in Portland
For those that want to get in the outdoors without having to leave the city—don't fret! It's totally possible. Portland has tons of green spaces and parks to visit. You can find yourself kayaking, hiking, and even getting your toes in the sand within 30 minutes of downtown Portland! Here are some favorite Portland parks to check out:
High Rocks: This is where the Clackamas and Willamette Rivers merge and create some really cool, you guessed it, high rocks! Go cliff jumping or put in your kayak for a paddle.
Washington Park: Don't be confused – we're still in Portland! There's so much to do at Washington Park, from visiting the International Rose Test Garden to wandering through redwood and bamboo forests. There's even an archery range.
Forest Park: Here, you'll find over 30 miles of hiking trails that will make you think you're anywhere but near a megacity! The Wildwood Trail will take you to nearly every corner of the park, but there are plenty of smaller loops to do too.
Macleay Park: – At this park, you can wander a mansion, hike to the cool and abandoned "Witches Castle", and even visit a bird sanctuary.
Sauvie Island: If you want some beach vibes without driving too far, this is the spot. Just a bit north of Portland, you'll find a lighthouse hike, tons of beaches, and fresh produce farms to visit.
Take a Day Trip: Spend a day exploring the best waterfalls in Columbia River Gorge.
Portland Insider Tip
Portland is best enjoyed around September and October when the air is fresh and it's not too hot or cold. It's also a bit less busy during these months compared to Summer.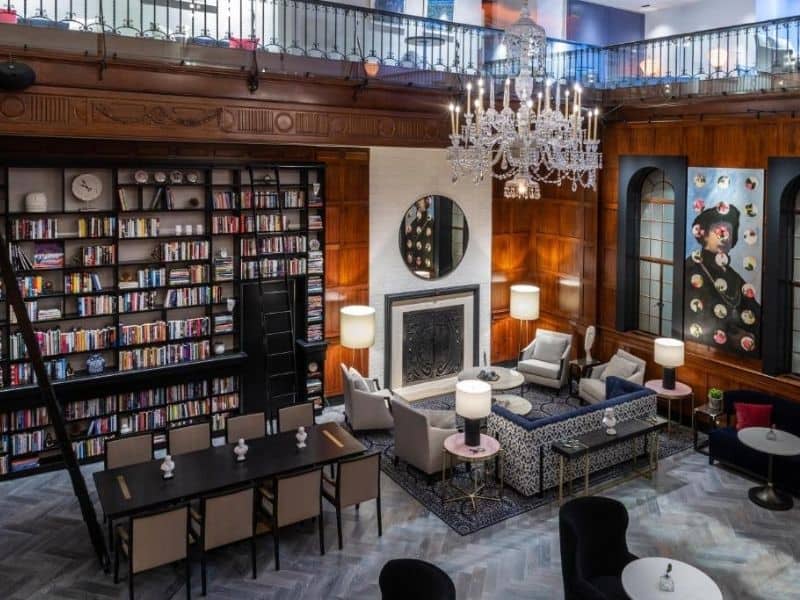 Where to Stay in Portland
As far as hotel stays go, The Mark Spencer, Dossier, and The Heathman all get a big thumbs up from us and offer incredible value for money. The Society is hands down the best budget hotel in town and offers shared bathroom and private en-suite options.
This 1-Bedroom Garden Hideaway, this Midcentury Modern Nest, and this Trendy 5-Bedroom Home are all lovely self-catering options.
If you love camping or staying out in nature more than a regular hotel in the city, you may want to consider some of the campsites around the Columbia River Gorge area. Oxbow Regional Park is a popular spot with a great location just a bit south of the river. If that one is a bit too busy, Milo McIver State Park is a bit further south and is less likely to run out of campsites. To be right on the river, Maryhill State Park is a great choice!
Seaside, OR
1-2 night optional add-on, 1.5-hour drive from Portland to Seaside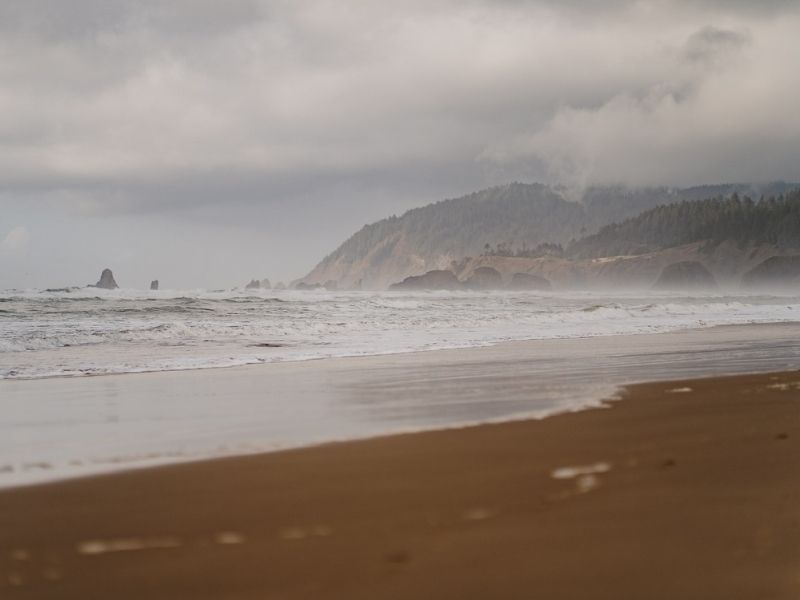 Recommended by Halle of lullephoto.com
Seaside is a cute little beach town on the west coast of Oregon and is the perfect place to post up for a night or two when traveling up the coast.
Things to Do in Seaside, OR
There are many things to do in Seaside, Oregon. One of the best things to do is to bike or walk along the boardwalk. Some hotels, such as the Surfsand Resort, offer free bike rentals when you stay. There's also the Seaside Aquarium, which offers a wealth of knowledge if you're interested in learning more about local marine life.
Seaside is just north of Cannon Beach, an Oregon icon. Whether you want to sit back and relax by the ocean or hit up some local hiking, Seaside offers the best of both worlds with where it's located.
Seaside Insider Tip
If you're planning to visit the Oregon Coast, the best time of year is May through September. You're less likely to get as much rain and more likely to see the sun during those months compared to the rest of the year. That being said, if you're wanting to escape the crowds, late September to mid-October is a great time to go, and you may even see some Fall colors!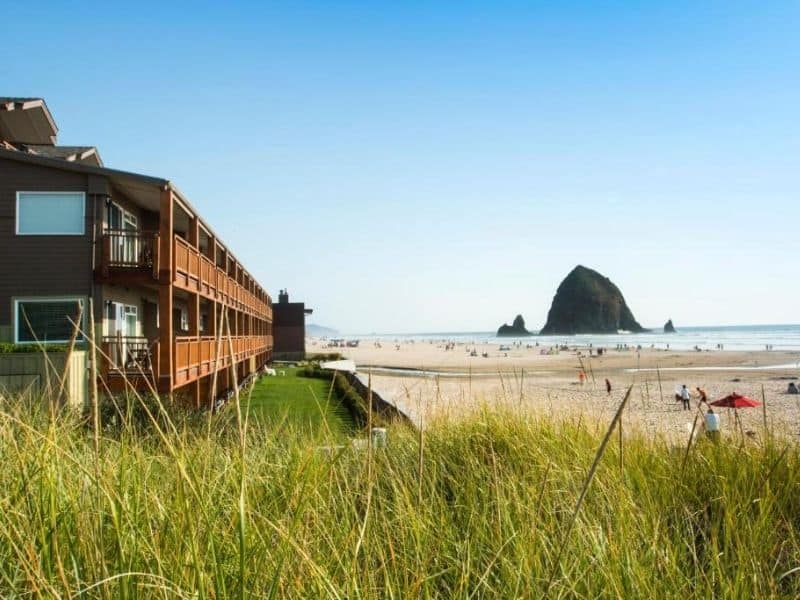 Where to Stay in Seaside, OR
If you're looking for a great place to stay, check out Surfsand Resort, where you can book a room right on the beach. They offer complimentary bike rentals, perfect for hitting the boardwalk and exploring the town. The Inn at Cannon Beach is another stunning option.
Alternatively, families wanting to self-cater will love this 4-bedroom oceanfront home that comes with a hot tub, beach cruisers, beach chairs, and a beach wagon.
Mount Rainier National Park, WA
3 nights, 3-hour drive from Seaside to Mount Rainier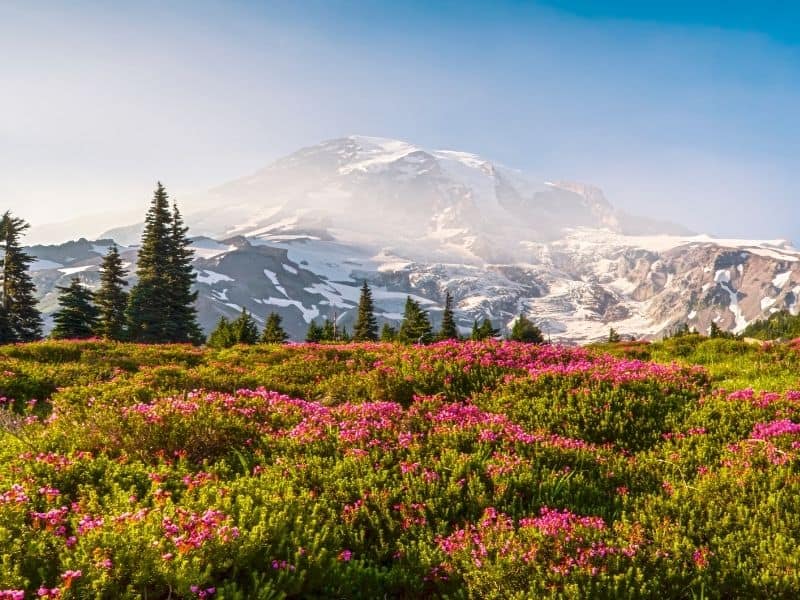 Mount Rainier National Park is just under a two-hour road trip from Seattle and just over a two-hour drive from Portland, Oregon. The park is famous for having the highest volcanic peak in the contiguous U.S. at 14,410 feet and the largest alpine glacial system outside of Alaska.
Things to Do in Mount Rainier National Park
Nisqually Vista Trail is the perfect leisurely hike suitable for almost anyone and offers incredible views of Mount Rainier. The trail is a mile-long loop and is paved, so even if you don't have hiking boots, you can still enjoy the park.
Another nearby short hike is Myrtle Falls Trail from Paradise Parking Lot, right down the street from Nisqually Vista Trail. This popular trail leads you less than a mile to the 72ft Myrtle Falls that flows into a gorge, where there are options to continue further or head back to the parking lot.
If you decide to turn around, a great two-for-one option is making a quick stop at Reflections Lake before hiking up the strenuous 3.2-mile Pinnacle Peak Trail. Pinnacle Peak is an amazing option because not only will you be able to clearly see Mount Rainier, but also Mount St. Helens.
Mount Rainier Insider Tip
Consider the weather before planning to hike. If it has recently rained (or is raining) many of the trails may be muddy or even dangerous. If you're renting a car, an all-wheel-drive vehicle is the best choice to deal with unpredictable weather.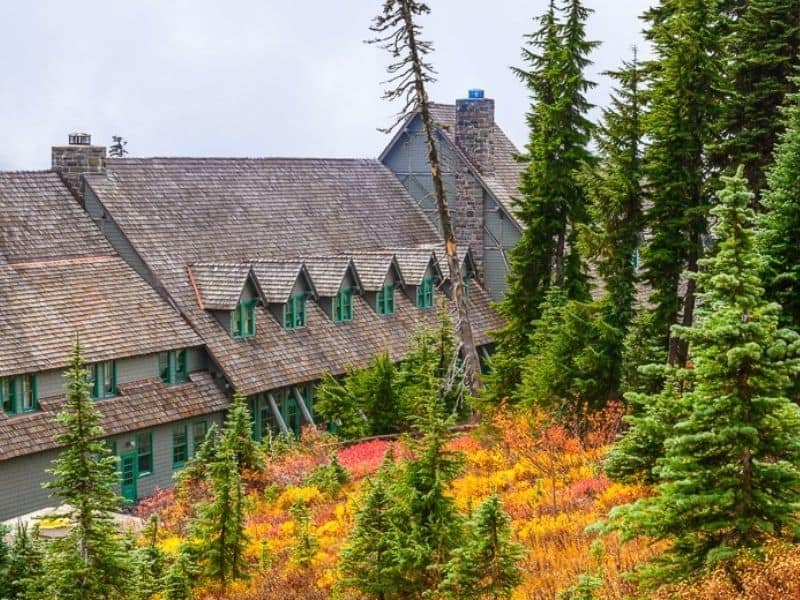 Where to Stay Near Mount Rainier
National Park Inn and Paradise Inn are the only two formal lodging options inside the national park. If fully booked, Mountain Meadows Inn is a stunning property near the park's Nisqually Entrance. Those in search of a cabin can check out our guide to the Coziest Mt Rainier Cabins.
Cougar Rock and Ohanapecosh are the two most popular campgrounds in the park.
Olympic National Park, WA
3 nights, 2.5-hour drive from Mount Rainier to Olympic
Olympic National Park is best known for its diversity of landscapes. From lush temperate rainforests to snowy alpine lakes and craggy coastal views, this place has it all!
Things to Do in Olympic National Park
Some of the easiest waterfalls to reach in the park are fairly close to one another. Spend a morning checking out Marymere Falls and then head over to Sol Duc Falls.
If you're searching for some beach time, you have a ton of locations to choose from! Rialto, La Push, Ruby, and Kalaloch Beaches can all be explored in one day (although we encourage you to spend two days seeing them if time permits!).
Finally, for some mountain exploration, consider walking the short Hall of Mosses Trail. It's the largest temperate rainforest in the United States and gets an average of 140 inches of rain annually (that's almost 12 feet!).
Olympic National Park Insider Tip
Pack a pair of waterproof boots and a rain jacket. No matter the time of year you visit, there is always a chance of rain in the forecast!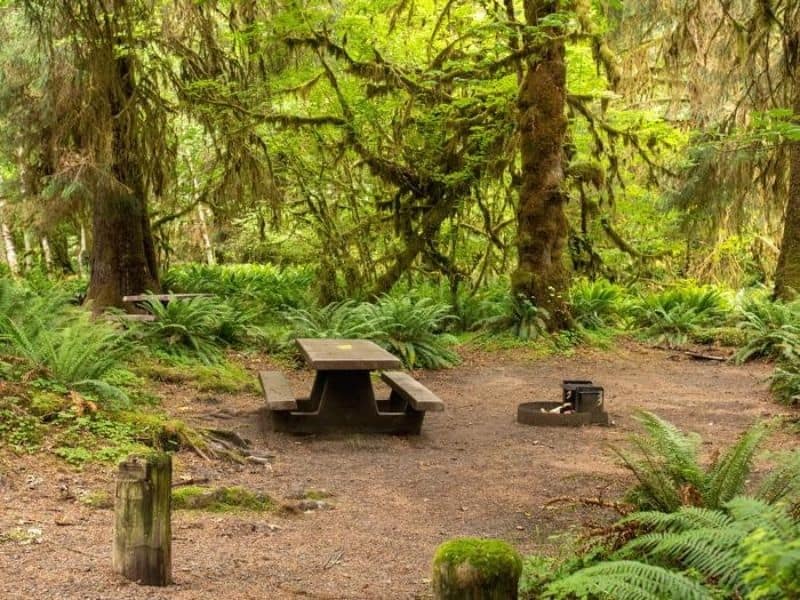 Where to Stay in Olympic National Park
Kalaloch Lodge, Lake Crescent Lodge, Sol Duc Hot Springs Resort, and Log Cabin Resort are all located inside the national park. Hoh Campground is the most sought-after place to pitch a tent, though Mora Campground is lovely too.
For accommodation near the north side of the park, consider staying at the Olympic Lodge in Port Angeles. Port Angeles will have the most amenities and gas available. On the west side (closer to the beaches), consider staying at the Woodland Inns in Forks, WA. Forks may not have as many amenities, but it's much closer to many attractions in the park.
Seattle, WA
2-3 nights, 2-hour drive from Olympic to Seattle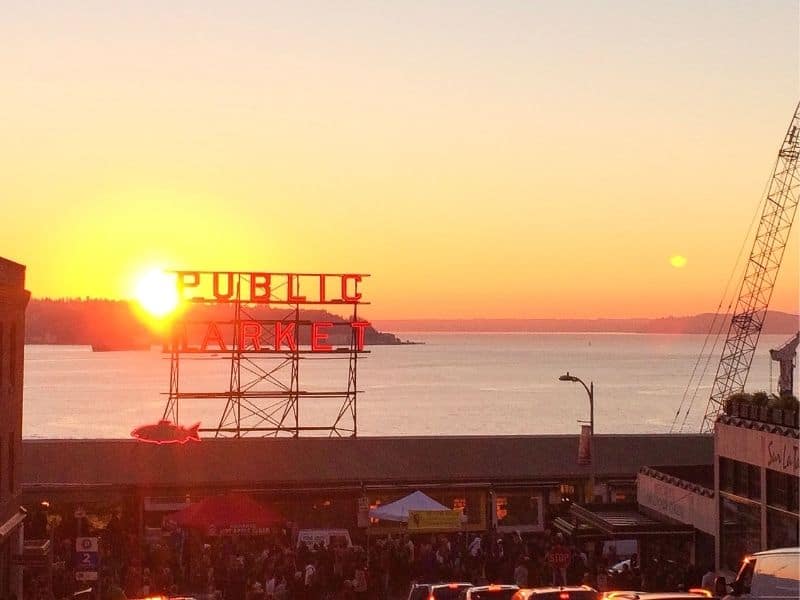 There are an obscene number of weighty parks within a drive of Seattle, so you may be tempted to skip the city experience altogether. That's a mistake; take time to see the city, and you'll be humbled by the loving entanglement between the urban and jungle.
Things to Do in Seattle
For breakfast, you must stop at Beth's Cafe, just north of downtown in the Green Lake neighborhood. This breakfast icon is across the street from the neighborhood's namesake, Green Lake, which has swimming beaches and a 2.8-mile loop. The perfect place to fend off a food coma.
Sitting directly across from downtown Seattle on Alki Beach is Marination. After your lunch (go early, it gets busy) rent a SUP board next door and go out for a paddle. Eyes open for marine life!
The iconic Pike Place Market must be on your list already, so plan on stopping into Pike Place Brewing for some beloved local beer and incredible veggie burgers. Afterward, walk your buzz on down to the water to Pier 62 for some of Seattle's most iconic views.
On a clear day, swing by the absolute hidden gem that is the Mt. Baker Ridge Viewpoint. Go on a clear day, and it offers unbelievable views of the skyline and mountains, which can be enjoyed indoors from That's Amore! next door over some coffee, cake, or other delicious Italian carbs.
Seattle Insider Tip
Practically every neighborhood hosts a mega-brag park; West Seattle has Alki Beach, Ballard has Golden Gardens Park, and Wallingford has Gas Works. It's impossible to hit them all in one visit, so choose wisely and plan the rest of your exploration around Seattle's other major brag: its food scene.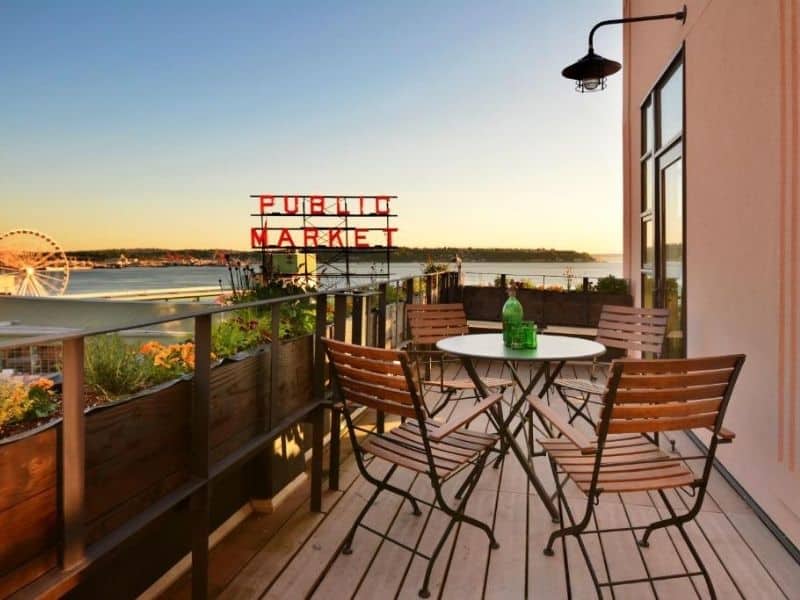 Where to Stay in Seattle
There's plenty to do whether you're visiting for a weekend or spending a remote workation there for months. Find accommodation in the central Belltown area for easy access to it all. Some of our favorite stays include Inn at the Market, The Maxwell Hotel, and citizenM Seattle. As far as hostels go, The Green Tortoise is where it's at.
If you'd like to self-cater, we love this 1-bedroom downtown condo and this 2-bedroom penthouse with ocean views.