Home to some of the best national parks in the country, California has long attracted nature lovers and outdoor enthusiasts from all corners of the globe. From the sheer granite cliffs of Yosemite to the towering coastal redwoods of Big Sur and the vast desert landscapes of Death Valley, California truly offers something for everyone. It makes planning a national park road trip a dream. If anything, the challenge lies in narrowing down destination choices rather than finding them.
Having made multiple trips between Southern and Northern California ourselves, we've decided to weigh in on the topic and put together (what we consider to be) the ultimate 2 to 3-week California national parks road trip itinerary. If you're short on time, stick to the minimum timeframes provided for each destination; if you have more squeeze room, add a night wherever your heart desires, or tack on one of these scenic drives in Northern California!
California National Park Road Trip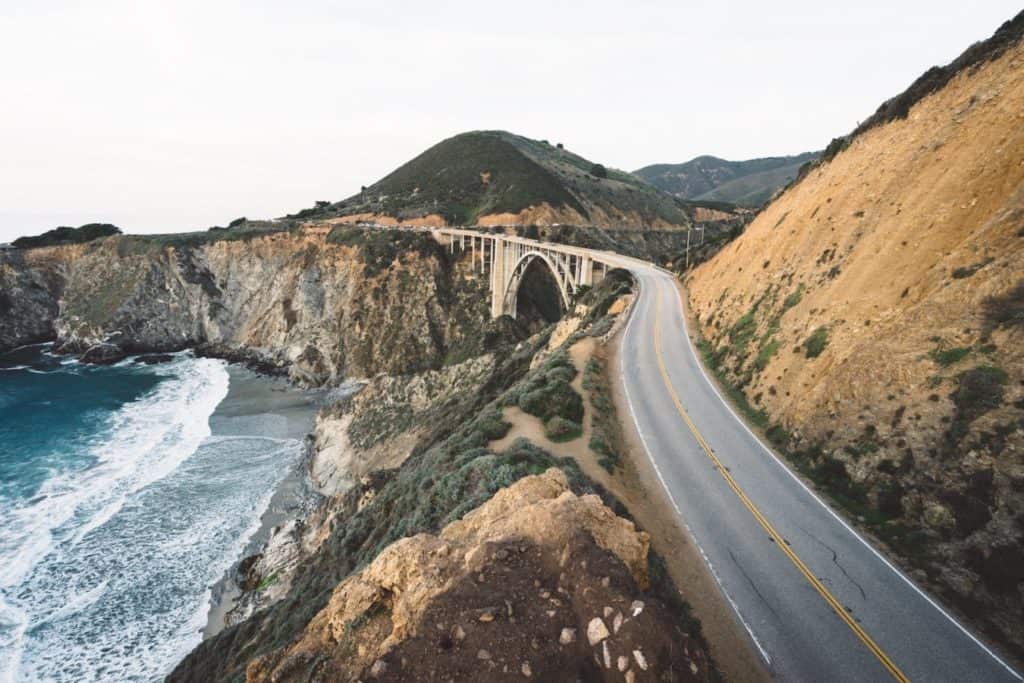 California National Park Road Trip Map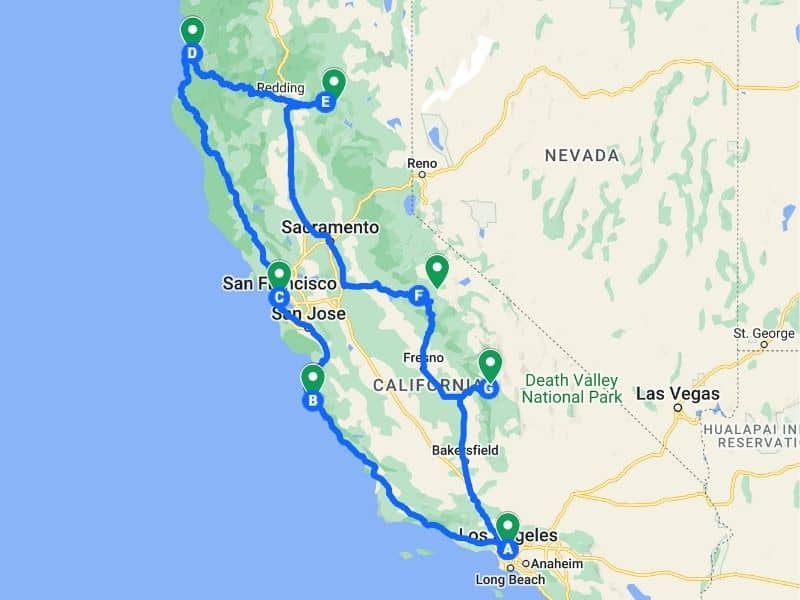 Other national park road trips you'll love:
California National Parks Itinerary
Big Sur (1-2 nights) – 6-hour drive from Los Angeles to Big Sur
San Francisco (1-2 nights) – 3-hour drive from Big Sur to San Francisco
Redwood National & State Park (2-3 nights) – 5+ hour drive from SF to Redwood
Lassen Volcanic National Park (2-3 nights) – 4-hour drive from Redwood to Lassen
Yosemite National Park (2-3 nights) – 4-hour drive from Lassen to Yosemite
Sequoia National Park (2-3 nights) – 4-hour drive from Yosemite to Sequoia
Back to Los Angeles 3.5-hour drive from Sequoia to Los Angeles
How to Use this road trip guide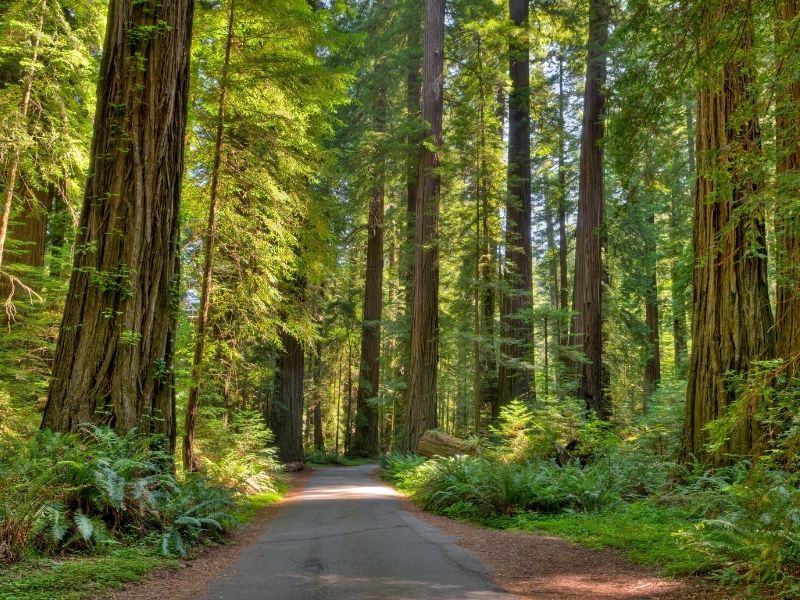 This California national park road trip itinerary is meant to serve as a guide. It can easily be altered based on your available timeframe, priorities, budget, and the time of year you visit. To complete the itinerary in full, we recommend a minimum of 2 weeks. If you have more time to spare, set aside three weeks and spend an extra night at each destination.
If you have less than two weeks available for your California national parks trip, we recommend cutting this itinerary down to only include certain destinations. In 10 days, it's possible to see Big Sur, San Francisco, Yosemite, and Sequoia. If you have seven days or less, consider condensing this itinerary to include only Yosemite and Sequoia.
Best Time For a California Road Trip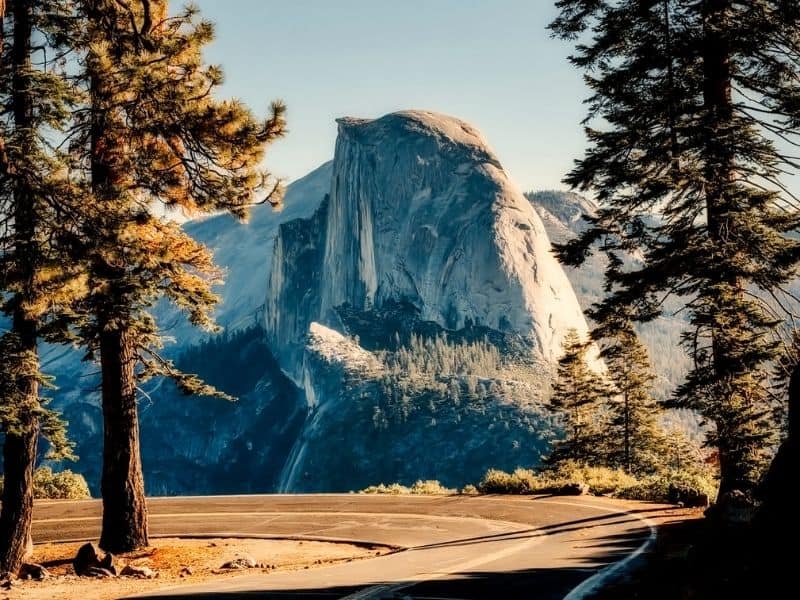 California is renowned for being a year-round destination. Indeed, when the weather plays along, you'll see people tanning on the beach in January. However, given that many California national parks are located at elevation, the best time for a California National Parks road trip is late Spring through early Fall – in other words, May through October.
While this road trip can still be done during winter and will come with a fraction of the crowds, many parks receive snow, and certain roads, entrances, and areas may close. 4WD and snow tires are essential for winter visits to Yosemite, Sequoia, and Lassen.
Best California National Park Road Trip
Big Sur
1-2 Nights, 6 Hour Drive from Los Angeles to Big Sur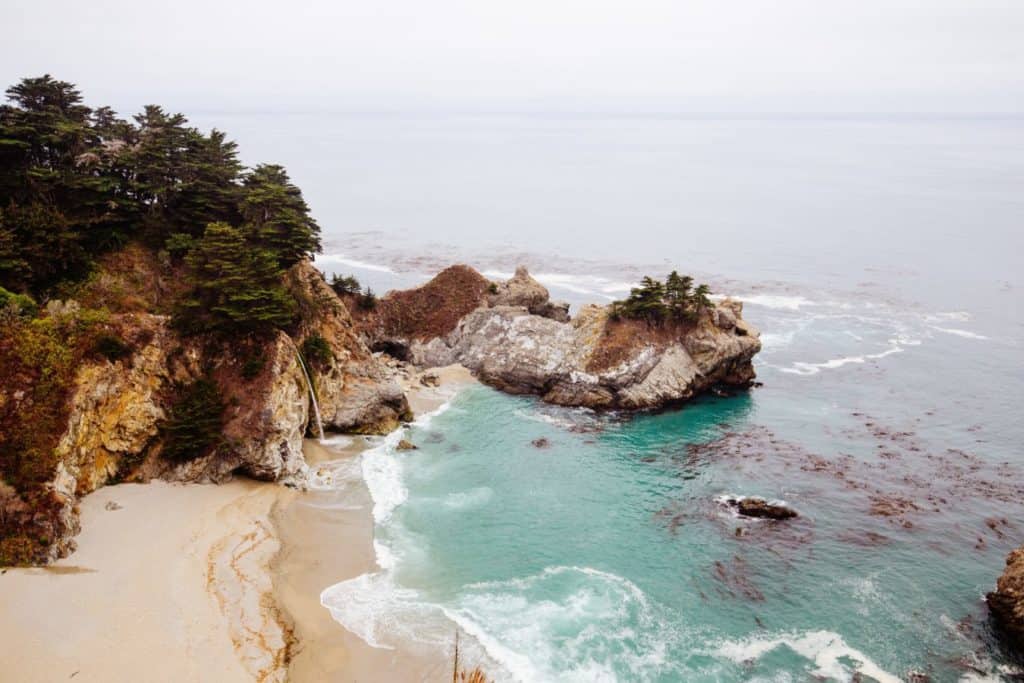 To make the most of your time on the Pacific Coast Highway, hit the road as early as possible if starting in Los Angeles. Nearly every turn of PCH is stunning, so be sure to pull off the road into turnouts and vistas as you please.
Things to Do in Big Sur
Take Highway 101 straight to San Luis Obispo, following directions to Morro Bay. Once you see the giant Morro Rock looming in the distance, you'll know you're on the famous Pacific Coast Highway. If running ahead of schedule, set some time aside to peruse around the local town or spend a couple of hours lounging on the beach.
One of the top highlights along PCH, depending upon the time of year, at the Elephant Seals, you'll find birthing mothers, males squaring off with one another in preparation for mating, and molting teenage seals in San Simeon. Pull off Highway 1, following signs to a free parking lot, and walk just a few meters to glimpse these huge animals in the wild.
Next is the iconic McWay Falls, located just over an hour north of the Elephant Seals. Plan on arriving early in the day for quick parking, or be prepared to wait for a space to open up. To reach the viewpoint, follow the easy dirt path to the incredible view of the waterfall splashing onto the beach.
After McWay, stop at Pfeiffer Beach, Bixby Creek Bridge, Sand Dollar Beach, and Pebble Beach. If time permits, this self-drive tour covers all of the most picturesque stops in Big Sur. We also love this accessible guide to Big Sur for readers with limited mobility.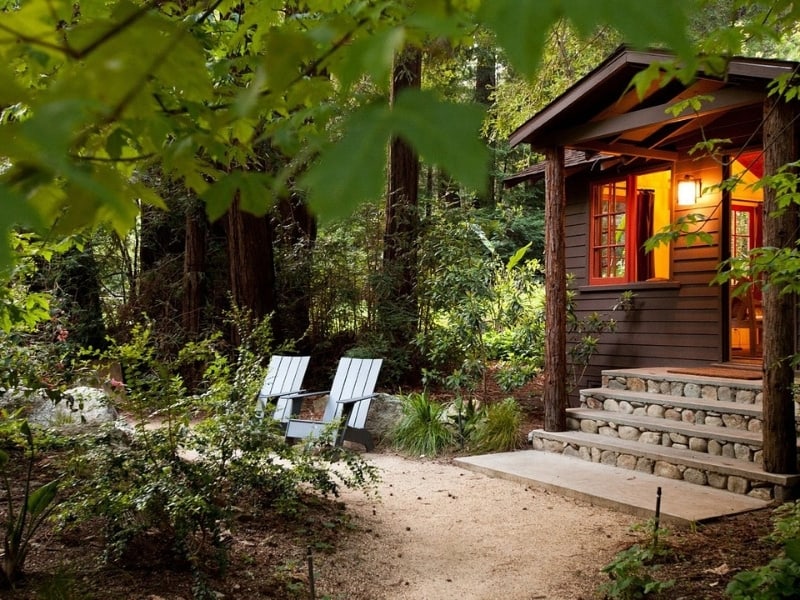 Where to Stay in Big Sur
If you're celebrating a special occasion or willing to splurge on a bit of luxury, Ventana Big Sur or Post Ranch Inn gets our vote.
Alternatively, Big Sur River Inn and Big Sur Lodge are great mid-range options. Big Sur Campground and Cabins also has some basic but lovely camping cabins near the river, and Ventana is the top-rated campground in the area.
If you'd like to stay in an Airbnb or Vrbo, check out our guide to the Best Big Sur Airbnbs with breathtaking views.
San Francisco
1-2 Nights, 3 Hour Drive from Big Sur to San Francisco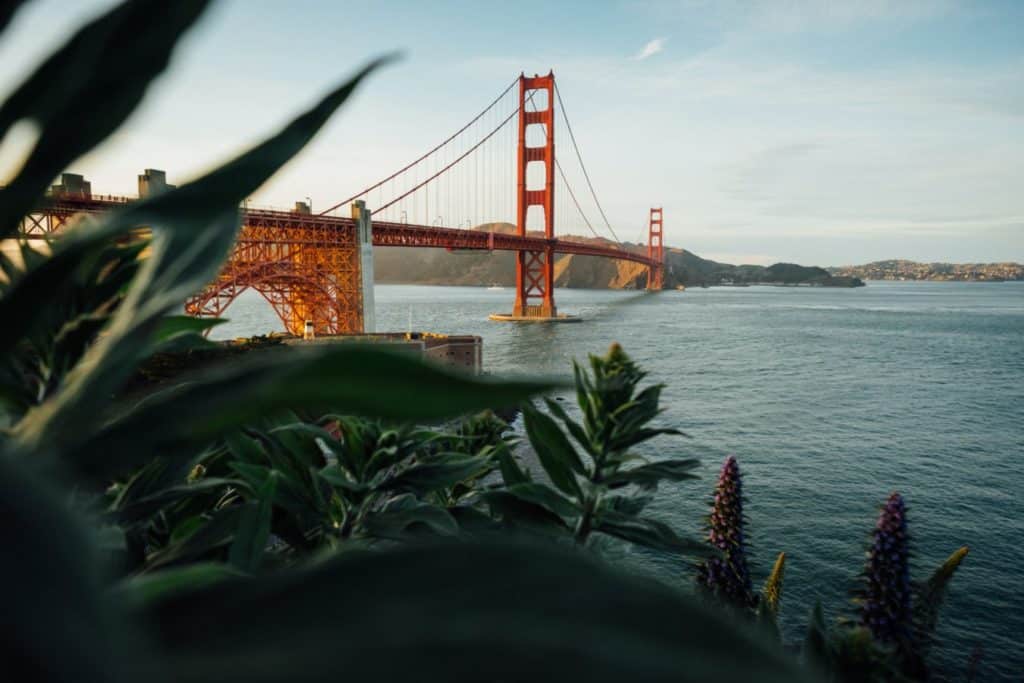 A melting pot of the United States, visiting San Francisco is a staple of any California road trip itinerary. Though this is a national park-inspired road trip, we recommend at least one night in San Fran to taste the local culture.
Things to Do in San Francisco
You can't visit San Francisco without taking in the beauty of the Golden Gate Bridge. One of the best viewing points is located at Battery Spencer. Since this spot is northbound of the city, you'll be required to pay the bridge toll when heading back into SF. If wanting to avoid the fee, both Fort Point National Historic Site and Baker Beach are beautiful viewpoints too.
Although a popular tourist attraction, Alcatraz is another must-see if time permits. There are a few options to get to the world-famous prison, but be sure to use Alcatraz Cruises, as recommended by the National Park Service. Tickets include ferry transportation, a cell house audio tour, and the Federal Lands Recreation Enhancement Act fee.
What's a trip to San Francisco without a ride on a cable car? SF parking fees are steep, so do as the locals do by saving a few bucks and taking public transportation around the city instead.
Founded in the early 1850s as Chinese immigrants began heading to the city, San Francisco's Chinatown is the oldest in North America, the largest outside of Asia. It draws in more visitors annually than the Golden Gate Bridge. Take a photo at the gate, stroll through Grand Street and grab a meal at one of the local restaurants.
To round off your visit, head to Twin Peaks, two hills looming 925 feet over the city; most visit during the day, but we prefer it at night as long as the fog cooperates. Just a 20-minute drive from downtown, there isn't a better way to wrap up a successful day in the city than taking in the view from either Hill, Eureka, or Noe.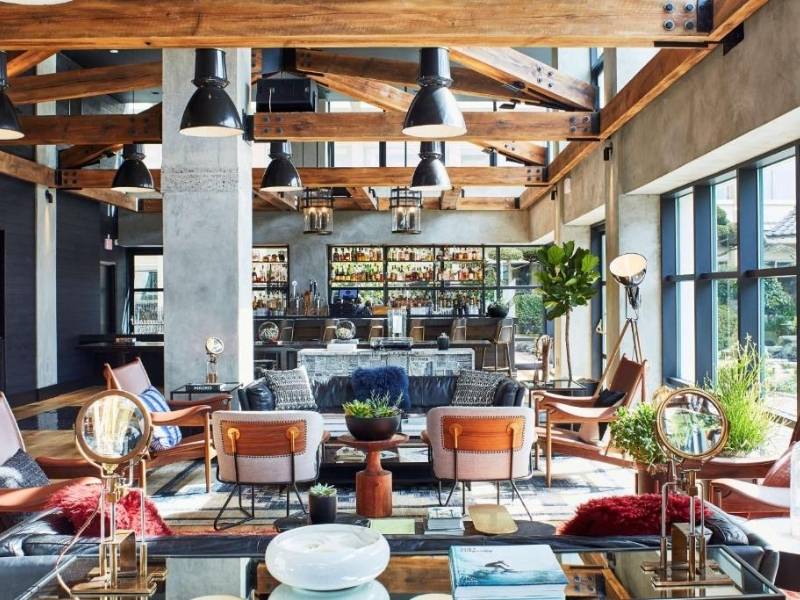 Where to Stay in San Francisco
For a taste of luxury, check yourself straight into the Four Seasons or Fairmont Heritage Place at Ghirardelli Square. If you're looking for a trendier option, Hotel Kabuki in Japantown is hard to beat and Hotel Emblem is the best of the best for a boutique experience. HI San Francisco Downtown Hostel is our favorite budget pick.
Redwood National & State Park
2-3 Nights, 5.5 Hour Drive from San Francisco to Redwood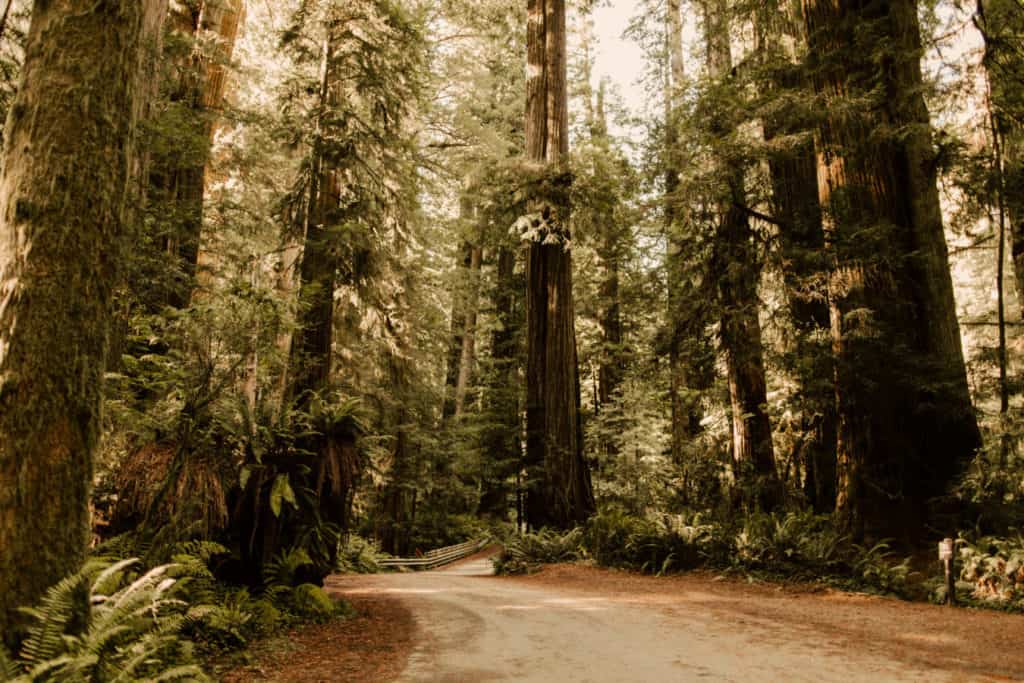 Covering nearly 40 miles of rugged coast and located about 5.5 hours north of San Francisco, the drive may be long, but it's worth it. Home to the tallest trees in the world, this national and state park lives up to its reputation. On the drive up, don't miss the opportunity to drive along Avenue of the Giants in Humboldt County, easily the most scenic redwood drive in the world.
Things to Do in Redwood National Park
Home of the Libbey Tree, at one time the world's tallest known living thing, Tall Trees Grove is difficult to access, but the payoff is worth the hassle. To protect the grove, visitors must obtain a permit, which is limited daily, from one of the nearby visitor centers. The 45-minute drive to the trailhead has a locked gate with a secret code, which you will receive when securing a permit, then you'll drive down a 6-mile logging road to the parking lot.
Gold Bluffs Beach is also a must-see, a 10-mile stretch of beautiful found 6 miles off Highway 101 at the end of an unpaved road.
For a more accessible option, Lady Bird Johnson Grove Trail is a short and easy 1.4-mile hike from Kuchel Visitor Center, located 1,200 feet above sea level. The trail's elevation is unusually high compared to most Redwood groves and often attracts looming fog. The Fern Canyon in Prairie Creek Redwoods State Park is another beautiful location, reached via an easy 3/4-mile trail along 50-foot canyon walls covered in lush ferns.
Round off your visit with a 10-mile scenic drive along Newton B. Drury Parkway through an old-growth Redwood forest. You'll find a variety of trails along the way, such as Big Tree and Ah Pah, but be sure to make a stop at Elk Grove to witness herds of them grazing. Also, hike Trillium Falls Trail, which features one of the few waterfalls in the area.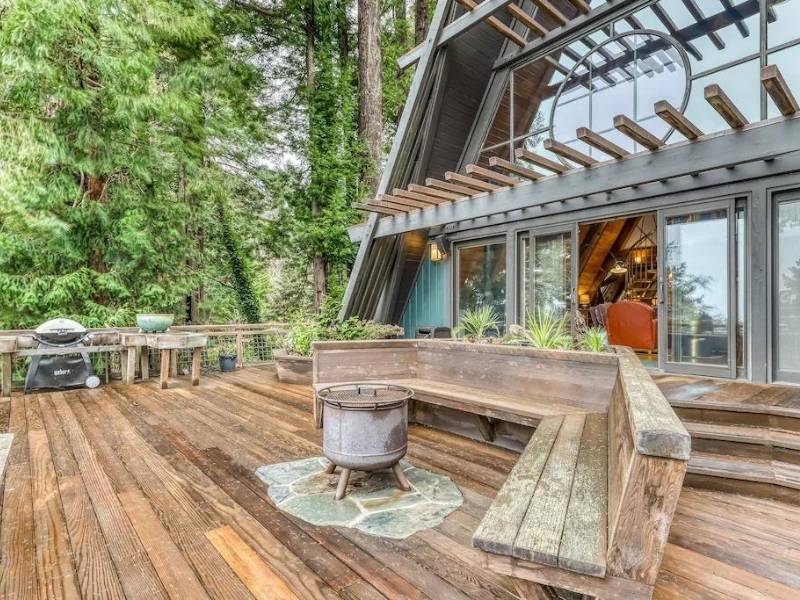 Where to Stay in Redwood National Park
Aside from camping, there are limited lodging options inside Redwood National and State Park. In fact, lodging is confined to four cabins at Elk Praire Campground and four cabins in Jedediah Smith Redwoods State Park.
If you can't score lodging inside the park, there's a Holiday Inn Express near the entrance. This rustic cabin and this gorgeous A-frame are also just minutes away.
Jedediah Smith Campground is our favorite spot for camping in the park.
Lassen Volcanic National Park
2-3 Nights, 4 Hour Drive from Redwood to Lassen
Note: About half of Lassen National Park was affected by the Dixie Fire in 2021 and certain areas remain closed. Check the NPS website for the latest news and updates.
Home to the largest plug dome volcano in the world, Lassen Volcanic National Park is full of hydrothermal sites, lush forests, and glacial lakes. Last erupting in 1914, this park provides the perfect opportunity to see an active volcano in a safe environment.
Things to Do in Lassen National Park
The southernmost active volcano in the cascade range, Lassen Peak or Mount Lassen, often has snow even in the summer months. Make sure you're prepared when attempting the 5-mile (3-5 hour) hike to the summit, and enquire whether microspikes or trekking poles are advised in advance.
During early summer and shoulder season, when the snowpack is high, take advantage of the many low-elevation trails in the Manzanita Lake, Butte Lake, and Warner Valley areas.
In general, some of our favorite trails in the Mount Lassen area are:
Bumpass Hell: A 3-mile round trip hike along a boardwalk weaving in and around belching mud pots, steaming Big Boiler fumarole, and boiling pools. The park's largest hydrothermal area, this hike is unlike anything you'll see elsewhere in the USA.
Brokeoff Mountain Trail: Expect dense forests, lush meadows, and views of Mount Tehama and Lassen Peak along this 7-mile round-trip trail. Home to small lakes and wildflowers in the warmer months, we recommend this rugged trail for the more experienced hikers and trekkers.
Mill Creek Falls Trail: This trail is perfect for families or those looking for a slower pace. A 3.2-mile round trip hike, you'll come across a Red Fir Forest and the park's highest waterfall, as well as deer and various birds.
Cinder Cone Volcano: Moving further afield, this epic 4-mile hike is an hour's drive from Manzanita Lake and 10 miles from Lassen Peak. As you might infer from the name, it's a must-do if you can fit the drive into your schedule.
For a highly unique (and smelly) experience, don't miss Sulphur Works – home to an active hydrothermal area complete with vents, mud pots, and the smell of rotten eggs. Originally a sulfur-mining operation, it's located off the park's main road and is an easy, family-friendly stop in the area.
Also located near the main road is the glacial Lake Helen, found at the base of Mount Lassen. It's named after Helen Tanner Brodt, the first woman to summit Lassen Peak in 1864. The area offers some of the best views of Lassen in the park.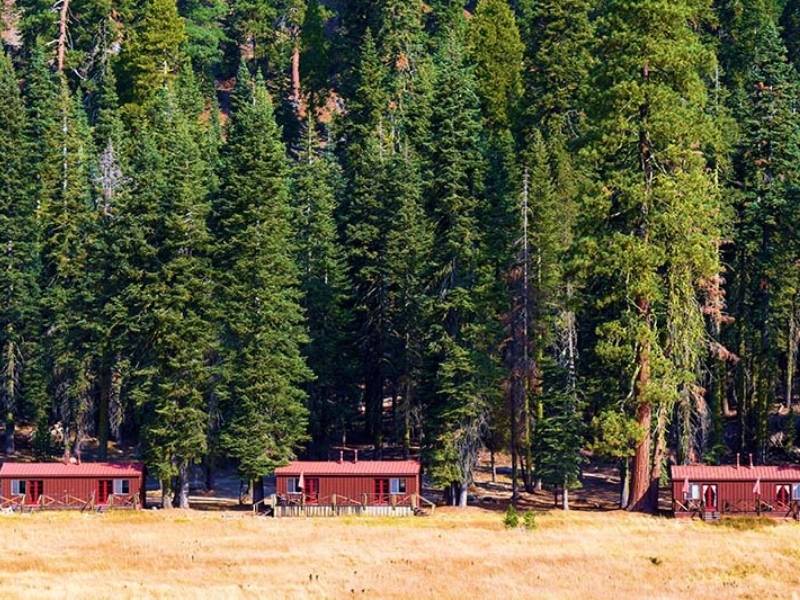 Where to Stay in Lassen National Park
Drakesbad Guest Ranch offers the only hotel-style lodging inside the national park and is typically open seasonally between June and October. However, it will remain closed for the 2023 season due to the ongoing effects of the Dixie Fire. Currently, reservations are not possible. Sold to the US Government in 1958 for inclusion in the national park, the ranch has been around for decades, and families continue to return year after year.
There are also 20 camping cabins located in Manzanita Lake Campground. Each cabin includes a propane heater, lantern, bear box, fire ring, and picnic table, and central bathrooms and showers are available nearby. For those planning to camp, Manzanita Lake Campground is the most popular option, though Summit Lake is beautiful too.
If you can't secure lodging inside the national park or are looking for more comfort and modern amenities, Highlands Ranch Resort is situated in Lassen National Forest and is open year-round. Village at Childs Meadow is another great option with views of the national park.
In terms of Airbnbs and Vrbos, this gorgeous 2-bedroom Creekside Cabin is just 8 miles from the park entrance.
Yosemite National Park
2-3 Nights, 4 Hour Drive from Lassen to Yosemite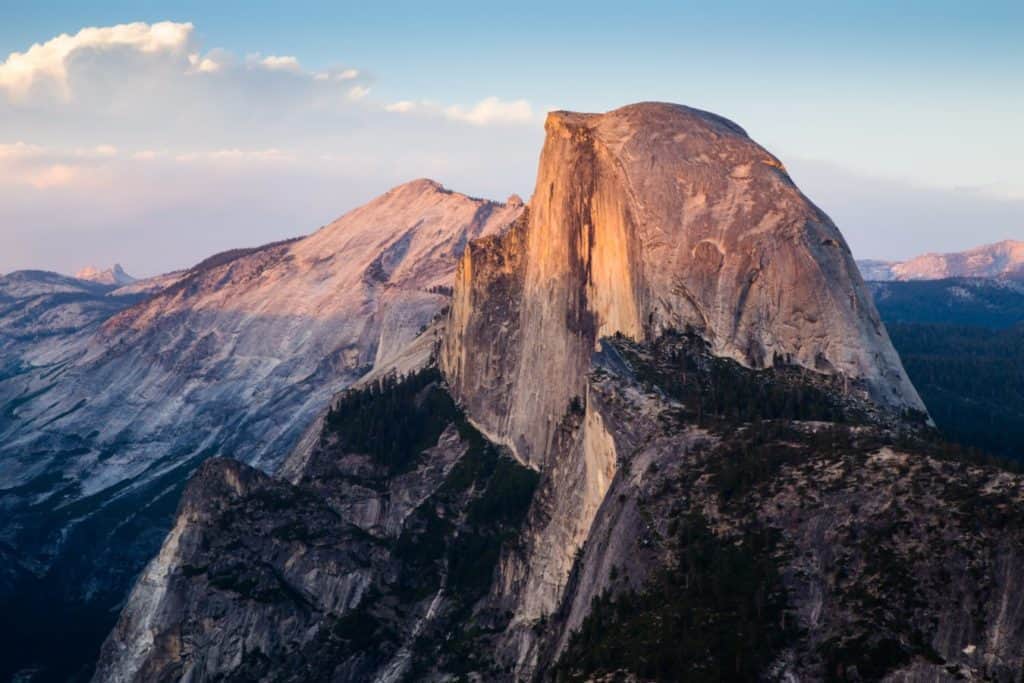 The third established national park in the United States, Yosemite is known for its granite cliffs, world-class rock climbing, stunning trails, sequoia groves, green meadows, and more. As one of the country's most famous national parks, Yosemite is a must when it comes to California national parks.
Things to Do in Yosemite National Park
Weaving through State Route 41 and exiting the 4,233-foot Wawona Tunnel at Tunnel View, you'll be thrust into one of the most beautiful vistas of Yosemite Valley, with El Capitan and Half Dome looming in the distance. Even if entering from Mammoth Lakes via Highway 120, we highly recommend setting time aside during your day to drive up to this iconic viewpoint.
Once in Yosemite Valley, it's hard to miss El Capitan, the 7,500-foot vertical granite wall climbed by Alex Honnold in the film Free Solo. The top can be reached by climbing up its face or hiking out of the valley on the trail next to Yosemite Falls. For most of us mere mortals, the latter option is probably the better of the two.
Another icon of Yosemite is Half Dome, which looms more than 4,700 feet above the valley floor. A popular hiking bucket list item, all hikers must have a permit to hike past the cables. Find out how to obtain a permit here.
Other top hikes in Yosemite include:
Bridalveil Fall: A quick 1.2-mile loop hike that offers the perfect opportunity to stretch your legs after a long day of driving. Famous for the mist caused by a breeze, this waterfall isn't the most spectacular in the valley, but it's a fun little stop.
The Mist Trail: Hikers can visit both Vernal and Nevada Falls in about 5 to 6 hours. Vernal Fall is the first along the way and is about 2.4 miles round trip. Nevada Fall is 5.4 miles round trip from the trailhead. Either option requires relatively strenuous hiking, though the payoff is enormous – this is easily one of the most beautiful hikes in Yosemite.
Yosemite Falls: The highest waterfall in Yosemite National Park at 2,425 feet, we recommend hiking this easy 1-mile loop to the lower falls. If visiting in the spring or summer, you will get soaked by the falls at the footbridge, so arrive prepared.
If time permits, also take a drive up to Tuolumne Meadows. Once one of John Muir's favorite places in the park, the lush meadow and grazing deer make it easy to see why he loved spending his free time here. Featuring popular day hikes to Gaylor Lakes, Cathedral Lakes, Mono Pass, and Lembert Dome, arrive early in the day to beat the crowds.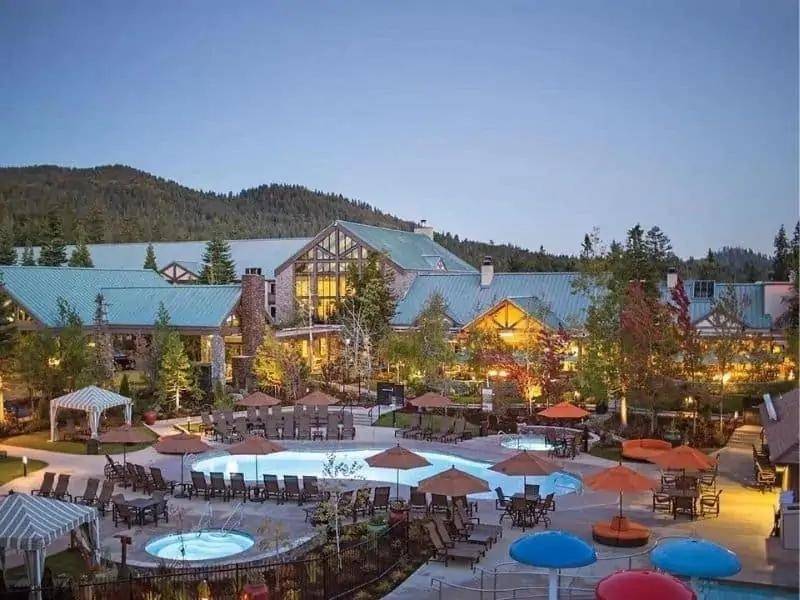 Where to Stay in Yosemite
The crown jewel of Yosemite lodging, everyone should splurge on a stay at the Ahwahnee Hotel at least once. Yosemite Valley Lodge is the other favorite option in the park, with its stunning views of Yosemite Falls.
Alternatively, Curry Village is the largest lodging facility in Yosemite Valley and offers a variety of cabin, tent, and motel room options. When it comes to camping, scoring a site in Yosemite Valley is the equivalent of winning the national park lottery. If you'd like to try your luck, our favorite campgrounds are North Pines, Upper Pines, and Lower Pines.
There are also a plethora of amazing lodging options covered in our detailed Yosemite accommodation guides: Where to Stay in Yosemite, Gorgeous Yosemite Cabins, and Pet-Friendly Cabins in Yosemite. These guides have been a labor of love for us and are honestly the only resources you need when booking your Yosemite stay.
Sequoia National Park
2-3 Nights, 4 Hour Drive from Yosemite to Sequoia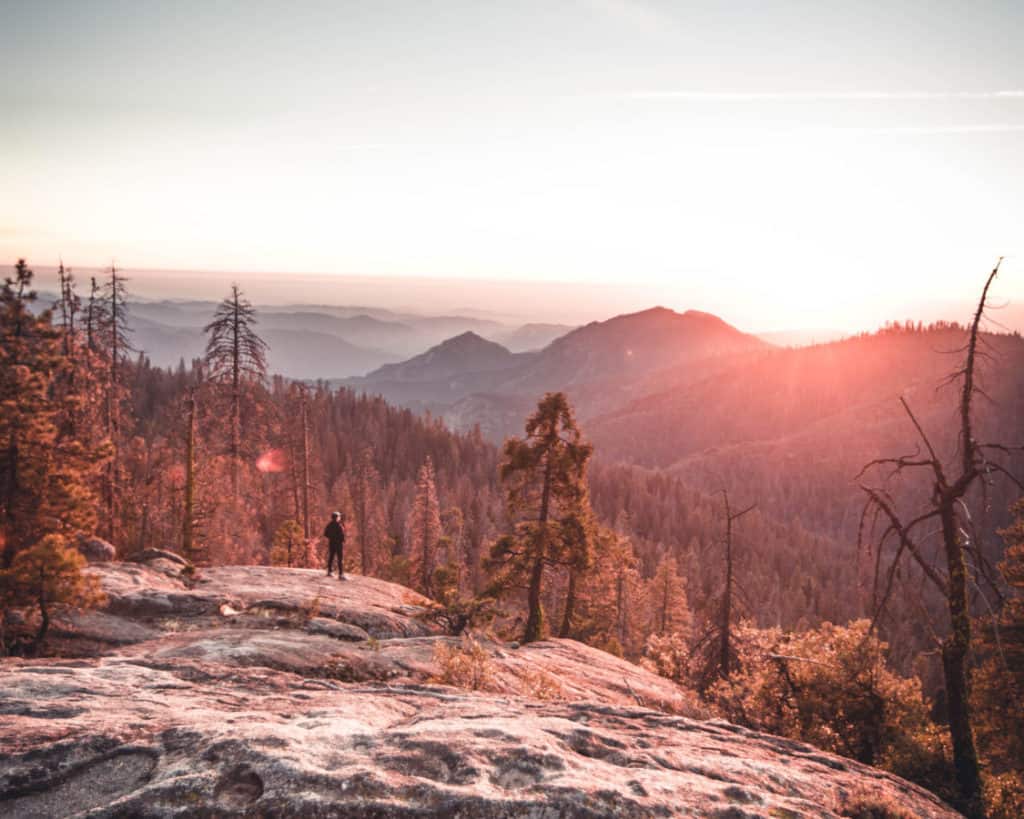 The second U.S. national park, beating Yosemite by just a few days, Sequoia is a little calmer and provides the perfect escape from the crowds that tend to settle in Yosemite Valley. Known for its giant Sequoia trees, this park lies on the border of the highest point in the contiguous United States, Mount Whitney. For short visits, we love this two days in Sequoia National Park guide.
Things to Do in Sequoia National Park
The largest known living tree on earth, every trip to Sequoia requires a stop at the General Sherman Tree, especially if you're traveling with first-time visitors. The hike down is about 0.8 miles, but if the shuttle runs, you can take it to and from the tree via the quicker accessibility trail.
Moro Rock is another must, and although this 0.4-mile out-and-back trail sounds like a breeze, don't be deceived. Featuring steep stairs to the top, this iconic destination is not for the faint of heart or casual passerby but is worth the amazing view. Try to time your visit with sunrise or sunset for a cotton candy pink sky.
Other not-to-miss hikes in Sequoia include:
Little Baldy: This 3.3-mile out-and-back trail offers sweeping panoramic views and the chance to see marmots running along the trail. Best hiked at the end of the day for a beautiful sunset, be sure to bring a flashlight or headlamp for the walk back.
Tokopah Falls Trail: Featuring the park's tallest waterfall, this 4.2-mile out-and-back trail meanders past scenic cascades and is littered with marmots.
Crescent Meadow: A gentle hike for all kinds of adventurers, Crescent Meadow is home to the iconic Chimney Tree and Tharp's Log. You don't want to miss this 1.6-mile loop!
If you can squeeze an extra day in, we recommend a quick day trip to Kings Canyon National Park via the Kings Canyon Scenic Byway. This 50-mile stretch of road will have you twisting and turning through Sequoias and along the sheer cliffs of the Sierra Nevadas. FYI: Your park fee into Sequoia also covers Kings Canyon.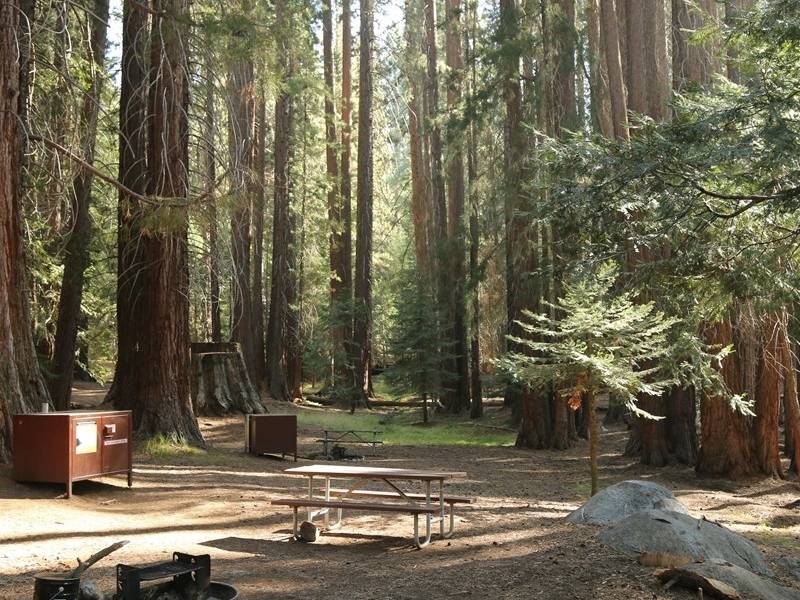 Where to Stay in Sequoia National Park
Sequoia National Park is HUGE and there are numerous areas you can base yourself. However, the most popular by far is the Giant Forest region near the General Sherman Tree. Wuksachi Lodge is the only formal hotel-style option in this area, with Lodgepole being the largest (and most sought-after) campground.
For every single lodging option inside both Sequoia and Kings Canyon National Parks, check out our super comprehensive Sequoia Lodging Guide.
Back to Los Angeles
3.5 Hour Drive from Sequoia National Park to Los Angeles
And there you have it; this adventure of a lifetime has you hiking through the world's tallest trees, scaling half dome, driving along the picturesque Pacific Coast Highway, and more.
In as little as 2 weeks (or closer to 3 weeks if time allows), you'll truly experience the best of what California offers on this epic National Park road trip.
Until next time, Adventurers…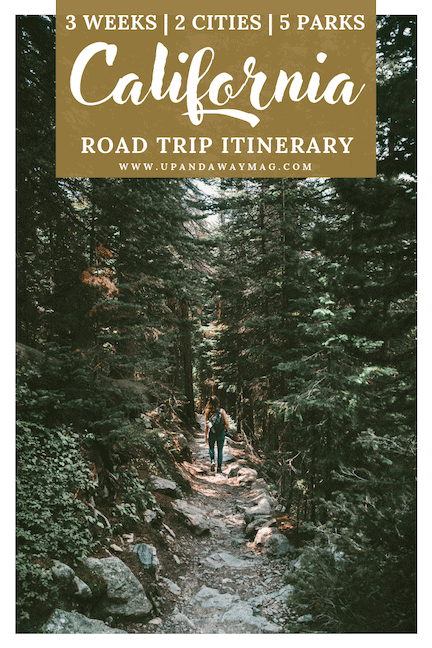 Browse all national park road trip guides
All photos courtesy of hotel, booking or information sites.
Up and Away Magazine is reader-supported. This means that when you make a booking via one of our affiliate links, we earn a commission at absolutely no additional cost to you. In this way, we are able to bring you content for free. Your continued support is greatly appreciated. Adventure on!