Wondering what there is to see in Death Valley? Arguably one of the most underrated national parks in California, Death Valley should be at the top of every outdoor lover's bucket list. Featuring one of the most diverse landscapes on the planet, sights range from the record breaking salt flats of Badwater Basin to colorful mountains along Artist's Drive and famous Star Wars filming locations. Best visited during the cooler months of the year (summer is a tad too warm), Death Valley also makes for a perfect day trip from Las Vegas or addition to a broader American Southwest National Parks Road Trip.
A GUIDE TO VISITING DEATH VALLEY
Click on a link below to skip directly to a specific section
DEATH VALLEY TRIP PLANNER
Use our interactive map to start planning your Death Valley itinerary!
WHAT TO SEE IN DEATH VALLEY
1. Zabriskie Point
Located just a short drive from Furnace Creek, this viewpoint is an absolute must! We highly recommend making a visit at sunrise as the desert is covered in varying shades of pink and purple. With endless salt flats and snow capped mountains in the distance, Zabriskie reveals much of the diversity found within this national park all from just one view point.
2. Badwater Basin
The lowest place in the United States at 282 feet below sea level, every trip to Death Valley must cross paths with these infamous salt flats at some point. No matter the time of year, be sure to come prepared for extreme temperatures. During the winter, bring a jacket as the wind can be quite fierce and be sure to visit the basin early in the morning or late in the evening during the heat of summer.
3. Dante's View
Named after Dante Alighieri, the author of Dante's Divine Comedy, this 5,476 foot viewpoint overlooks the valley floor as well as Badwater Basin. You'll find winding trails across narrow pathways and seemingly endless salt flats looming in the distance.
Just a short drive from the main road, bring a lunch to eat at the viewpoint or trek around the area for different views of the valley.
4. Amargosa Cafe
Technically not located in the park, this surprisingly quaint farm-to-table cafe is located in Death Valley Junction, a town just outside the valley. If heading in or out of the park, make a pit stop here for a hearty breakfast or even just a cup of coffee! The locals are friendly and can help you with any information you may need for your trip. Just beware that they close during the summer season due to the heat.
5. Artist's Palette
Famous for its colorful rocks seemingly painted by a desert artist, the variation of colors at Artist's Palette are created by the oxidation of metals. Turn off Artist's drive into the parking lot, hop out of your car, and take a walk around the hills for a glimpse into this natural wonder. This is a must-see spot within the park, especially due to its close location to the entrance, so be sure to prioritize this destination!
6. Artist's Drive
A 9-mile road leading to Artist's Palette and a stunning view over Badwater Basin's salt flats. Cruise through sloping mountains all the way down this one way road. Be sure to stop at the first major turnoff for picture perfect views of the basin below.
7. Mesquite Flat Sand Dunes
A destination practically out of a movie, the Mesquite Sand Dunes are a testament to the diversity of Death Valley. Although located within a desert, dunes only make up about 1% of the National Park. Weather permitting, hike around the crescent, linear and star shaped dunes, and also conquer the dune that's 100 feet tall! This spot is quite far from the entrance, but it's a must visit if spending multiple days in the park.
8. The Racetrack
One of the world's craziest phenomena and most iconic Death Valley attractions, it's only in the last few years that scientists have started to think they've finally solved the case of the moving desert rocks. According to NPS.org, "a rare combination of rain and wind conditions enable the rocks to move. A rain of about 1/2 inch, will wet the surface of the playa, providing a firm but extremely slippery surface. Strong winds of 50 mph or more, may skid the large boulders along the slick mud."
Although worth the trip, the road to this destination is quite rough and only suitable for high-clearance vehicles with proper tires and 4×4. This area is prone to flats and the location is quite remote with no cell service. Please remember to take all precautions if planning a visit here, particularly during the warmer months.
9. Devil's Golf Course
Featuring large halite salt crystal formations, this destination was once covered by thirty feet of water. Minerals dissolved in the lake and formations were left behind once the lake evaporated. It's believed that the salt and gravel beds could extend down as far as 9,000 feet. Home to the largest salt pan in Death Valley, Devil's Golf Course was named after a National Park Service guidebook which stated, "Only the devil could play golf" on the rough and rocky surface.
10. Twenty Mule Team Canyon
A stunning unpaved road with colorful, eroded badlands stretching for nearly 2.5 miles. Similar to a scene straight out of Star Wars, fans of the series will be happy to find out parts of the movies were *actually* filmed here. Famous scenes from Star Wars Episode VI: Return of the Jedi such as the landscapes near Jabba the Hutt's palace and even the cave where Luke Skywalker put the finishing touches on his new lightsaber. Although the cave is now off limits for safety reasons, the former is just a short distance away.
Whether a Star Wars nerd or not, this beautiful canyon deserves a stop!
DEATH VALLEY ENTRANCE FEE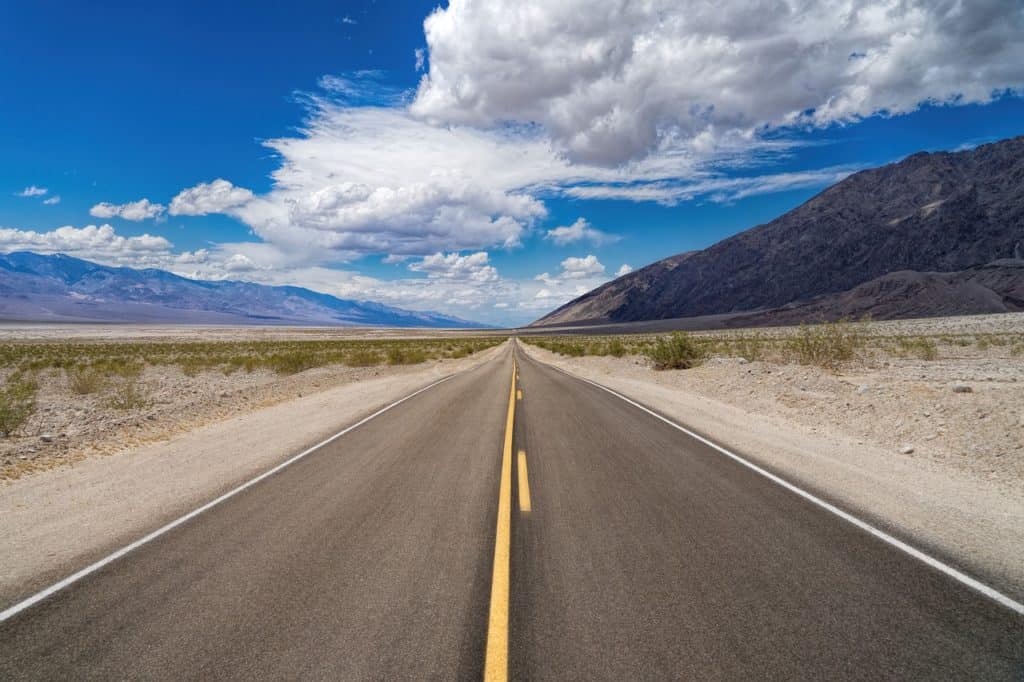 Unlike most National Parks, to enter visitors are asked to pay a $25 Death Valley entrance fee at a self-service kiosk rather than a formal toll booth. Although you may get away without paying, we recommend not taking the chance. With park funds dwindling, every dollar counts, and in general it's just a good idea to be a decent human being. Stop at one of the kiosks near the entrance or pay at the Visitor Center while picking up a map!
DEATH VALLEY LODGING OPTIONS
LODGING AND HOTELS IN DEATH VALLEY
Located right in the middle of Death Valley National Park, The Inn at Death Valley is easily the best lodging option you'll find within the park boundaries if looking for anything outside of camping. With all rooms featuring AC, the Inn also offers a sauna, fitness center, cable TV and free WiFi!
Rooms start at $359 per night. Find the latest deals now.
Located on the same property as The Inn, this hotel is a tad more affordable than its neighbor. Offering sought after amenities like AC, an outdoor pool and an on-property restaurant, it's another great option for those wanting a hotel stay within the park.
Rooms start at $179 per night. Find the latest deals now.
LODGING AND HOTELS NEAR DEATH VALLEY
Located just 37 miles from Death Valley National Park's east entrance, this desert oasis offers AC rooms, duck ponds and a local cafe right next door. It's an ideal option for those not wanting to camp, but on a fairly tight budget.
Rooms start at $90 per night. Find the latest deals now.
The neighbor of Marta Becket's World Famous Opera House, Amargosa Opera House & Hotel provides guests with AC, toiletries and coffee for those slow desert mornings. Located just a 15-minute drive away from Death Valley, this historical building is an experience in and of itself and a stay here feels like stepping back in time.
Rooms start at $90 per night. Find the latest deals now.
For those looking for no frills comfort and quality, the Holiday Inn Express and Suites in Pahrump is actually one of the highest rated properties in the area. Located less than an hour's drive from the entrance of the park, it makes for an ideal jumping off point to explore Death Valley along with neighboring Mount Charleston and Red Rock Canyon National Park in Nevada. Combine with a few days in Las Vegas and your vacation is set!
Rooms start at $140 per night. Find the latest deals now.
*All photos courtesy of the hotel, booking or information sites.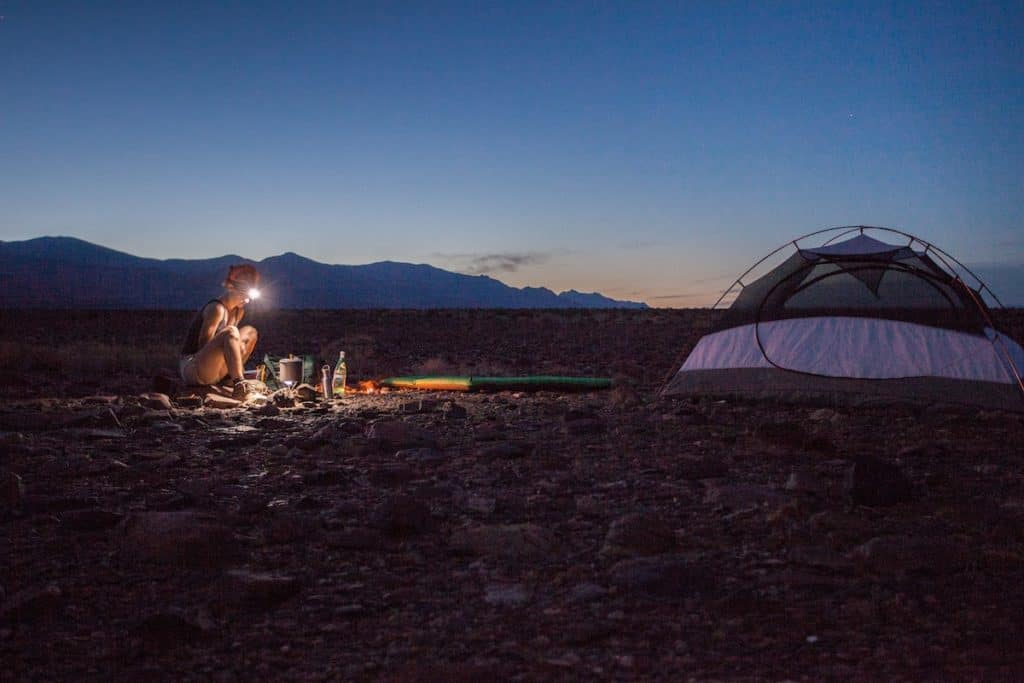 CAMPING IN DEATH VALLEY
For more information on camping in Death Valley, visit the National Park Service website.
DEATH VALLEY TOURS FROM LAS VEGAS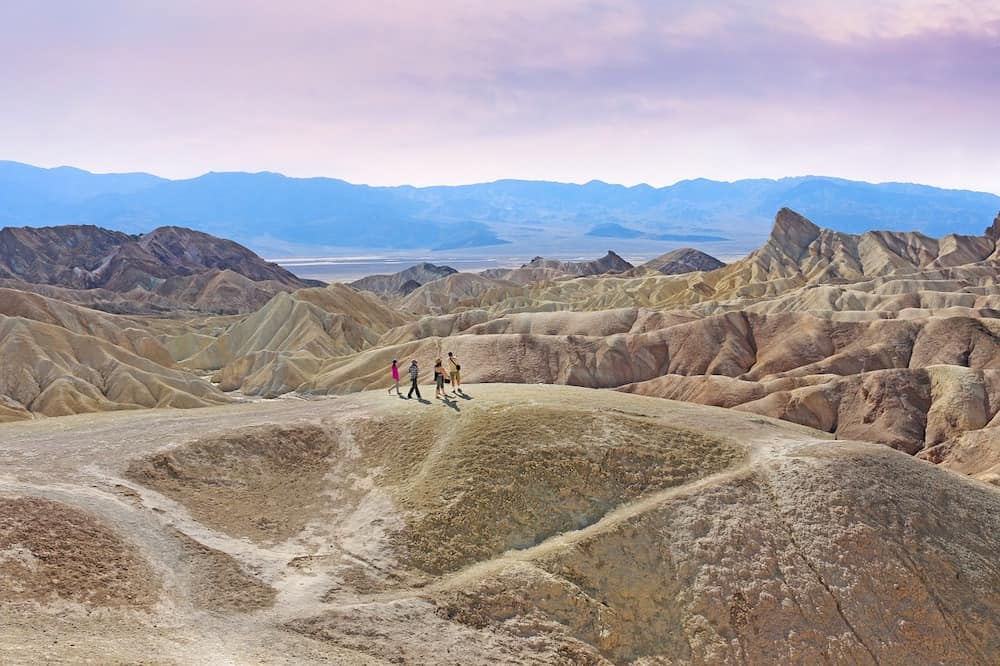 If you're short on time and can't squeeze an overnight stay into your itinerary, it's also very possible to see many top Death Valley attractions as part of a day trip from Las Vegas (or any other nearby hub). Located just a 2.5 hour drive from the strip, some of the most highly rated Death Valley Tours from Las Vegas include:
Death Valley NP Full-Day Small Groups Tour from Las Vegas – Likely to Sell Out!
Death Valley: Full–Day Tour from Las Vegas – Breakfast + Lunch Included!
From Las Vegas: Death Valley Trekker Tour – 4×4 Adventure Tour!
A visit to Valley of Fire State Park also makes for a perfect Las Vegas day trip, and if you're interested in visiting other California national parks on the same trip, be sure to check out our California National Park Road Trip Guide. If you have an eye for natural hot springs, Mammoth Lakes also makes for an amazing visit, and is only 3.5 hours from Death Valley.