If desert landscapes, clear night skies, and open highways sound alluring, a U.S. southwest national parks road trip is something you need to experience at least once in your lifetime. From resilient Joshua trees to sprawling salt pans and expansive vistas, the American Southwest is unlike anywhere else in the world. It's also a region perfect for exploring during the cooler months of the year. Winter brings unique magic to the desert – particularly in areas that receive snowfall.
This national parks road trip itinerary covers the best of America's southwest, hitting icons in California, Arizona, Nevada, and Utah and including parks ranging from Zion to the Grand Canyon and Death Valley. If you're short on time, stick to the minimum timeframes provided for each destination; if you have a bit more squeeze room, add a night wherever you see fit or combine this itinerary with our epic Utah National Parks Road Trip Itinerary and include Dead Horse Point State Park and Bryce Canyon, Arches, Canyonlands, and Capitol Reef National Parks in your trip.
Southwest National Parks Road Trip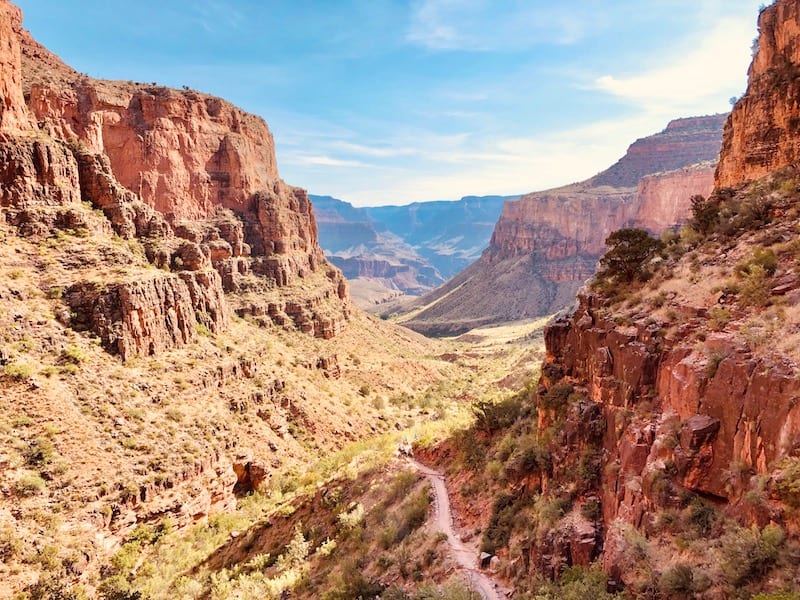 Southwest National Parks Road Trip Map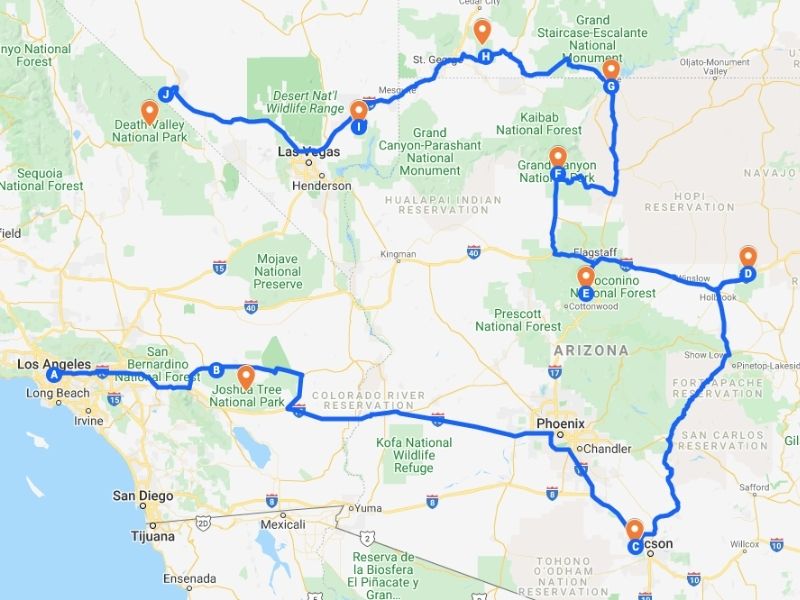 Other national park road trip itineraries you might like:
Southwest National Parks Itinerary
Joshua Tree National Park, CA (2-3 nights) – 2-hour drive from LA to Joshua Tree
Saguaro National Park, AZ (1-2 nights) – 4+ hour drive from Joshua Tree to Saguaro
Petrified Forest National Park, AZ (1-2 nights) – 4-hour drive from Saguaro to Petrified Forest
Sedona, AZ (2-3 nights) – 2+ hour drive from Petrified Forest to Sedona
Grand Canyon National Park, AZ (2-3 nights) – 2+ hour drive from Sedona to Grand Canyon
Page, AZ (2-3 nights) – 2-hour drive from the Grand Canyon to Page
Zion National Park, UT (2-3 nights) – 1.5-hour drive from Page to Zion
Valley of Fire State Park, NV (1-2 nights) – 2-hour drive from Zion to Valley of Fire
Death Valley National Park, CA (2-3 nights) – 2+ hour drive from Valley of Fire to Death Valley
Back to Los Angeles – 4.5-hour drive from Death Valley to LA
How To Use This Road Trip Guide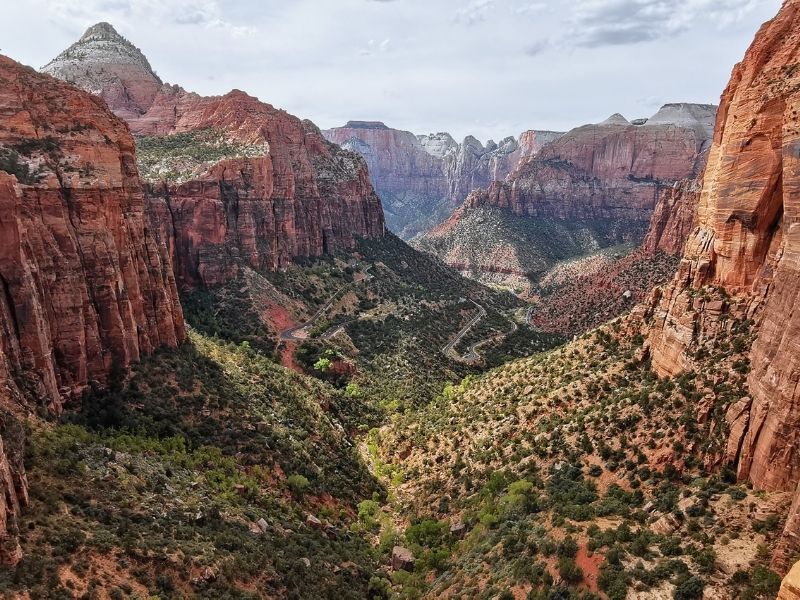 This U.S. Southwest national parks road trip itinerary is intended to serve as a guide. It can easily be tailored based on your timeframe, priorities, budget, and the season you'll be visiting. To complete the itinerary in full, we recommend a minimum of two weeks. If you have more time available, set aside three weeks and add a night to each destination.
If you only have a week to spare for your southwest national parks road trip, we'd recommend scaling this itinerary back to include just two or three destinations. Joshua Tree, Sedona, and the Grand Canyon would make for an epic 1-week itinerary, as would Death Valley, Valley of Fire, and Zion.
Best Time For A US Southwest Road Trip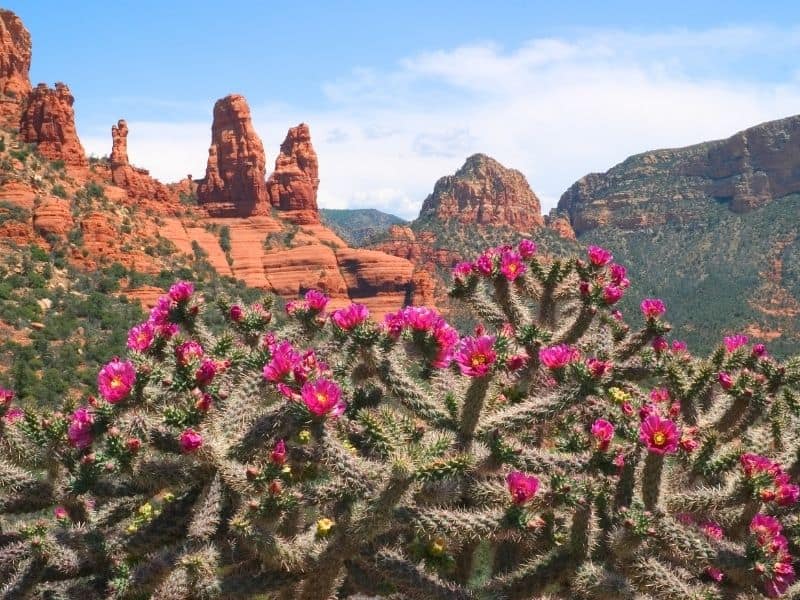 It's possible to plan a U.S. Southwest road trip year-round. However, summer is hot and crowded, and winters are cold – with many high desert parks receiving snow. Still, in winter, you'll feel like you have some of these parks all to yourself, and witnessing snow falling on high desert red rock is something everyone should experience at least once in their life.
Overall, Spring and Fall are generally considered the best times to visit the U.S. Southwest. Days are warm, evenings are crisp, and crowds haven't yet reached max capacity.
U.S. Southwest National Parks Road Trip
Joshua Tree National Park, CA
2-3 nights, 2-hour drive from LA to Joshua Tree
Renowned for its rock formations, desert landscapes, and namesake, Joshua Trees, this national park sits between the Colorado and Mojave Deserts and is the perfect place to kick off an epic southwest national parks road trip. Popular amongst rock climbers and stargazers, Joshua Tree also offers hiking, bird watching, and photogenic viewpoints.
Best Things to Do in Joshua Tree
FortyNine Palms Oasis Trail is a 3-mile round-trip hike that's not for the weary, but the unique views at the end are well worth the effort. It's located outside the park, so if you aren't keen on paying the entrance fee, it's the perfect option!
The view of all views in Joshua Tree National Park, Keys View offers a perfect overlook of Coachella Valley. Although the park feels as if it's at a low elevation, it's a reminder of how high the high desert actually is! You'll get a panoramic glimpse of the San Andreas fault, the Salton Sea, and (if you're lucky), maybe even a bit of Mexico in the distance.
Located deep within the park boundaries in the lower Colorado Desert, you'll find Cholla Cactus Garden, a seemingly endless sea of cholla cacti, and a few neighbors like Hedgehog Cactus, Brittlebush, Desert Lavender, and more! The star of this destination is the Teddybear Cholla Cactus, which covers nearly four acres of the desert floor.
If time permits, other top Joshua Tree highlights include Hidden Valley Trail (1 mile), Skull Rock Trail (1.7 miles), Barker Dam Trail (1.5 miles), and Keys Ranch.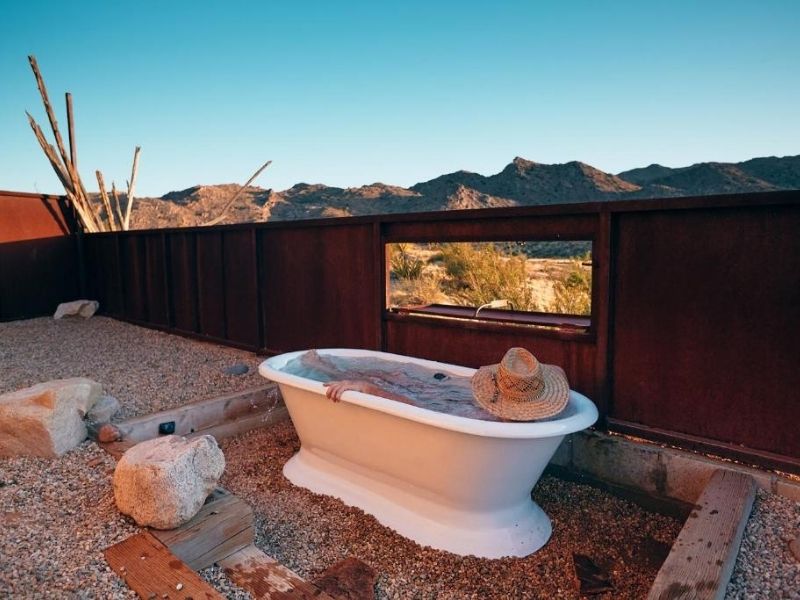 Where to Stay in Joshua Tree
Celebrating a special occasion? Sacred Sands is everything desert dreams are made of. Castle House Estate and Pioneertown Motel are two other great hotel options. If you'd prefer an Airbnb, this 2-bedroom High Desert Oasis, or this scenic 2-bedroom Boho-Inspired Home, get our vote.
The most popular campground in Joshua Tree is Jumbo Rocks Campground.
For more places to stay in and around Joshua Tree, check out our detailed Joshua Tree Lodging Guide, Joshua Tree Glamping Guide, and Joshua Airbnb Guide.
Saguaro National Park, AZ
1-2 nights, 4+ hour drive from Joshua Tree
A lesser-known stop for a southwest national parks road trip, Saguaro National Park sits in southern Arizona with two distinct sections straddling Tucson. Home to the country's tallest cacti – the saguaro cactus – Saguaro is full of scenic drivable loops, hiking trails, petroglyphs, and a museum. Though it's often overlooked, Saguaro is actually one of the best places to visit in Arizona.
Things to Do in Saguaro National Park
Home to two scenic drives in the park's eastern and western sections, we recommend Bajada Loop Drive in Saguaro West. Open from 7 AM to sunset, this paved 8-mile loop travels through some of the densest cacti forests in the park.
As far as hiking goes, Valley View Overlook Trail is an easy 0.8-mile round-trip hike featuring stunning panoramic views of the mountains, Sonoran Desert, and Saguaro forest. You'll cross Bajada Wash, trek through towering cacti and climb over a ridge to a picturesque view.
For a more strenuous option, Wasson Peak is a 7.9-mile moderate trail that passes through beautiful wildflowers and is a hotbed for wildlife. Known amongst birders, the view at the top makes Wasson Peak one of the best trails in Saguaro.
If time permits, tack on the Hugh Norris Trail (9.8 miles, but arguably the best hike in the park), Signal Hill Trail (0.3 miles), and Cactus Forest Drive.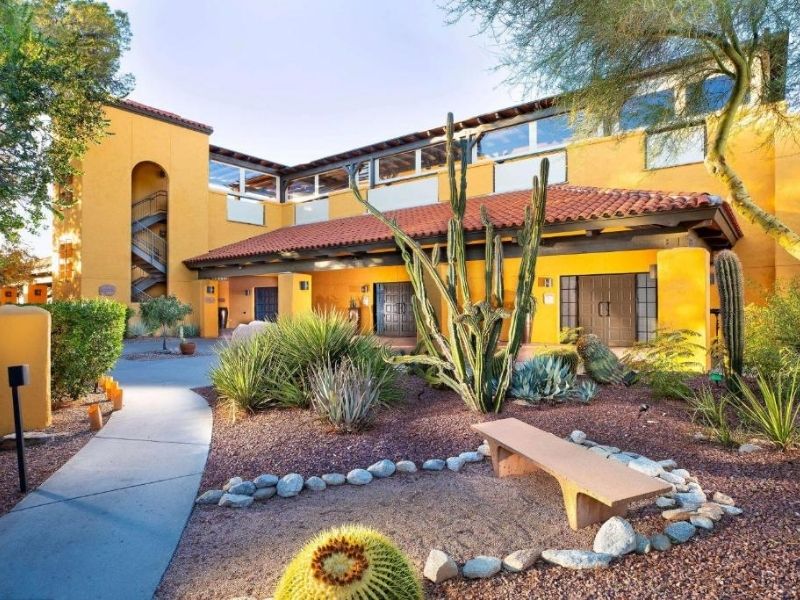 Where to Stay Near Saguaro National Park
Westward Look Resort and Spa is a nice upscale Tucson resort nine miles from the park and La Posada Lodge and Casitas is another lovely option situated at the foothills of the Catalina Mountains. There's also a Hampton Inn and Suites just four miles from the park entrance.
Camping is permitted within Saguaro National Park at six designated backcountry campgrounds. None of the campgrounds are accessible by vehicle (including RVs), and permits are required for all overnight stays.
Petrified Forest National Park, AZ
1-2 nights, 4+ hour drive from Saguaro National Park to Petrified Forest
From petrified wood to badlands, fossils, petroglyphs, and backcountry hiking and camping, Petrified Forest National Park offers accessibility perfect for a day trip or off-the-beaten-path adventure that can stretch for weeks. Regardless of how long you stay, expect to be wowed by other-worldly formations, desert sunsets, and scenic vistas that stretch hundreds of miles.
Things to Do in Petrified Forest National Park
Spanning from the Grand Canyon all the way to Petrified Forest, the Painted Desert Overlooks are multi-hued mesas best accessed via the northern section of the park. Made up of erodible siltstone, mudstone, and shale, these rocks also contain abundant amounts of iron and manganese, which creates colorful layers. Located 28 miles inside the park, Tiponi, Tawa, and Kachina Points are the best overlooks for panoramic views.
If you'd like to stretch your legs, Blue Mesa Trail is a nice 1-mile moderately strenuous hike through bluish-bentonite clay badlands and petrified wood. If you're looking to get up close and personal with the stunning colors beyond just the overlooks, this is the place to do it!
Featuring breathtaking views of the park's most famous attraction, petrified wood, Jasper Forest is home to the highest concentration of the park's namesake. The first petrified forest discovered by westerners, no trip to this national park is complete without a visit here. Visitors can view this historical landmark at the overlook or on the 2.5-mile out-and-back Jasper Forest Trail.
If you have time, drive north into the Painted Desert, one of the most unique landscapes on the planet and one of the most colorful destinations in the United States.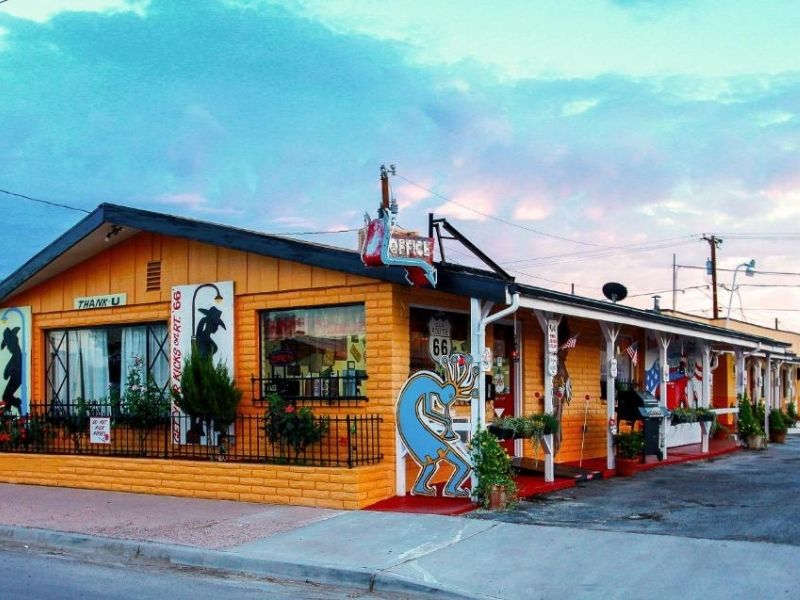 Where to Stay Near Petrified Forest
Brad's Desert Inn is an eclectic motel located 18 miles from the park and has become somewhat of an icon of the area. If you're searching for something more mainstream, you can't go wrong with La Quinta Inn & Suites.
While there are no developed campgrounds in Petrified Forest National Park, backcountry camping is permitted but requires, at minimum, a one-mile hike from two designated parking spots. Permits are free and must be acquired in person at either the Painted Desert Visitor Center or Rainbow Forest Museum on the first day of camping before the facility closes.
Sedona, AZ
2-3 nights, 2+ hour drive from Petrified Forest to Sedona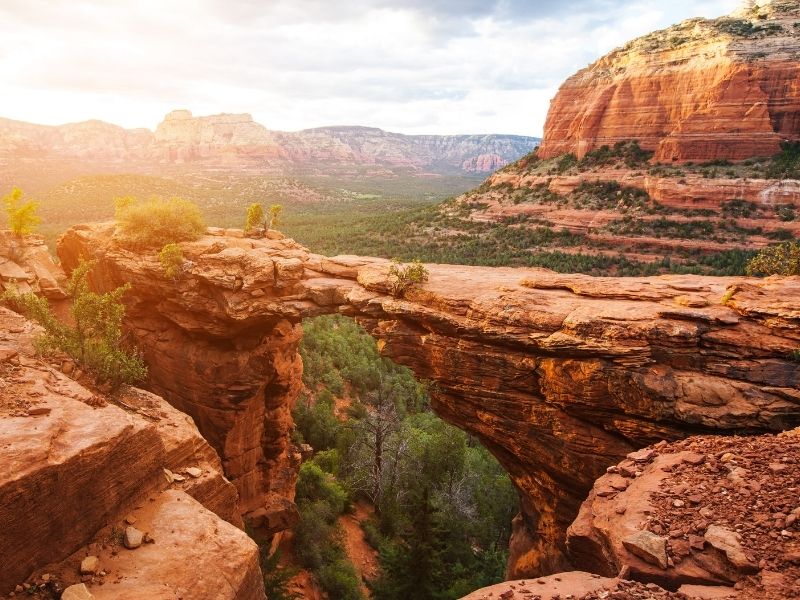 With energy vortexes, red rock canyons, art galleries, and wellness spas, Sedona truly offers something for everyone. This eclectic town known for its spiritual healing and proximity to Red Rock State Park offers equal parts charm, quirk, and adventure. It's not so much a question of what to do but how to fit everything on offer into your stay. For those short on time, this Sedona to Tucson Itinerary makes for an epic road trip in its own right.
B
est Things to Do in Sedona, Arizona
Home of the famous Cathedral Rock, Red Rock Crossing is known for its strong vortex and is sacred to local Native Americans. Creating feelings of softness, receptiveness, and compassion, whether here for spiritual reasons or just for a nice stroll, this iconic destination is a must when in Sedona.
The most popular trail in Sedona, Bell Rock is short and sweet but really packs a punch. The trail features the popular Bell Rock, whose shape resembles its name, as well as the adjacent Courthouse Butte and tons of other scenic red rocks. This 3.5-mile round-trip hike is hard-packed, making it easy for most hikers. Bell Rock is also home to one of the area's vortexes.
If you're looking to get your adrenaline pumping, you absolutely cannot miss reserving a spot on one of Sedona's famous 4×4 jeep tours. Heading off-road with local guides, you'll navigate over seemingly impassable rock obstacles while also taking in the backcountry beauty that Sedona is known and loved for.
Round your Sedona visit off with a drive along Oak Creek Canyon Drive, a 16-mile National Scenic Byway that starts among Sedona's towering red rocks and then winds through a stunning tree canopy leading to famous switchbacks featuring jagged cliffs and picturesque vistas.
If time permits, Devil's Bridge Trail (4 miles), Broken Arrow Trail (3 miles), Chapel of the Holy Cross, and Red Rock Scenic Byway are also worthwhile.
Where to Stay in Sedona
Deciding where to stay in Sedona is half the fun. This eclectic desert community has lodging options as diverse as it is. If budget allows, Creekside Inn, Amara Resort and Spa, and Sun Cliff Luxury Casita are worth splurging on.
Alternatively, Casa Sedona Inn, Red Agave Resort, and this awesome Sedona Geo Dome are fantastic mid-range options. On a budget? Check out Bell Rock Vista.
For all the best Airbnbs and Vrbos in the area, our Sedona Airbnb Guide features 16 properties that have gorgeous red rock views and cater to a range of budgets.
Manzanita is the closest campground to Sedona but is tent-only. If you have an RV, try Cave Springs Campground instead.
Grand Canyon National Park, AZ
2-3 nights, 2+ hour drive from Sedona to Grand Canyon
Attracting more than five million visitors each year, the Grand Canyon is an absolute icon when it comes to US national parks, and no southwest national parks road trip would be complete without a stop here. The canyon is awe-inspiring, to put it lightly – and photos truly don't do it justice. Despite its popularity, it's easy to escape the crowds if you're willing to hike more than a few miles down Bright Angel Trail. For those looking for a quieter experience, the Grand Canyon's North Rim attracts far fewer tourists and is just as scenic – some would even argue more so.
This Grand Canyon Trip Planning guide includes everything you need to plan the ultimate visit.
Things to Do at the Grand Canyon – South Rim
A 15.6-mile (7.4 miles each way) out-and-back hike, Bright Angel Trail forms part of the popular rim-to-rim route linking the South Rim to the North. Starting on the South Rim and ending at Phantom Ranch (smack dab in the middle of the canyon), it makes for an extremely memorable overnight backpacking trip. However, permits are required and competitive to secure. For day visitors, permits are not required, and many choose to hike a portion of the trail, turning back at one of the rest stops or trekking all the way to Indian Garden to soak in the creek before turning around.
Alternatively, the Rim Trail stretches across the south rim for 13 miles between the South Kaibab Trailhead and Hermits Rest. With unparalleled views and viewpoints throughout, there's no need to hike the entire route if you don't have the time (or the desire). Just a mile or two will suffice and leave you with a camera roll full of photos. Much of the trail is paved, so the Rim Trail is also an excellent wheelchair-accessible option.
Featuring stunning views of the Grand Canyon, Hopi Viewpoint really puts on a show at sunset. Take the shuttle from the village or walk, though we definitely recommend the latter if time allows.
If you're looking for a bird's-eye experience with the benefit of getting to land at the bottom of the Grand Canyon along the Colorado River, then a Helicopter Tour with a landing option is a must.
If time allows, Mather Point, Mohave Point, Grandview Point, and the Grand Canyon Skywalk are other worthwhile stops.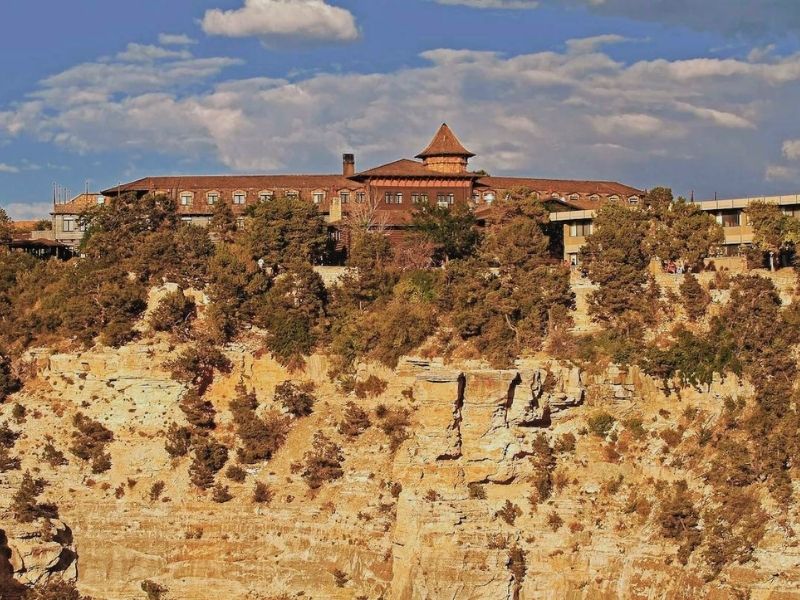 Where to Stay Near the Grand Canyon
When it comes to Grand Canyon lodging, staying inside the national park is the best option. El Tovar Hotel and Bright Angel Lodge and Cabins are the two most sought-after hotels, and both are located directly on the South Rim near Bright Angel Trailhead. Maswik Lodge and Yavapai Lodge are also good options within walking distance of the South Rim.
As far as camping goes, Mather Campground is the place to be. For every Grand Canyon lodging option above the rim, check out our ultimate Grand Canyon Lodging Guide.
Page, AZ
2-3 nights, 2-hour drive from Grand Canyon to Page
Known as the gateway to Lake Powell and Antelope Canyon, the small town of Page, Arizona, has gained added fame in recent years due to its proximity to Horseshoe Bend. Formerly located off a non-assuming turn-off with no formal parking lot, Horseshoe Bend has since turned into a formal attraction with charged entry – thanks in large part to Instagram and the power of its geo-tagging feature. Still, it remains worth a visit – even if you can expect to be far from alone.
Things to Do in Page
Made famous by Instagram, Horseshoe Bend is one of the highlights of the area due to its easy accessibility. Located just 4 miles Southwest of Page, park your car at the lot found off U.S. Route 89 and hike the quick 0.7 miles to the viewpoint (1.4 miles out-and-back). Better yet, here's everything you need to know to kayak Horseshoe Bend.
The magnificent Antelope Canyon is truly one of Arizona's natural wonders. A photographer's dream, towering walls of sandstone rocks in varying hues twist and turn as leaks of light make their way into the canyon. Note that a visit to this destination requires a reservation. If wanting beams of light dipping into the canyon, book an upper canyon tour between 11 am and 1 pm from March to October. Book a lower canyon tour if hiking and seclusion are what you are looking for.
Located within Glen Canyon National Recreation Area, Lake Powell offers unparalleled water-based backcountry recreation. With dramatic red rocks looming in the distance, this lake is a major tourist spot and attracts over two million visitors each year. Offering a variety of adventurous activities, you can find everything from kayaking to helicopter rides, float trips, and boat tours.
If time permits, Rainbow Bridge National Monument, Vermilion Cliffs National Monument, and Water Holes Canyon are also worthwhile visits.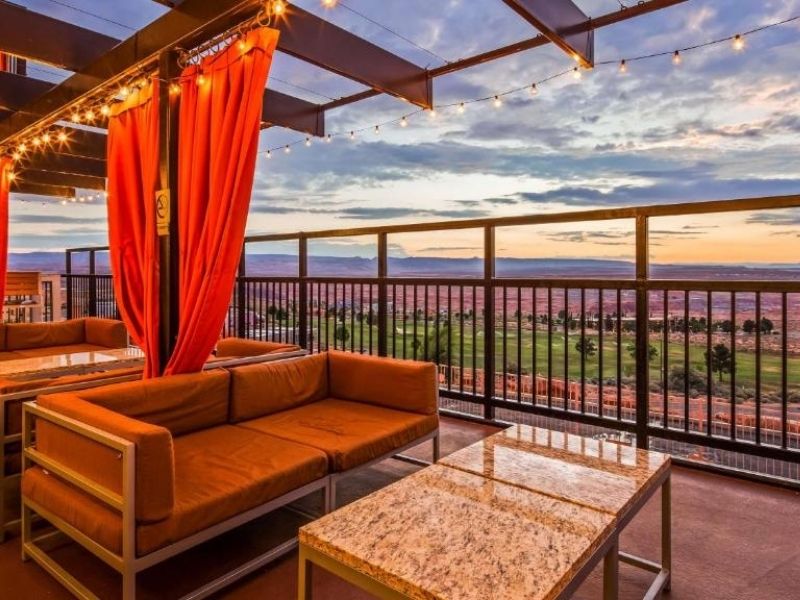 Where to Stay in Page
The Best Western in Page offers stunning panoramic views of Lake Powell, and there's a Courtyard by Marriott Page less than a mile from Antelope Canyon. Days Inn & Suites is both pet and budget-friendly and just 5 minutes from Lake Powell.
If you're in the market for something a little less mainstream, Shash Dine' EcoRetreat is unlike anywhere you've ever stayed before and offers a unique Navajo cultural experience.
If you'd rather prefer a home rental, The Navajo House gets our vote.
Zion National Park, UT
2-3 nights, 1 hour 40 min drive from Page to Zion
Winding rivers framed by steep red cliffs make Zion National Park just about as scenic as desert national parks come. Located near the small town of Springdale, most visitors opt to sleep outside the park and take one of the free shuttles into Zion each day. After a day full of exploring, Springdale offers a nice variety of restaurants and is home to several outfitters that can help you arrange everything from guided Narrows hikes to offbeat photography tours.
Things to Do in Zion National Park
One of the most dangerous hikes in America, Angels Landing is a must-do for thrill-seekers looking to get their adrenaline pumping. This strenuous 5-mile out-and-back hike is not for the faint of heart. After conquering 21 rigorous switchbacks, hikers must navigate a narrow pathway to the landing, with only a single chain for security and over 1,000-foot drop-offs on either side.
Another famous hike within Zion, the Narrows is ranked number five on National Geographic's list of America's top 100 adventures. Featuring three different options, hikers can choose an out-and-back 6-mile day hike, a top-to-bottom 16-mile day hike, or a top-to-bottom 16-mile overnight hike. Be sure to check conditions before attempting any of these options, as the Narrows is known for flash flooding and occasional strong currents.
Located right off shuttle stop five is Emerald Pools Trail. This three-mile round trip, easy to moderately strenuous trail features three pools, a stunning waterfall, and incredible canyon views as you twist and turn uphill along the trail. After hiking to the top, take the Kayenta trail back, following the signs for the Grotto trailhead for shuttle stop 6.
Observation Point is a strenuous 8-mile out-and-back hike well worth the effort given the unparalleled views it offers over Zion National Park and Angels Landing. Unfortunately, the trail is closed until further notice due to a 2019 landslide.
If time allows, Court of the Patriarchs, Riverside Walk (1.9 miles), and Moqui Caverns are also rewarding stops.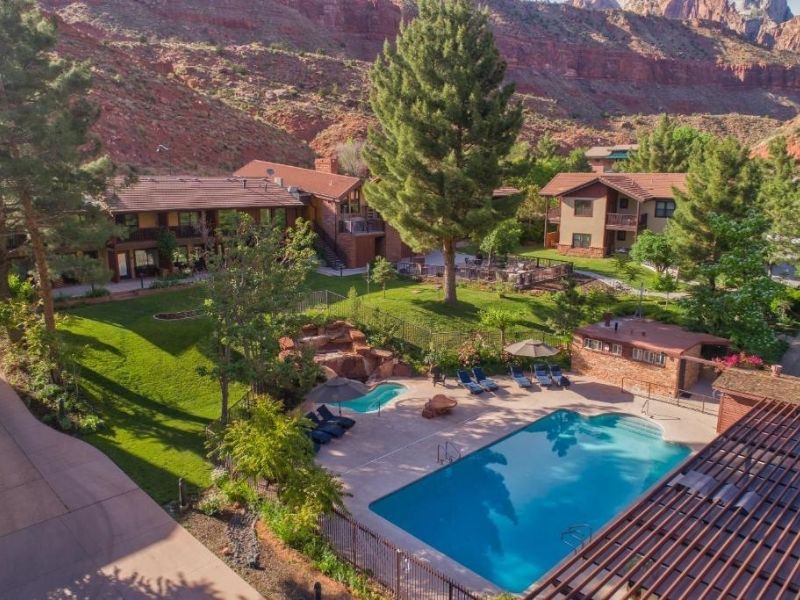 Where to Stay in Zion National Park
Zion National Park Lodge is the only lodge situated inside Zion itself, so most people opt to base themselves in nearby Springdale. SpringHill Suites by Marriott is located just a mile from the park entrance, and Cliffrose Springdale is just 5 minutes from the park gate.
Our Zion Lodging Guide covers all of the best places to stay inside and outside the park, and our Zion Glamping Round-Up gives a great overview of the top luxury tented camps in the area.
The most popular Zion National Park campground is Watchman Campground, though South Campground is also a great option.
Valley of Fire State Park, NV
1-2 nights, 2+ hour drive from Zion to Valley of Fire
Couldn't score a permit to The Wave in Arizona? Head to Valley of Fire State Park instead! Located just a 45-minute drive from Las Vegas, this park has gained recent popularity for its bright red rock formations, petroglyphs, and numerous hiking trails. Stop by the Visitor Center on your way in to join a guided hike or star-gazing excursion.
Things to Do in Valley of Fire State Park
Fire Wave is a 1.5-mile out-and-back trail featuring vibrant red sandstone structures. While walking, the trail will begin to split, but all forks end at the same destination, some involving a bit more sand than others. Pack lunch and enjoy the stunning dancing red hues once you arrive at the end.
Rocks jut out from the ground, piled high and lining the long, winding Mouse's Tank Road. For the perfect photo, leave your car at the Elephant Rock trailhead and walk down the road to the giant rock pile on your right.
White Domes Trail is a 1.1-mile loop featuring a variety of sights, including slot canyons, sweeping vistas, historical western sets, and more.
Round off your visit with stops at Rainbow Vista, Seven Sisters, and Valley of Fire Cabins. For a more in-depth itinerary, check out our detailed Valley of Fire State Park Guide.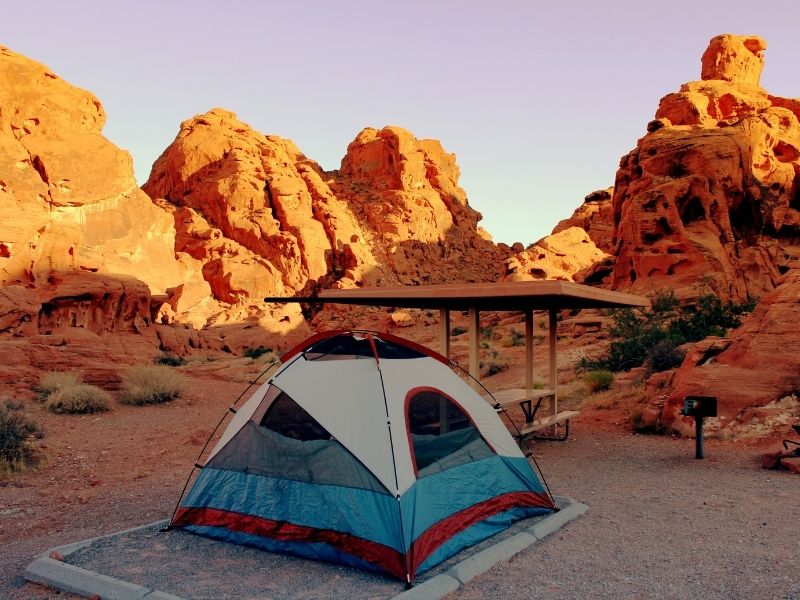 Where to Stay in Valley of Fire State Park
There are three campgrounds in Valley of Fire: Atlatl Rock, Arch Rock, and one group campground. Atlatl Rock and Arch Rock are both first-come, first-served, and bookings are not accepted. All sites are $20 per vehicle per night.
Alternatively, it's a fun option to stay in Las Vegas and day-trip in.
Death Valley National Park, CA
2-3 nights, 2+ hour drive from Valley of Fire to Death Valley
One of the most underrated national parks in California, and the perfect place to wrap up your southwest national parks road trip, Death Valley is so much more than its name alludes to. From the expansive salt flats of Badwater Basin to the colorful hills along Artist's Drive, it's no wonder the Star Wars production crew chose it as the site for many of its film locations.
Things to Do in Death Valley National Park
Located near Furnace Creek, Zabriskie Point is one of the highlights of Death Valley. Formed over 9 million years ago when the area was underwater, saline mud, gravel from nearby mountains, and ashfall from the previously Black Mountain volcanic field helped to create what we see today. Visit during sunrise, as the morning light creates a stunning purple and pink hue in the distance.
One of the world's oddest phenomena, the Racetrack continues to baffle scientists. Their best hypothesis, according to NPS.org, is "a rare combination of rain and wind conditions enable the rocks to move. A rain of about half an inch will wet the surface of the playa, providing a firm but extremely slippery surface. Strong winds of 50 mph or more, may skid the large boulders along the slick mud."
Home to a deep canyon cut into the Black Mountains, as visitors round the bend along Artist's Drive, a variety of colors pop out along the face of the mountain. Ranging from pink to blue, purple, and more, the colors at Artist's Palette were caused by the oxidation of metals. Located not far from the park's entrance, this destination is a must-see!
If you have time to spare, add Badwater Basin (the lowest point in the USA), Dante's View, and the Mesquite Flat Sand Dunes to your itinerary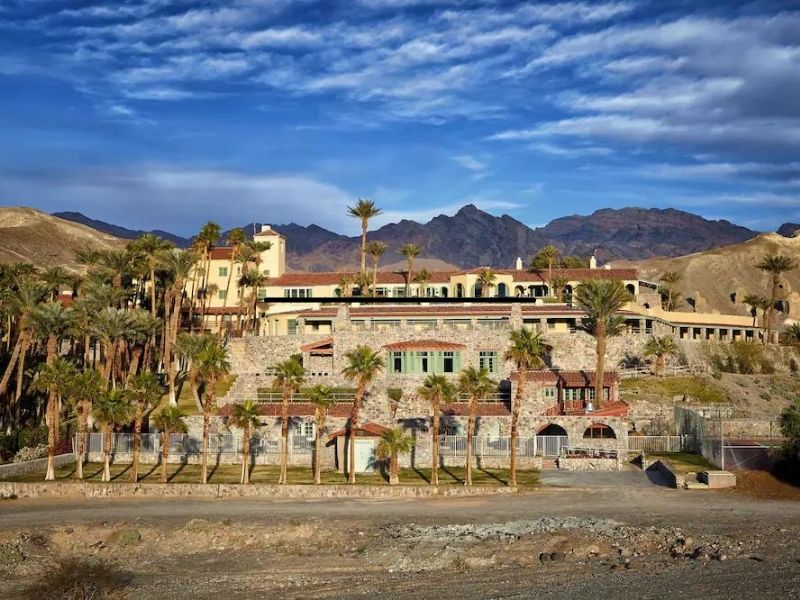 Where to Stay in Death Valley National Park
There are several formal lodging options inside Death Valley National Park. The Inn at Death Valley, The Ranch at Death Valley, and Stovepipe Wells Hotel are the top-rated in-park hotels, but Panamint Springs Resort is also decent if you're on a budget.
As far as camping goes, Furnace Creek Campground is our favorite option. Mahogany Flat is also stunning if you have a 4×4 vehicle and are willing to rough it.
Back to Los Angeles
4.5 hour drive from Death Valley to Los Angeles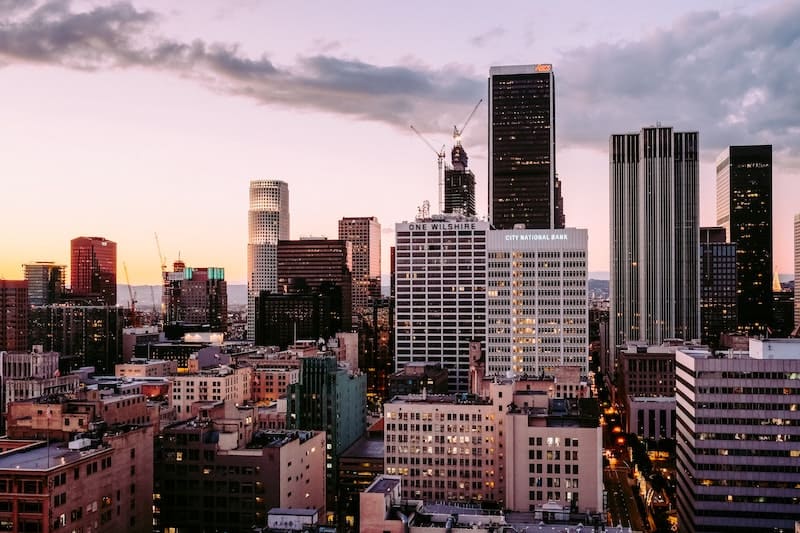 And this is where your Southwest National Park road trip adventure ends!
In as little as two weeks (or closer to three or four if time permits), you can expect to stand on the rim of the Grand Canyon, soak in the views at Horseshoe Bend, feel a surge of adrenaline as you navigate Angels Landing, gaze at the stars in Joshua Tree, and take in some of the very best desert landscapes that the world has to offer.
Browse all national park road trip guides
All photos courtesy of hotel, booking, or information sites.
Up and Away Magazine is reader-supported. This means that when you make a booking via one of our affiliate links, we earn a commission at absolutely no additional cost to you. In this way, we are able to bring you content for free. Your continued support is greatly appreciated. Adventure on!